Last week I decided to bake something every day whilst not at work. I've tried to do it again this week - just failing on one day where I had appointments all day and no time at home!
Monday - Bread Rolls
I was making bean burgers for tea so I made some bread rolls / burger buns to go with them. I usually find that my bread rolls are all different sizes so I actually weighed out the dough for a change and they all came out the same size! Magic! (Also known as maths...)
Tuesday - Creamy Leek and Mushroom Pasties
I like pasties, as does Mr Hatter, but I've not made them for a while. I usually go for a Cornish-style pasty but with veggie mince, but there seems to be a huge shortage of veggie mince available in the shops at the moment! Apparently this is due to there being some sort of problem with one of the ingredients from the main veggie mince suppliers in England so it all had to be investigated... But hopefully it should be back on the shelves next month! So without any veggie mince, I went for a creamy leek & mushroom pasty instead. They had a wholemeal pastry case and a creamy sauce made using soya milk and nutritional yeast to make it thick and tasty.
Wednesday - Toffee Apple Cupcakes
This is a recipe that I've attempted a few times. I tried it around this time last year and got a good toffee cupcake but not much apple flavour. This time I tried an apple cupcake with toffee icing. The icing turned out well but the cupcake wasn't very appley so I think next time I will have to use more apples in the cake - maybe if I use puréed / stewed apples it will make the taste more pronounced?? They tasted nice anyway and after taking them to a meeting with my theatre group, there was only one left to bring home! (I thought I'd taken a photo of these but can't seem to find it...)
Thursday - Seitan
Again, not quite baking but it uses flour so it sort of counts!
Friday - Nothing!!
On Friday I had no time to bake. I had a meeting with the job centre (urgh) in the morning, followed by two job interviews in the afternoon. Fun times.
Saturday - Order Time & Naan Bread
I had an order to bake on Saturday! Just a couple of loaf cakes and some focaccia but it kept me busy!
I also had my first attempt at Naan Bread, based on a recipe by Paul Hollywood. I love naan bread but I've not been able to have it for ages, as it always seems to have milk, ghee, or yoghurt in. Tesco used to offer an accidentally vegan version but they updated the recipe and it now contains milk. Gah! BUT, now I can make it, woohoo! I made curried mango & sultana naan for myself and plain savoury naan for my husband (as he doesn't do sweet and savoury together). We paired our naans with a chickpea curry topped with smoked tofu that had been dry-fried in some spices to take the place of paneer. (Although I never had paneer so I'll just have to accept Mr Hatter's judgement that it was a decent replacement.) Yum!
Sunday - Plaited Loaf & Ginger Slice
When I bake bread, it's usually just a simple shape. But today I thought I'd do something a little fancier - I had a go at plaiting it. This is a light rye bread (i.e. rye flour mixed with white so it's not too heavy), and it held the plaiting better than expected - although it did come a little undone at the end while baking.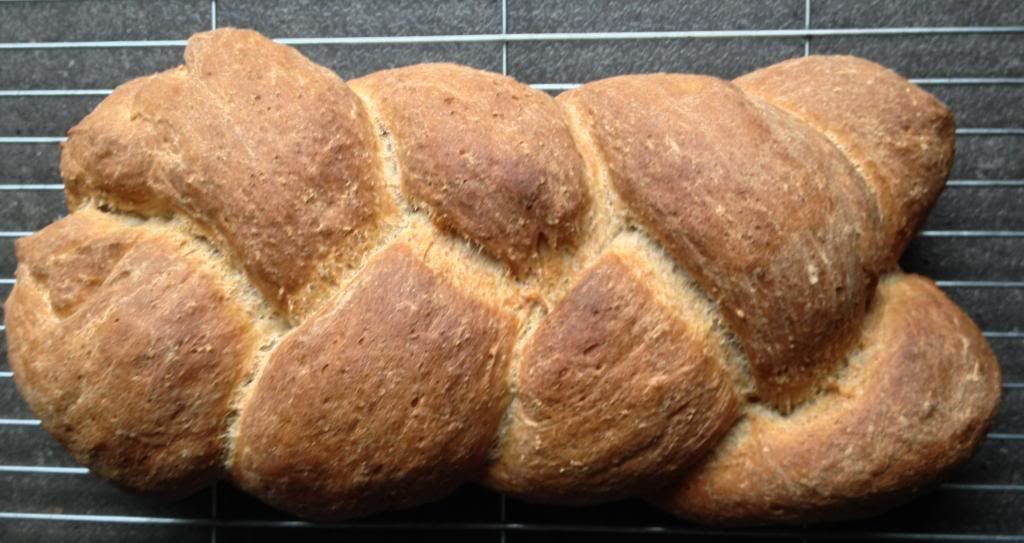 I also had a bit of a play with a recipe out of a book I've had for donkey's years. It's an old kids cookbook, and the recipe in there is for "Cherry Almond Fingers". But we didn't have any cherries so I used ginger instead and swapped a few things around to veganise it, and it ended up turning into something different! The picture in the book looked quite cakey but my slice was lovely and gooey on top of a crisp pastry base - just the thing for cold Autumn nights!