I can never decide if I love Christmas or am indifferent to it. I like the build up and I like giving people presents but then it's over so quickly and I'm left with a mixture of lingering guilt for eating crappy food and an urge to eat more of the same as it's still in the house. But I think all in all, I do enjoy Christmas.
This year I received some wonderful vegan presents that I'd like to share with you so you can head out and find them too if you like the look of them!
1. Booja Booja Truffles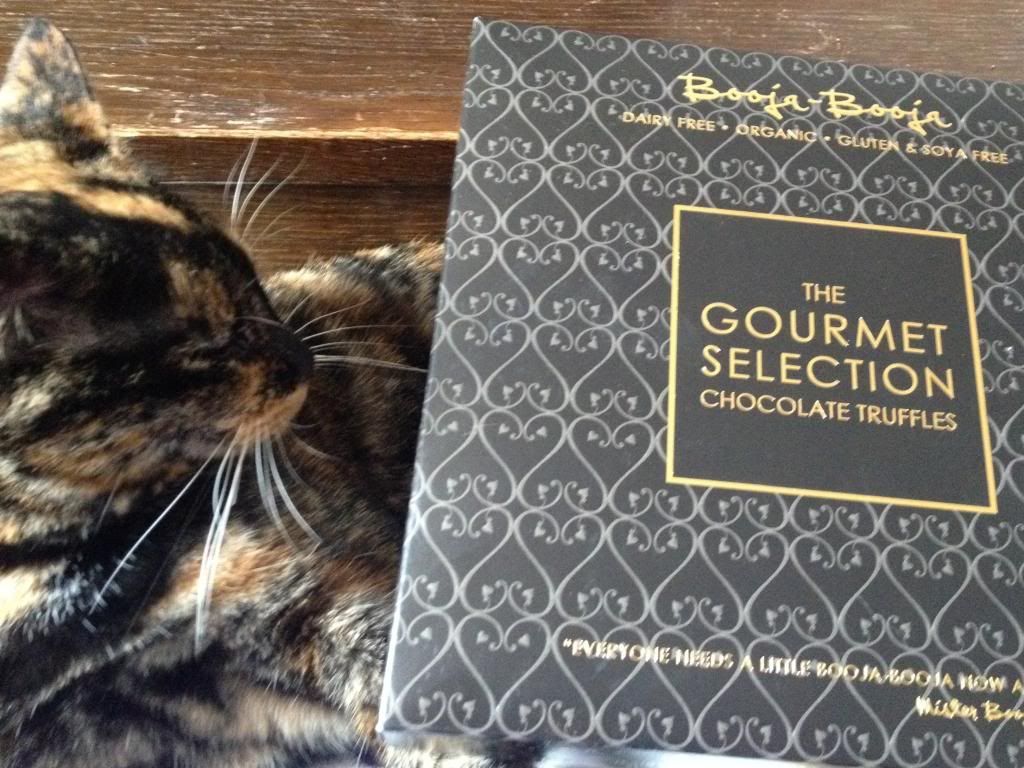 I don't think the cat was very happy that I was balancing chocolates on her,
especially after not letting her eat any...
I love these truffles.
Booja Booja
truffles are gluten free, vegan, organic, GMO free, raw and soya free - so they tick a lot of boxes for people! And they're also amazingly delicious!
I've tried a few of their flavours before but for Christmas my mum bought me a huge selection box with all the flavours they make so that I could try the ones I've not had before. Yum Yum Yum. The box contained 20 truffles in total - 4x champagne, 4x hazelnut, 3x rum sozzled sultana, 3x banoffee toffee, 3x around midnight espresso, 3x stem ginger. I had only tried hazelnut and stem ginger previously so was very interested to try the others. However, I don't like coffee at all so didn't try the espresso flavour - my mum informs me they were lovely though!
Now that I've tried them all, I'd say my top three were the hazelnut (because who can beat the combination of hazelnuts and chocolate), stem ginger, and banoffee toffee. They were all good though! You can definitely taste the alcohol in the boozy ones so watch out if you don't like alcoholic chocolates...
2. Hot Chocolate Gift Set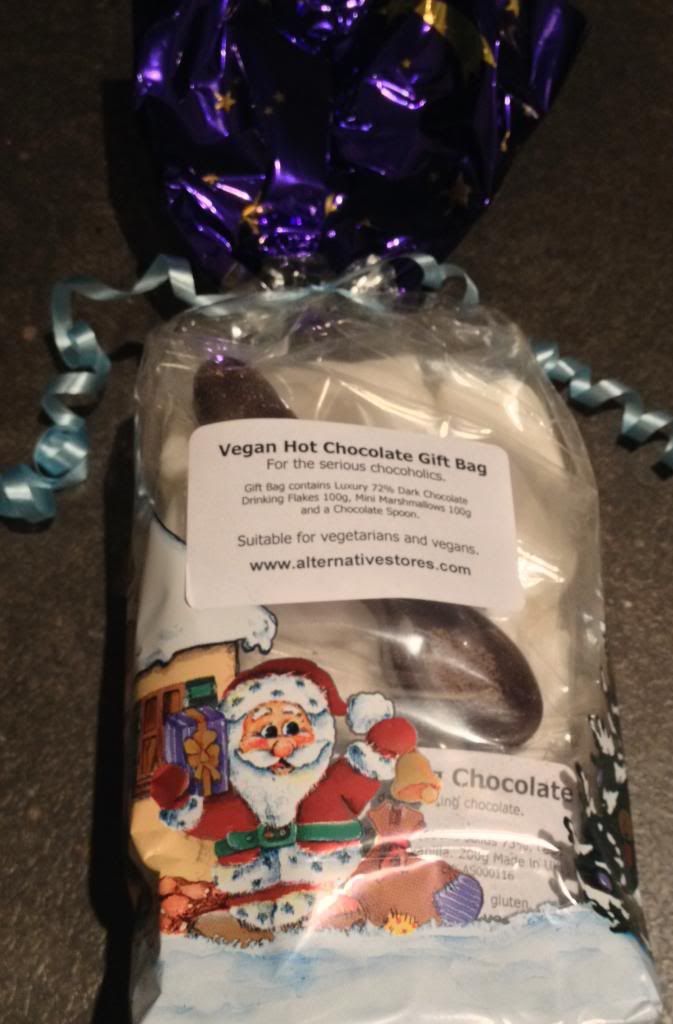 Anyone that knows me, will know I don't really do hot drinks. I've never liked tea or coffee. But I do like the occasional hot chocolate (which is now becoming more like "every Friday" than "occasional" as I now walk past Starbucks every day on the way to work and they've stopped charging extra for soya milk...). So when I unwrapped a VEGAN hot chocolate set with VEGAN marshmallows and a VEGAN CHOCOLATE SPOON (I've never had one as they all seem to have milk in...), I was rather excited. Yes it was as good as it sounds. You can find it over on
Alternative Stores
if you want to give it a try (they also have some other yummy things).
I think maybe I overdid it with the marshmallows??
3. Ice Cream Maker
I've wanted an ice cream maker for a while, after staring longingly at all of
Chocolate Covered Katie
's ice cream recipes. (Seriously, if you've not heard of this blog you NEED to go check it out now. There are some amazing recipes on there.) However, I've not got around to looking into different brands of ice cream maker and finding out which one I want etc etc, so when Mr Hatter's mum asked what I want for Christmas I mentioned it in case she saw a cheap one somewhere, as the Lidl nearby sometimes has offers on gadgets like this. So on Christmas day I ended up with a shiny new ice cream maker! I can't wait to try it out. It's currently in the freezer waiting for me to use it tomorrow - what better way to start the new year than with home-made, healthy ice cream??
4. LUSH Snowman Bath Ballistic
I had a hard time coming around to liking
LUSH
. It was the smell. That overwhelming mixture of different smells that hits you minutes before you get close enough to actually get inside the shop. And I always find the staff a little TOO helpful for my liking - I like to be left in peace when I shop. However, that said, I do buy a lot of my toiletries from LUSH these days, as I do really like their products. They have a great range of products that are suitable for vegans - and they're all clearly labelled with the Vegan Society's sunflower. This snowman was a gift from a friend - so cute! I don't usually have baths but I thought I'd have one today so I could use him up while it's still sort of Christmas. He (I don't know why it's a he) smelled lovely (although I wouldn't be able to described it...) and turned my bath water a pretty shade of pink. And just look at him go when he started fizzing:
5. Biona Chocolate Spread
My mum likes to buy me indulgent things. Back in my pre-vegan days, we would buy a jar of chocolate spread as a treat when we went on holiday (usually camping or to stay with friends), or for special occasions. So I have missed it a bit since turning vegan. Funnily enough, Mr Hatter and I had also had the same idea! He easily found some chocolate spread (being an omnivore...), and I managed to find something in the chocolate spread section that I could eat! Much to my amazement! It turns out that SunPat have brought out a "choc a nut" spread, which is basically peanut butter with cocoa powder in but it's yummy! The Biona is good too, but it has that wanting-to-be-milk-chocolate taste that most vegan "milk" chocolate has. It's good on toast though. And the SunPat is strange but great - it's not overly peanutty or overly chocolatey and it has a slightly strange texture but there's something wonderful about it. (You'd never guess I didn't like peanut butter before I was vegan as I'll eat it with a spoon these days...)
6. Ceramic Loaf Set
This was a beautiful gift set, comprising of a lovely ceramic loaf tin, a wholemeal bread mix and a jar of strawberry jam - it just goes to show you can find nice vegan presents in the supermarkets these days! (
Sainsbury's
tend to be good at labelling their vegan things.) It's not so hard being (or buying for) a vegan now!
7. Vegan Package Swap - December
My vegan package swap box would usually get a full blog post all of it's own, but I want to finish up everything from this year before the end of December (which is in two hours!), so it's finding it's place with the Christmas things, as it was a nice surprise when I picked it up from the post office on Christmas Eve!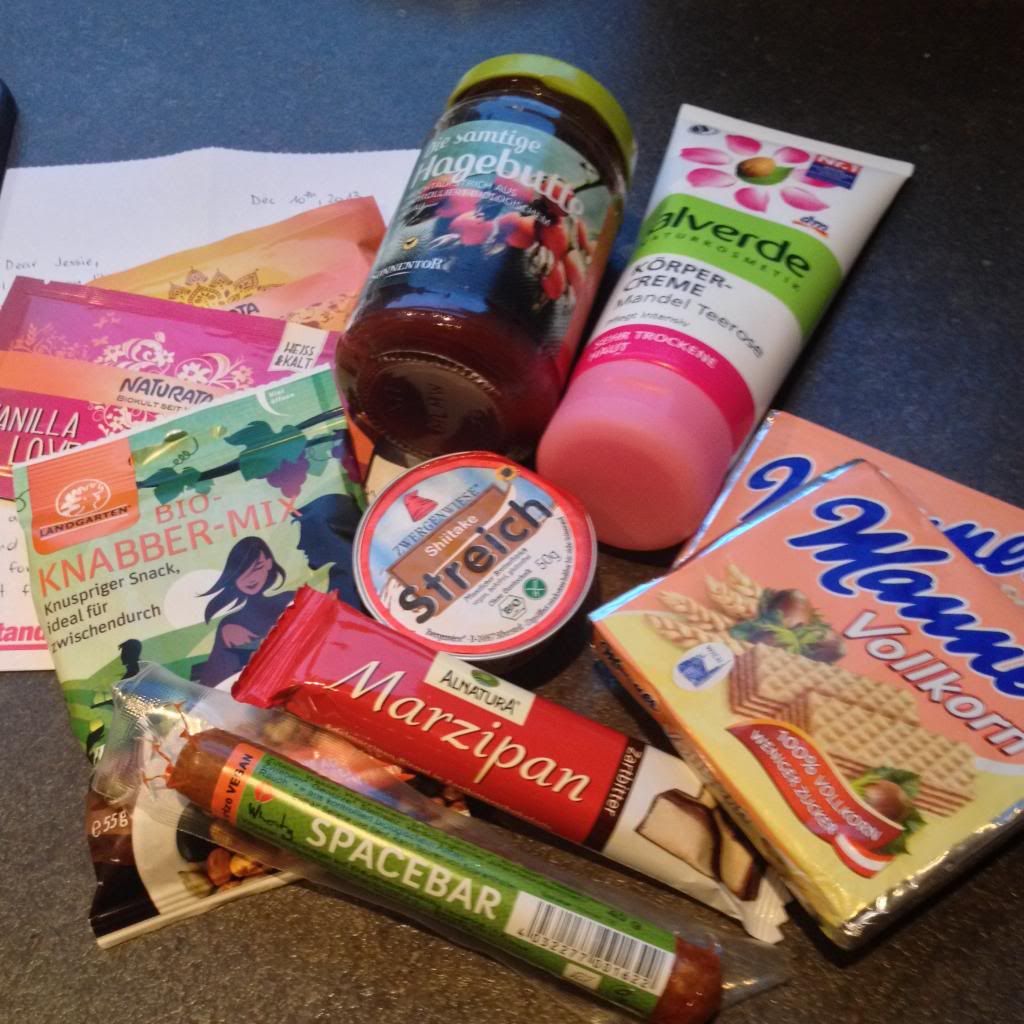 I received a lovely package from Austria this month, full of exciting goodies to try. I love getting things from other countries - it's so interesting to see what vegans have around the world!
This month I received: two packets of drink mix, a jar of what I believe is rose-hip jam, some cream for dry skin, two different flavours of wafer biscuit, a mushroom spread (I think), a pack of snacky nuts, some chocolate covered marzipan, and a spacebar. My swap partner said they hadn't been able to find anything Christmassy, but I think chocolate covered marzipan is Christmassy - right? (You're lucky that lasted long enough to be in the photo by the way. It was goood.) We've eaten the wafer biscuits, which were great - my other half particularly liked them as they reminded him of biscuits he had as a child. The spacebar is something I discovered at VegFest earlier this year and I think they are amazing. So that got munched down pretty quickly too! As it happens, I do have dry skin, especially in winter, so I've been testing out the cream. It smells great and seems to be helping my itchy legs to cope with the cold weather. The other stuff we've not tucked into yet as we're still using up our Christmas supplies but I can't wait to get stuck into it all!
So that's the end of my rather long catch-up / recap / last post of 2013. If you've got this far then I thank you for sticking with it! I'm very appreciative of everyone who reads my blog; those who have supported my mad passions by being my guinea pigs; and the special people who go out of their way to help out. You know who you are.
I hope you have all had a great year (mine has been a mad blink-and-you'll-miss-it kind of year), and that next year will bring you wonderful things!