I tried making something new tonight, and thought I'd share the recipe with all you lovely people!
I was never a big fish eater in my pre-vegan days but recently I've fancied a creamy sort of pie with mashed potato topping, similar to a fish pie. The nori (a type of seaweed) lends the pie a hint of sea-flavour, while the smoked tofu brings another layer of depth to the dish. This is a great comfort food dish - I think anything with mashed potato is fantastic comfort food! Especially in winter!
This could serve 2-4 people depending on how hungry you are and what you decide to serve it with. (We were hungry!)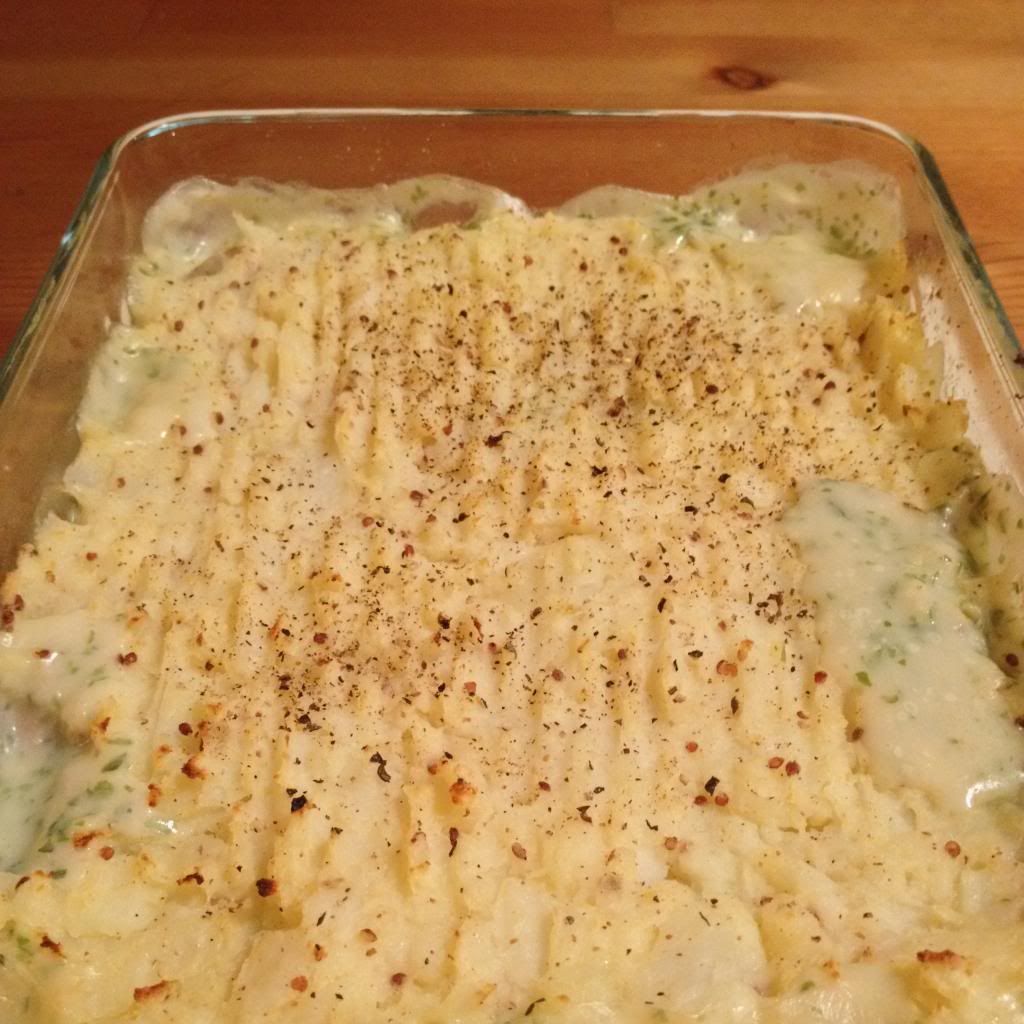 Filling
1 tbsp vegan margarine
1 leek, sliced
1 cup soya milk
1 tbsp arrowroot powder (or cornstarch)
1 tbsp nori flakes
1/2 cup frozen peas
1 block smoked tofu, chopped into 1 inch cubes
Pinch of salt
Topping
2 medium baking potatoes, peeled and chopped into 1 inch cubes (roughly)
1 tbsp vegan margarine
1 tsp wholegrain mustard
Splash of soya milk
Freshly ground black pepper
Green beans to serve
1. Preheat the oven to 200C and boil a kettle full of water. Put the potatoes in a large pan, cover with the freshly boiled water and bring back to the boil. You'll want to cook the potato for about 15 min, until easily pierced with a fork - so let this bubble away while you prepare the rest.
2. In a small saucepan, melt the butter and sauté the leek for about 5-7 minutes until soft. Add most of the soya milk, reserving about 1 tbsp. Mix the arrowroot powder into this reserved soya milk and then stir into the pan. Simmer for about 5 minutes, being careful not to boil. The mixture should thicken.
3. Stir through the nori flakes and frozen peas and cook for another minute or two to heat the peas through. Stir in the tofu and salt, and spoon into an ovenproof dish.
4. Once the potatoes are done, drain them and mash, together with the remaining topping ingredients. Spread this on top of your filling, and make lines with a fork if you wish. Grind over some black pepper.
5. Cook in the preheated oven for 15-20 minutes, until the filling is bubbling and the topping is as golden as you like it.
6. Serve with green beans.