Last weekend, I had a weekend of cake. A whole weekend, devoted to cake. I wish all my days could be devoted to cake. Well, maybe not ALL. But a lot :)
Saturday
On Saturday, I went to a friend's birthday party. The idea was that everyone would take some cake and then we would all try each others - a bit like the clandestine cake club. And you know what the amazing thing about it was? There were two vegans there (I wasn't the only one!!), and so EVERYONE had made vegan cakes!! I could try them all!! If you're not a vegan or have special dietary requirements, you probably won't understand how exciting this is but it made me very happy indeed.
I decided I wanted to use up some of the rosewater that I had in the cupboard, as Mr Hatter isn't a huge fan of things that taste like flowers. So I made a chocolate-rose cake, using the Turkish Delight cake recipe by Ms Cupcake. Luckily the people at the party liked flower flavoured food, so it went down a treat! And although I don't know whether I like turkish delight (as I don't think I've ever had it), I thought the cake was yummy.
As it was a birthday party, I thought it was the perfect time to practice my fancy icing so I iced the cake completely in pink rose frosting and then piped roses onto the top: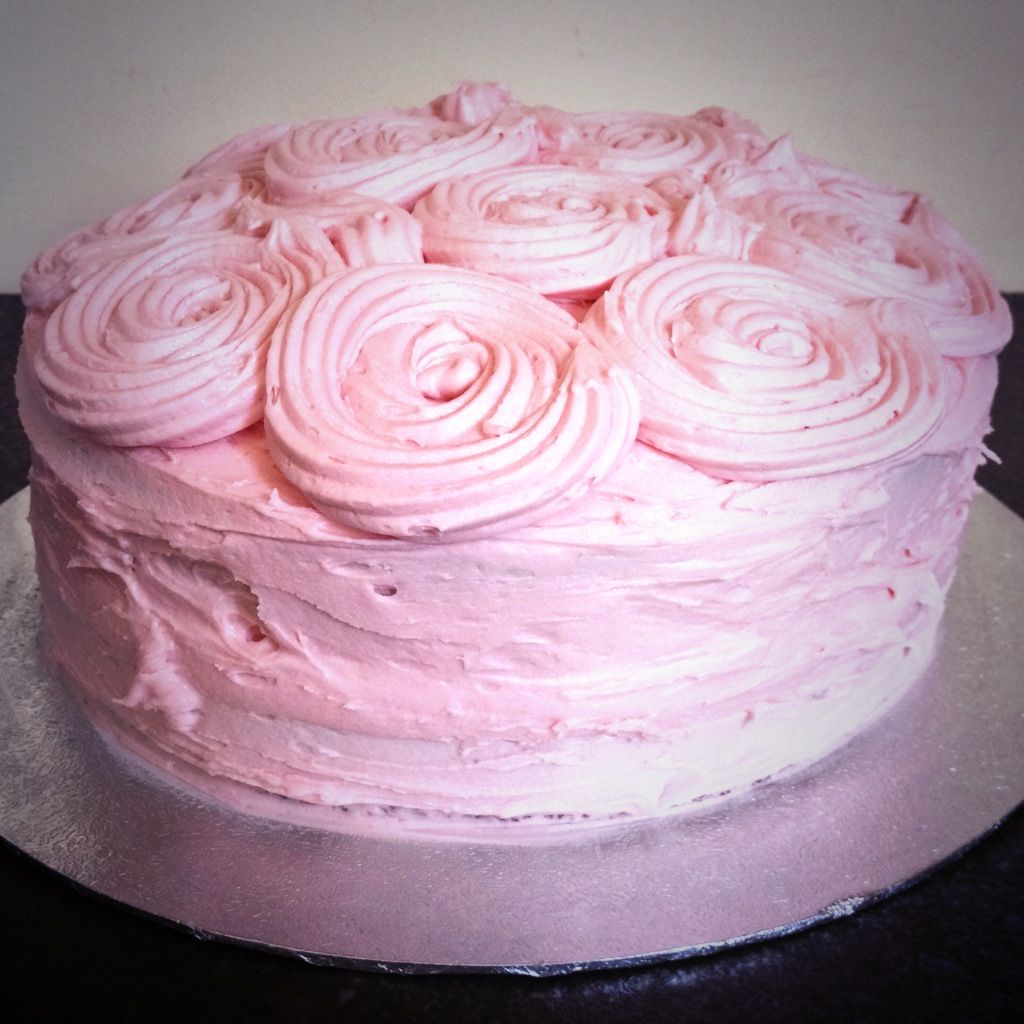 Sunday
On Sunday, it was the monthly cupcake competition from
Iron Cupcake: Leeds
. The theme for this month was "Valentine's: Love It or Hate It". Now I'm not a big fan of Valentine's Day so I went for an anti-valentine's cupcake. There were only 2 of us (out of 10) that went for the Hate It option!
I initially wanted to do a bleeding hear cupcake, as demonstrated by Lilli Vanilli
here
:
However, when I tested it out the fondant to cake recipe made it too sickly to enter into the competition - although they did look awesome (no photos though, sorry!). So instead, I decided to opt for red velvet cupcakes topped with cream cheese frosting and a small anatomical heart made out of fondant: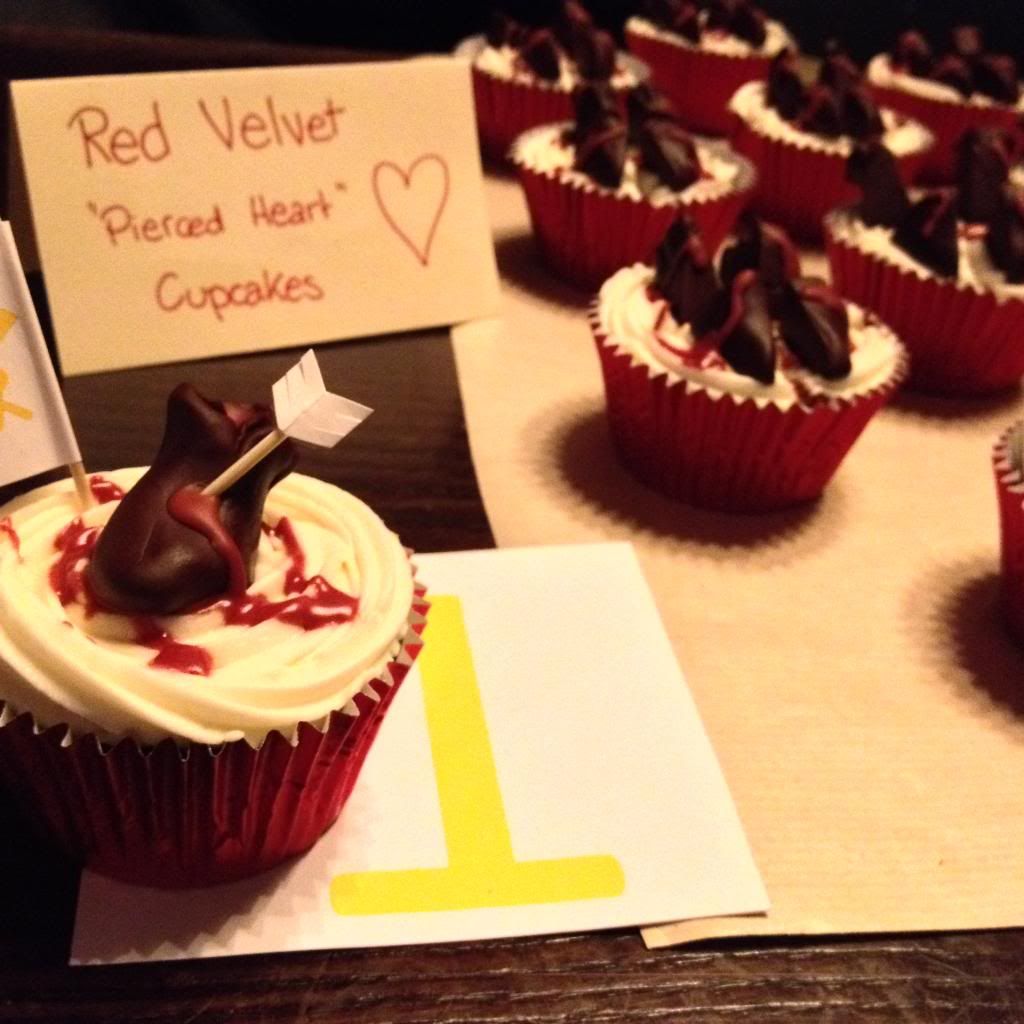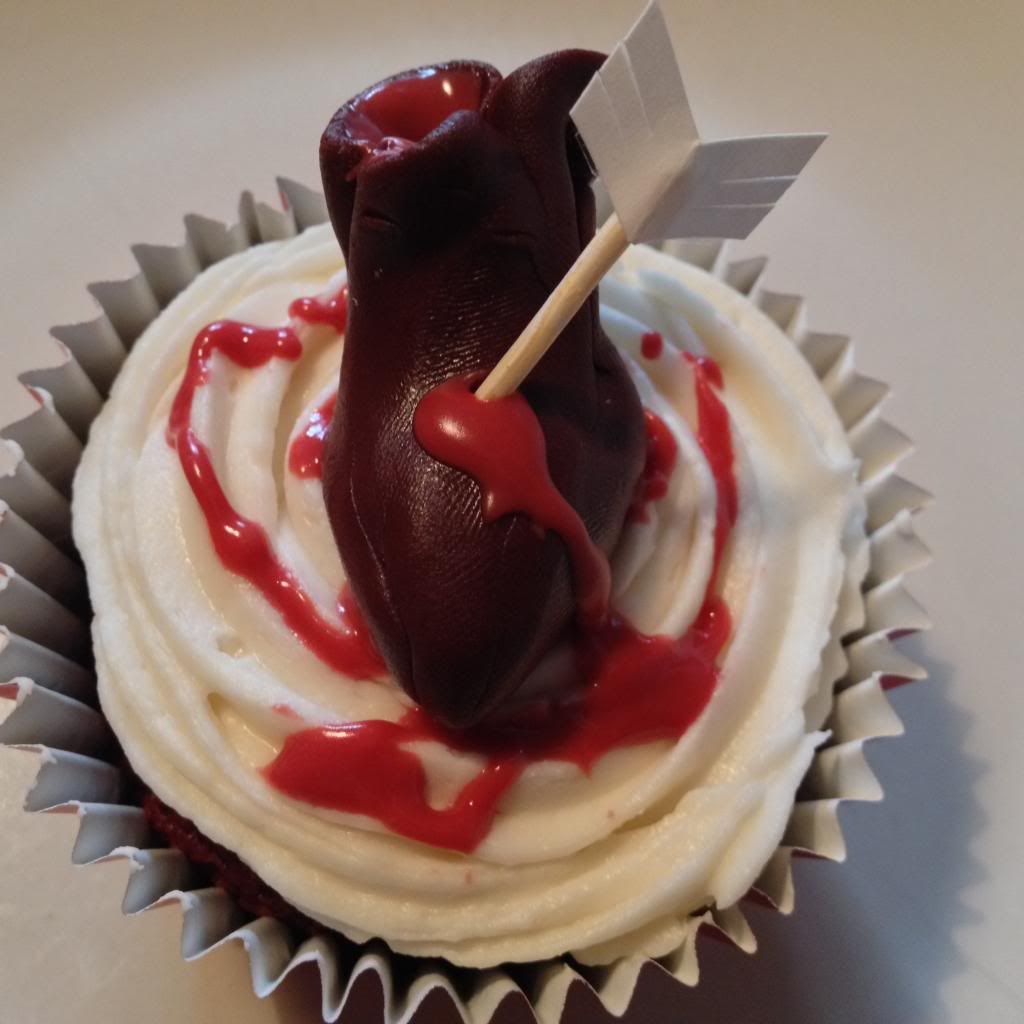 I was pretty pleased with how the decorations turned out, and I had a really fun time sculpting them! I definitely want to do more fondant work, it's just finding a good enough excuse...
However, the cake was a bit too crumbly as I somehow hadn't checked my ingredients and ended up only having wholemeal flour in the house! PRO TIP: Always check your ingredients cupboard. It still tasted good, it was just a bit crumbly - which isn't the best thing when you're cutting it into quarters for a competition.
I didn't win any prizes this month - they were given to some beautiful pro-Valentine's cupcakes. I did win the quiz though! Which gets me a free ticket to another competition, woop woop!
AND you'll never guess what theme was picked for next month...
VEGAN CUPCAKES!!!!!
I didn't even suggest it!
I usually just bake at Iron Cupcake but one of the ticket options is to be on the Bakers' Panel - so you get to bake and judge. There is normally no point me doing this but I will be able to eat everything next month so I'm going to do it - I'm SO excited!
I'm also very very nervous. The theme is vegan cupcakes so surely I should be able to win at least one of the categories, right? But what if I don't? What if the only vegan baker that goes to the competition can't win anything on vegan month?? PRESSURE!!!
But it's going to be fun.
I would welcome any suggestions from people who have tried my cakes, as to which they like the best, which they think have the best texture, flavour, etc. I have a few ideas which I think will fit the theme but it would be good to get some input too. Any other suggestions are also welcome, if you haven't tasted my cakes but you have an idea you think I should try!