Hello and welcome to my first update of 2014!
I'm quite surprised I've made it all the way to February without blogging... the time is flying by already. It wasn't intentional but it's been nice to take a bit of a back seat, after all the build up to Christmas, the market stall and the competitions from last year.
That's not to say I did nothing cake related throughout January. I went to a social event hosted by Iron Cupcake, where we discussed what we do/don't like about the competition - as well as helping out with a little bit of market research for the business! I'm looking forward to getting my competition head back on for next week's event.
Plus, it was my birthday and I passed my driving test (yay!) so there was ample opportunity for cake! I just didn't seem to find any time to blog about it.
A nice end to January was receiving my first Vegan Package Swap box of the year. This was another box from Poland but with a lot of different items to the last one.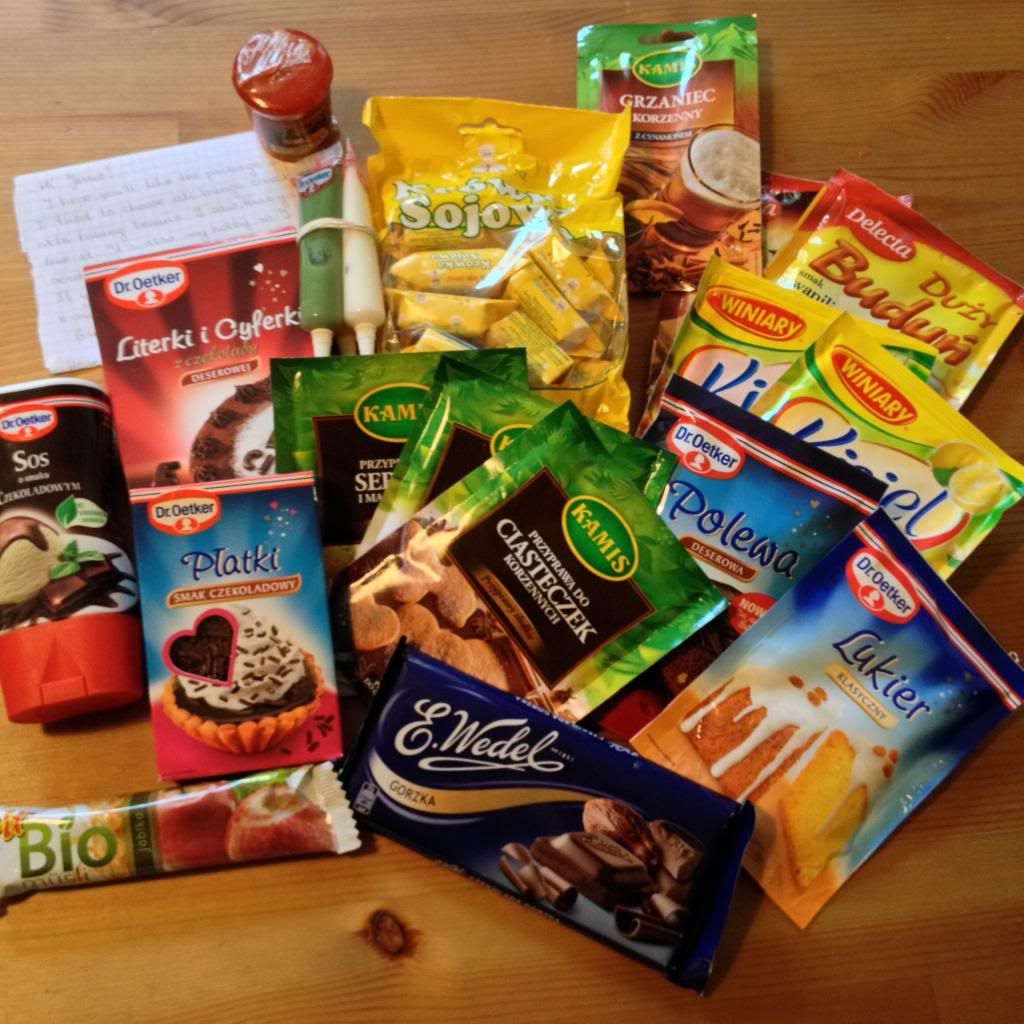 Look at all those tasty treats!!
The first amazing thing about this box is the smell. It smells just like Lebkuchen - a German biscuit that I used to enjoy in my pre-vegan days but sadly they all seem to have egg in them. *Mental note - must veganize a lebkuchen recipe next Christmas.* It smells GORGEOUS!
The second amazing thing is that yellow bag of sweets. They were fudgey and yummy and all went in a day - oops! The muesli bar and
half
ALL the chocolate bar have also disappeared pretty fast!
The rest of it is yet to be tested but it all sounds fantastic. My swap partner included a letter explaining what everything is, so we have:
Kisiel
- Lemon and strawberry jelly (more like desserts). These will go with my new ice cream experiments I think!
Budyn
- Vanilla and chocolate pudding. Mmmmm pudding...
Polewa Deserowa & Lukier Klasyczny
- Different flavours of topping for cakes - this looks tasty!
Chocolate dessert topping
Muesli bar
A variety of spices etc:
Spice for hot wine/beer - I'll probably use mine for cider
Spice for apple pie
Spice for cheesecake
Spice for gingerbread or ginger cookies - I think this is what smells like lebkuchen!
A variety of cake decorating supplies:
Sugar pens (without the red one as it contained vegan pigment)
Chocolate strands
Chocolate letters
And last but not least -
a "kitchen spice" candle
.
So it's a lovely thoughtful box, very much geared up to baking. YAY! I shall post up what happens when I use it all!
The Vegan Package Swap is such a good idea if you want to try new things. I love the fact that you get to swap with someone in another country, as it lets you see what they find is suitable for them, and it might open your eyes to what is suitable for you in your own country. And I must admit, I'm a sucker for getting post. Especially when it's a surprise! So if you like getting post (and who doesn't?!) and you want to try some new things, head on over to
All About Vegan Food
and take a look at the swap. You join up per month so there's never any obligation to keep going with it if you want to take a month out or stop altogether. But it is such a fabulous idea!