Last week saw the arrival of the last Friday of the month, which can only mean one thing - a shakeup of the Noonshine Cafe menu at
Outlaws Yacht Club
! (You can find a reminder of last month's menu
here
.) So of course, I just HAD to go down and try out
Grub & Grog Shop
's new vegan stew. And I couldn't pass up the opportunity to go and say hello to the lovely Sarah from
Noisette Bakehouse
, who was there with an amazing selection of cakey goodness.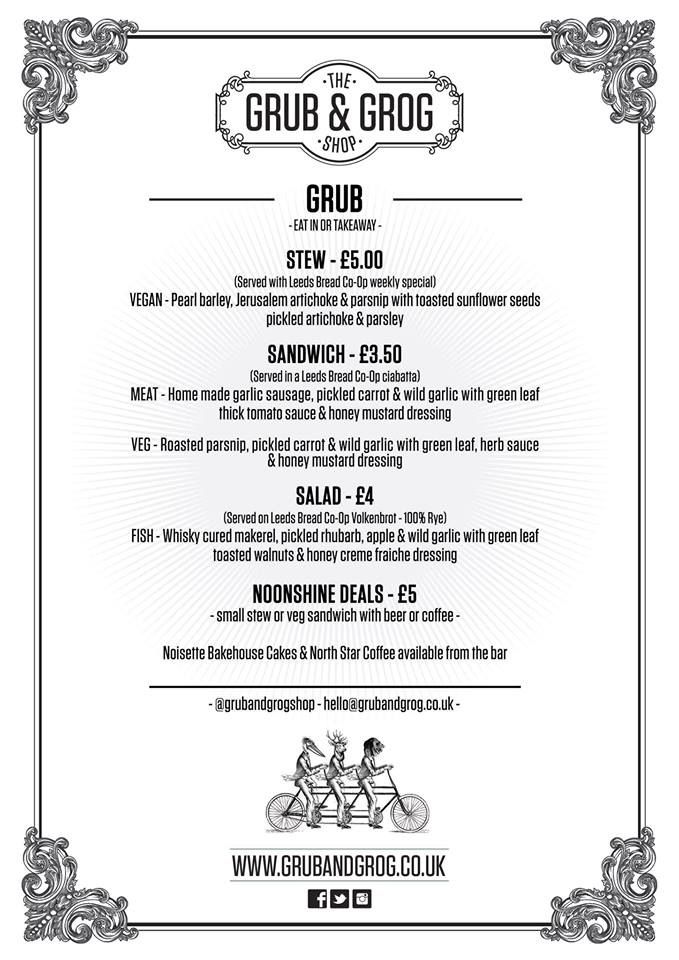 The vegan stew for this month is "Pearl barley, Jerusalem artichoke & parsnip with toasted sunflower seeds, pickled artichoke & parsley", and is served with
Leeds Bread Co-Op
's weekly special: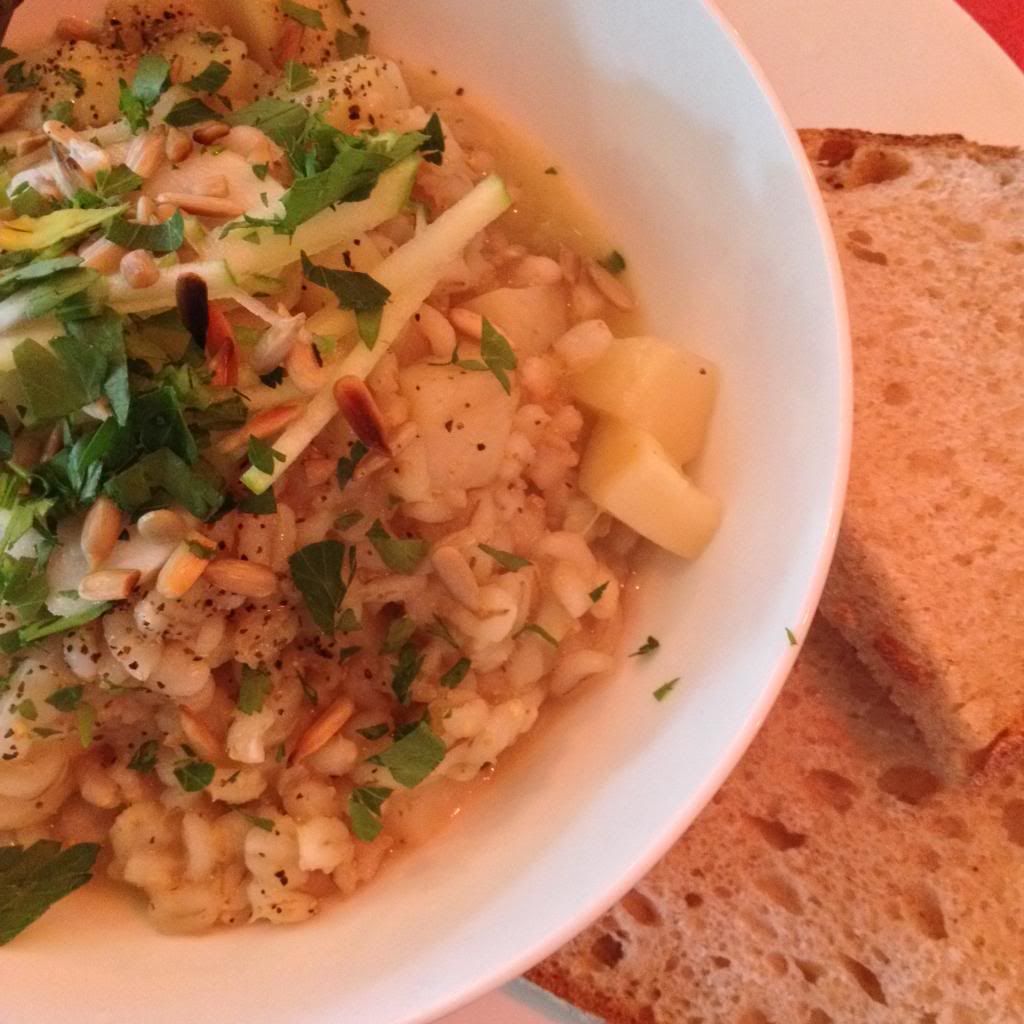 I used to think I didn't like artichoke but each time I try it, it seems to have been prepared in a completely different way and it's really opened my eyes! (I do love both parsnips and pickled things so this stew was probably the perfect combination to make me like artichoke...)
This stew was a brilliant mix of crunchy, soft, and hearty; with the pearl barley providing a toothsome (can I get away with using that word?? I'm not so sure...) backdrop to the crunchy parsnips and tasty artichokes. But what really makes me "mmmm" at Grub & Grog's stews is the toppings. Both stews I've tried have been topped with apple strips and something pickled and that sweet/sour/crunchy/tangy combo is just mouth-watering. Mmmm mmmm mmmm. As always, the bread from Leeds Bread Co-Op was a fantastic side to mop up the stew.
And then it was time for cake.
To be honest, the stew was so filling I didn't really have much space for cake. Well, when I say I "didn't have much space for cake", I of course mean I could live without it but could squeeze some in if necessary... which it was.
I must apologise here - this picture really doesn't do the cake justice, but I was so looking forward to eating it, I didn't spend enough time setting up my shot properly. You have no idea how excited I was to see such a pretty TRIPLE LAYER cake. I don't think I've ever seen a triple layer vegan cake to buy somewhere that wasn't a dedicated veggie place - even then, I'm struggling to think of somewhere I've seen offering a
triple
layer cake. So yes, I was excited.
This little beauty was a Sticky Raspberry Date Cake, complete with homemade raspberry jam sandwiching the layers together and a gorgeous almond topping. This cake tasted fantastic - just the right amount of sweetness, and the raspberry filling was splendid. It had quite a dense texture, which worked well with the flavour and brought the whole thing together brilliantly. I love trying the vegan items from Noisette Bakehouse - I know it's something that Sarah tries to be inventive with and I think it's wonderful that more people are providing vegan options on their menus. I always jump at the chance to try Noisette's new vegan offerings!
I would definitely recommend both the Grub & Grog Shop and Noisette Bakehouse to anyone - they also do non-vegan food for all you veganophobes out there!
I also just want to mention the guys from
North Star Coffee
, who are there at the Noonshine Cafe each time but as I don't like coffee they never get a mention, as I never buy anything from them! So head on over and check them out if you're a coffee drinker :)