On Friday, I went out for lunch. In a cafe. On my own. And I realised that it was probably the first time I've ever sat down to lunch in a cafe on my own, in my whole 29 years. Strange, eh?
I wasn't sure if I could be able to sit in to eat my lunch as
Outlaws Yacht Club
, who were hosting the event was way over the other side of town and I didn't know quite where it was. In fact, I walked straight past it the first time and had to double back on myself...
However, when I got there I asked how long it was likely to take, and was assured it would be super duper quick so I decided to chance it and sit down rather than going for the take away option and heading back to work. I'm glad I did! As promised, the service was snappy and I got to sit and enjoy my lunch in the lovely surroundings of this funky little place. The website describes it as art / cafe bar / hangout, which I totally agree with - I think I'll have to try the comfy chairs next time!
The Noonshine Cafe happens here every Friday, with a menu from
The Grub & Grog Shop
, bread from
Leeds Bread Co Op
and cakes from
Noisette Bakehouse
. This was the menu I got to choose from, so obviously I went for the vegan option. There were no vegan cakes unfortunately but I have been assured by the lovely Sarah at Noisette Bakehouse that there will be vegan cakes on the last Friday of each month - bring it on! (Her baking is delicious!)
Now, it's good when I go somewhere and there's a vegetarian dish which is accidentally vegan. I love it when I go somewhere and they actively state on their menu which items are vegan. I adore it when that vegan dish is as good as this one was! The stew was lovely and rich, with tender grains and gorgeous flavours. The apple and mushroom topping was spectacular! It contrasted so well with the stew that it made the perfect partner, especially alongside the crunchy-sweet walnut and raisin bread. I would definitely recommend checking these guys out if you get chance!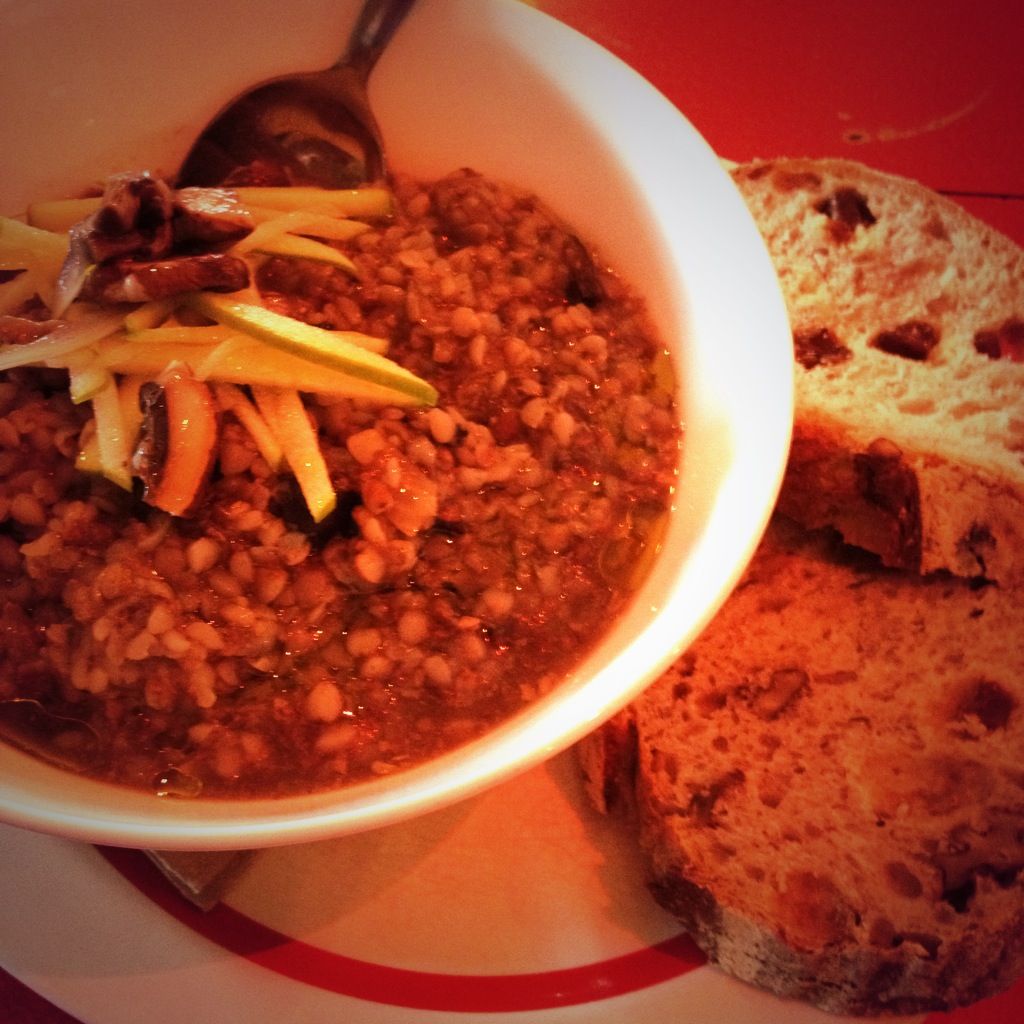 The Grub and Grog shop are currently running a Kickstarter campaign to get themselves set up with a van so that they can travel around the UK to provide catering at events, markets and festivals. If they are going to continue providing top quality, healthy vegan food like this then I shall be backing them all the way, I really hope they make it! Anyone that is helping to bring vegan food to the mainstream and making it more acceptable, more appealing, and easier to get hold of is doing something right in my book! You can take a look at their kickstarter campaign
here
.