For this month's vegan package swap, I was teamed up with another person from Poland. I got a completely different box to the box from my last Polish swap partner, so that was nice! It's always great to see the variation of vegan products in other countries.
I got LOADS of treats in my package this month, just look at all this swag: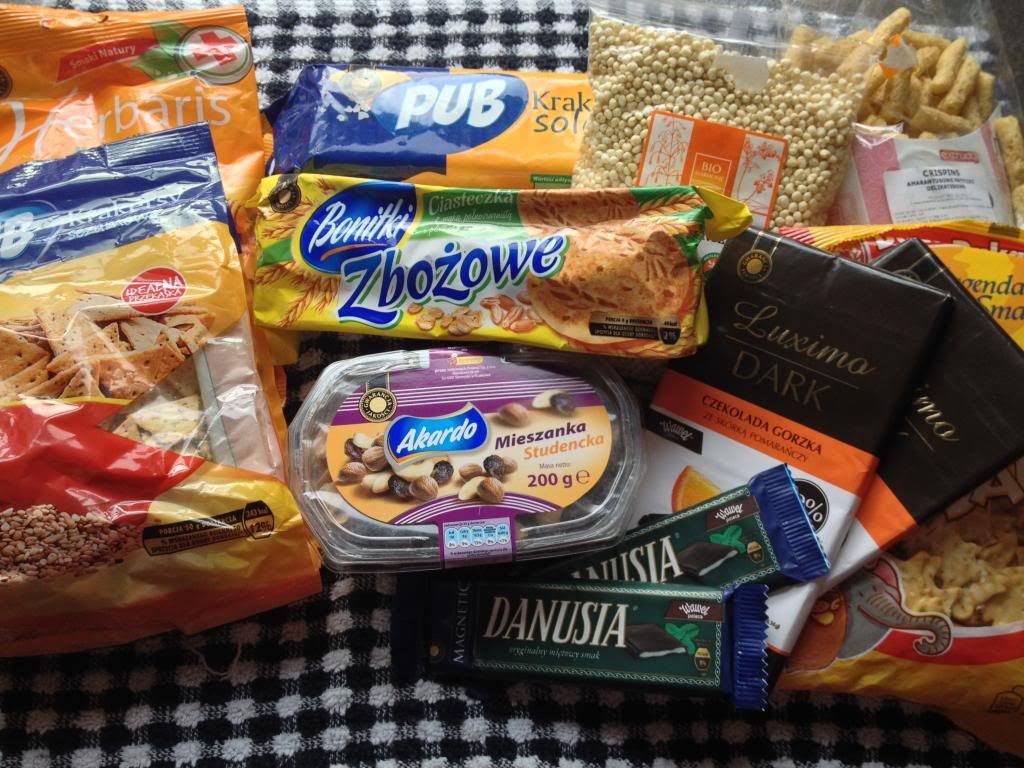 We've tried about half of the items so far. There was no note included this time, so this is what I think everything is, with the aid of online translation!
Savoury crispy breadstick like snacks (top right) - These seem to be made from corn! Rather interesting texture but unfortunately they had been a bit squashed in transit.
Puffed rice? - I think that's what these are (next to the above savoury snacks) - when I looked it up online it mentioned breakfast cereal. I think I might try putting these into some sort of chocolate bar or rocky road or something for some extra crunch.
Vanilla safari cookies - Again, these have been a bit squashed on the way. We've not tried these yet but I'm quite looking forward to them. They look like savoury crackers but they are vanilla flavour - I think these will be perfect for an evening watching films!
Dark chocolate with orange peel - These were yummy. At first I thought they were a little too bitter but I think that's just because I didn't get any orange peel in the first bite! I'm a sucker for the old orange/chocolate combo!
Chocolate-mint bars - These bars were like after eight chocolates, with a fondant centre. I'm not a fan of minty chocolate so I gave these to the other half. They were both gone in a day so I can only assume that they were good!
PUB crackers - These were savoury, salty cracker biscuits - like the Tuk biscuits you get in the UK. They were tasty!
Biscuits that I think are similar to digestive biscuits. We are yet to try these - it's dangerous to have biscuits in the cupboard in this house though!
Mixed nuts and raisins - This sort of thing is always good! Yum yum!
Sweeties - Unfortunately the sweets in the orange packet contained honey (I think this was a genuine mistake by my swap partner). However, as the husband isn't vegan I passed them his way...
And last but not least...
Savoury crackers - Again, a little crushed on the journey but these look like they will be good for scooping up hummus and the like.
All in all, a good box - lots of variety!
If you fancy having a go yourself and seeing what the food is like in other countries, head on over to All About Vegan Food's
Package Swap Page
. You don't have to be vegan to take part but all the items sent in the boxes must be suitable for vegans. It's a great way to learn about food you might not otherwise discover.