For my March swap, I was partnered with someone from the Netherlands - a first for me!
I received a wonderful box of goodies - just look at it!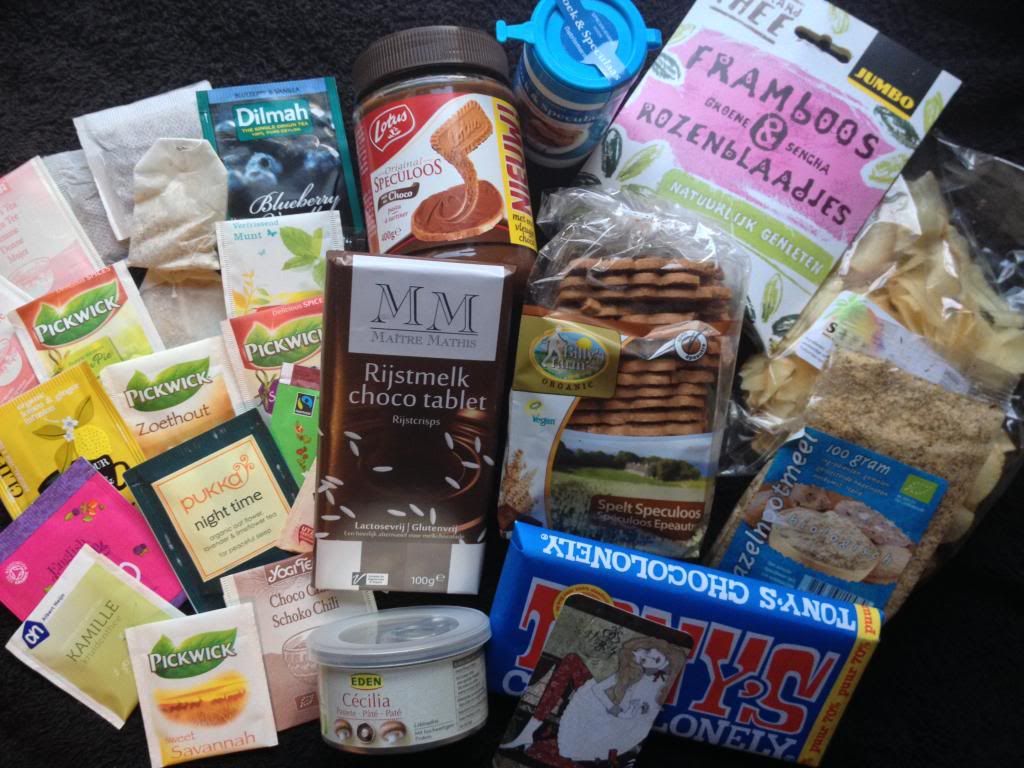 I must admit, I've not got around to using that much of it yet but as I've just signed up to the April swap I wanted to write the blog post before it got lost underneath all the others I have yet to write...
So in my box this month I received:
- Rice milk chocolate with crunchy rice bits
- Mushroom pate
- "Tony's" chocolate
- Biscuits
- Ground hazelnuts
- Cassava crisps
- Spices for biscuits
- Chocolate flavour Lotus spread
- A huge variety of teas
The rice milk chocolate went straight away. It was yummy - so yummy in fact that I didn't get around to taking a photo!
The mushroom pate is waiting to be spread on some toast I think... Mmmmmm...
Tony's chocolate sounds really interesting - you can check out their website
here
. It sounds like they are a very ethical chocolate company, sourcing everything directly so that the farmers are paid fairly. I'm looking forward to opening this, as the website states that their chocolate bars are divided into "25 unequal but all great tasting pieces".
The biscuits we ate over the space of a couple of days - very tasty. They had got a bit squashed in transit though so no photos unfortunately!
The ground hazelnuts will be very handy for baking - hazelnuts are one of my favourite nuts... I'm thinking something chocolatey will be good for these...
Cassava crisps - I had to look this up and apparently it's some sort of root vegetable. We have yet to try these!
Spices are always handy and these ones smell great! I just need an excuse to bake a big batch of biscuits now!
I've been wanting to try Lotus spread for a while - the regular one. I didn't even realise it came in a chocolate flavour! I am very much looking forward to trying this!
I've started working my way through the teas. I'm not a big tea drinker and there are a couple in there that I don't think I'll try (mint / liquorice) but so far I've liked most of the ones I've tried. The "lemon pie" flavour was great! This is one of the great things about these swaps - it makes me try things I wouldn't normally have!
UPDATE
I opened the chocolate! Look at it! And the INSIDE of the wrapper has stuff on it (not that I can read it but still...) ! It's tasty too! All that Fairtrade goodness... means it's good for me, right?