This is a rather delayed post about my box from
The Vegan Kind
, which I received a few weeks ago...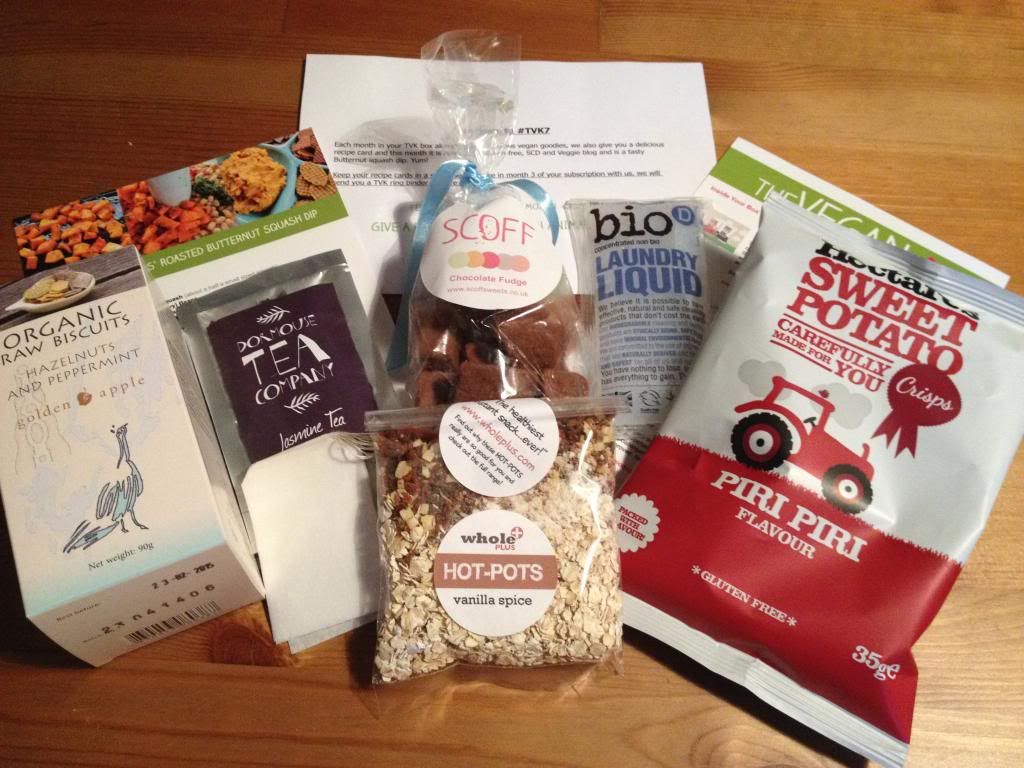 This month's box contained:
1. Hectares Sweet Potato Crisps
2. Wholeplus Hot Pot
3. BIO D Concentrated Non Bio Laundry Liquid Sample
4. Scoff Sweets Chocolate Fudge
5. Dormouse Tea Company Loose Leaf Tea and Tea Bags
6. Golden Apple Hazelnuts and Peppermint Raw Biscuits
1.
Hectares
Sweet Potato Crisps
I took these crisps to work as a snack on a day when I wouldn't be home til late, and they definitely served their purpose. I'm not a big crisp eater really, and when I do get crisps I usually go for the thick chunky ones rather than your standard Walkers (or whatever), but these were nice. They do taste quite different from normal crisps, what with being sweet potato, but the spice blend was nice and I like sweet potato anyway.
2.
Wholeplus
Hot Pot
This little packet of taste was a mix of oats, coconut milk powder, and the "vanilla spice" sprinkle topping. All you have to do is add hot water and stir - you couldn't really ask for anything more simple for a quick breakfast (or snack). It was full of flavour and I imagine it would be great to take to festivals, if you wanted to boil up your own water (or buy a cup from a vendor). Good stuff!
3.
BIO D
Concentrated Non Bio Laundry Liquid Sample
BIO D is a name I've seen before for laundry liquid but never tried (and I've still not got around to trying the sample either). It bears the BUAV and Vegan Society trademarks, is suitable for sensitive skin, and is made from naturally derived, sustainable ingredients.
4.
Scoff Sweets
Chocolate Fudge
The name "Scoff" is rather appropriate for this sweet company, as that's exactly what happened to the fudge! This is possibly the best vegan fudge I've had (with the exception of the vegan options from Fudge Kitchen). It was beautifully smooth and creamy, with a great chocolate taste.
5.
Dormouse Tea Company
Loose Leaf Tea and Tea Bags
I'm not a big tea drinker, so haven't tried these yet but it is very pretty and the little DIY teabags are ever so cute! I think this may be one of those things that I end up giving to someone who would appreciate it more than me... but it is a lovely set!
6.
Golden Apple
Hazelnuts and Peppermint Raw Biscuits
These raw biscuits are suitable for vegans, diabetics, and people with impaired gluten intolerance. Unfortunately, I don't really like mint so although I tried the biscuits, I didn't really enjoy them. Mr Hatter tried them but didn't get on with the texture (they were sort of dry but sort of chewy... I think this is just because we haven't had raw biscuits before though!).
The recipe card this month is for "
GF SCD & Veggies
' Roasted Butternut Squash Dip", which is made with butternut squash and haricot beans. It does sound rather tasty!
This month's charity is
Give A Dog A Bone
, who work to bring animals and elderly people together so that both sides can have mutual companionship. I've followed them on facebook for a while and they do have some very heartwarming stories!