Last Friday, we went to watch Misfits after work - but we needed to get some food before standing in a crowded room for hours.
I hadn't yet explored
Trinity Kitchen
(in the Trinity shopping centre in Leeds), as even though they get street vendors in to sell their food (rotating on a monthly basis), it still felt like it would be run by the big corporate shopping centre... I dunno, sort of like supporting the big company instead of the little people?
When we got there, it was a lot nicer than I had expected. There was a good variety of choice between the stalls with nice communal seating areas.
I ordered from
Pho
, a Vietnamese stall - the name sharing that of Vietnam's national dish (noodle soup). They have a number of locations around the country and a tasty looking menu!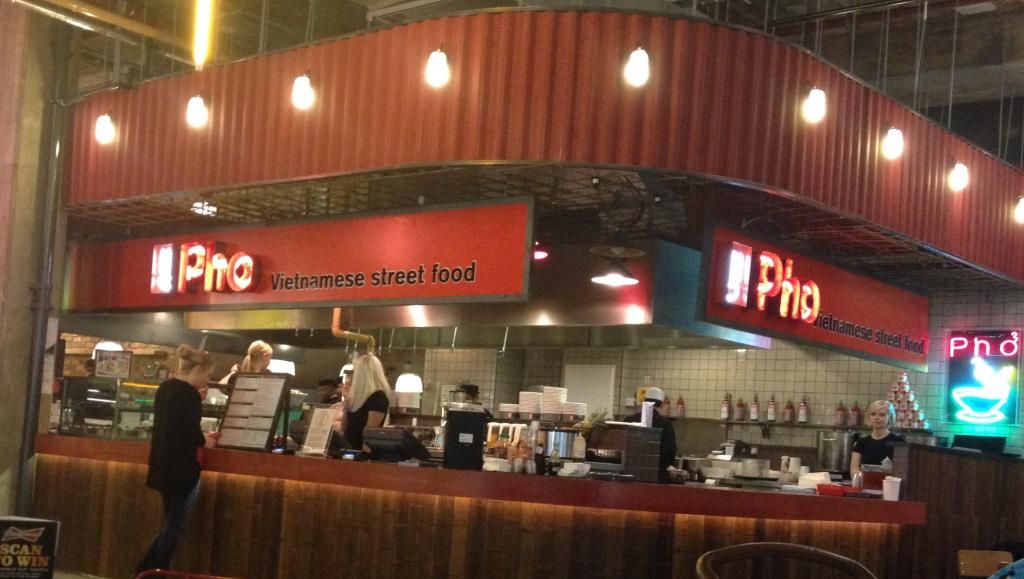 I opted for the Pho Xao Veggie, which was a dish consisting of wok-fried flat rice noodles served with crunchy greens, tofu and mushrooms, topped with roasted peanuts and beansprouts: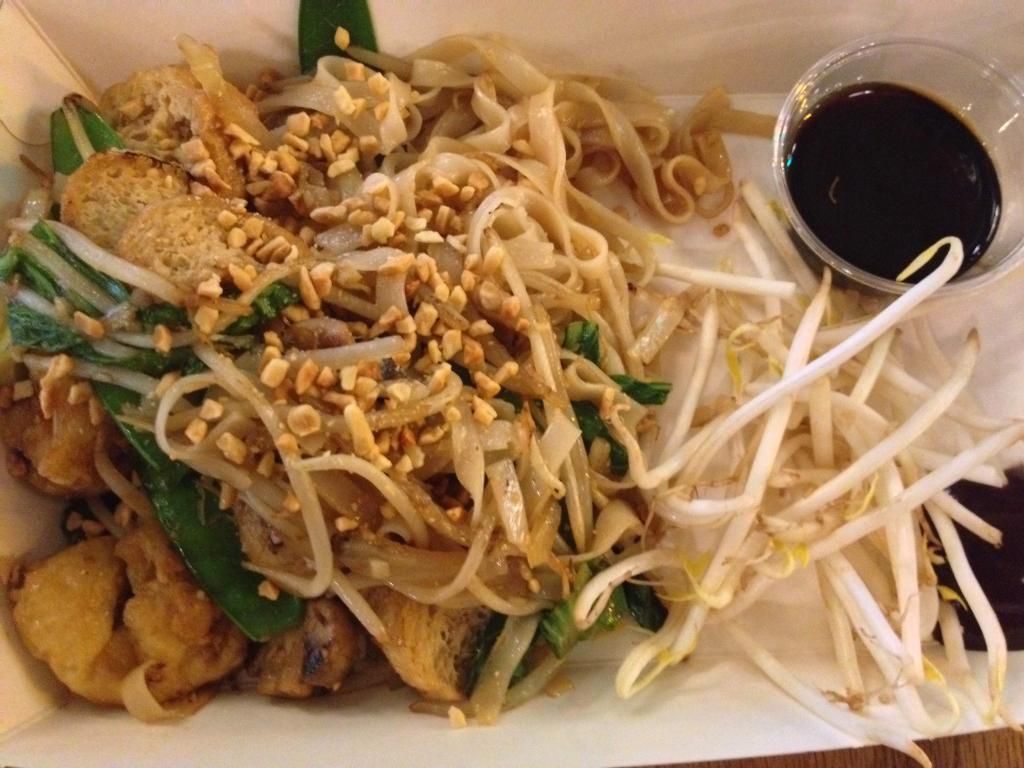 It was wonderful! I have a bit of a thing about finding good vegan noodles, as so many places still use egg noodles as the only option - and these did not disappoint. The portion was huge, with lots of tofu (my only complaint would be that there weren't very many mushrooms to say that it was listed as "tofu and mushroom"), and tasted amazing. If you get the chance to visit a branch of Pho, I would definitely recommend it.
As for Trinity Kitchen, I'm still undecided. It didn't really seem to know what it wanted to be - part outdoor picnic area/BBQ area, part cocktail bar, part diner... The area we sat in had fake turf and outdoorsy style cafe tables - but it felt like they were trying a little too hard.
Overall, it was a nice enough place to have dinner before going to a gig but if I wanted to go out for a meal I would probably choose somewhere else. It was great for what we needed though - some quick tasty, wholesome food. (Well, not necessarily wholesome - Mr Hatter chose fish & chips!)
I do think it's a great place for street food vendors to showcase their wares though, and that is one of the reasons I think I will be back here at some point. I believe the wonderful
Banh Mi Booth
are in there now, the vendors having just swapped over. I would recommend you to go try their wares - see my
Brandon Street Night Market
post!