Yes, yes, it's nearly June and I'm only just posting up the write up of my May vegan box swap...
For the May swap, I received another Polish partner, who sent me a lovely box: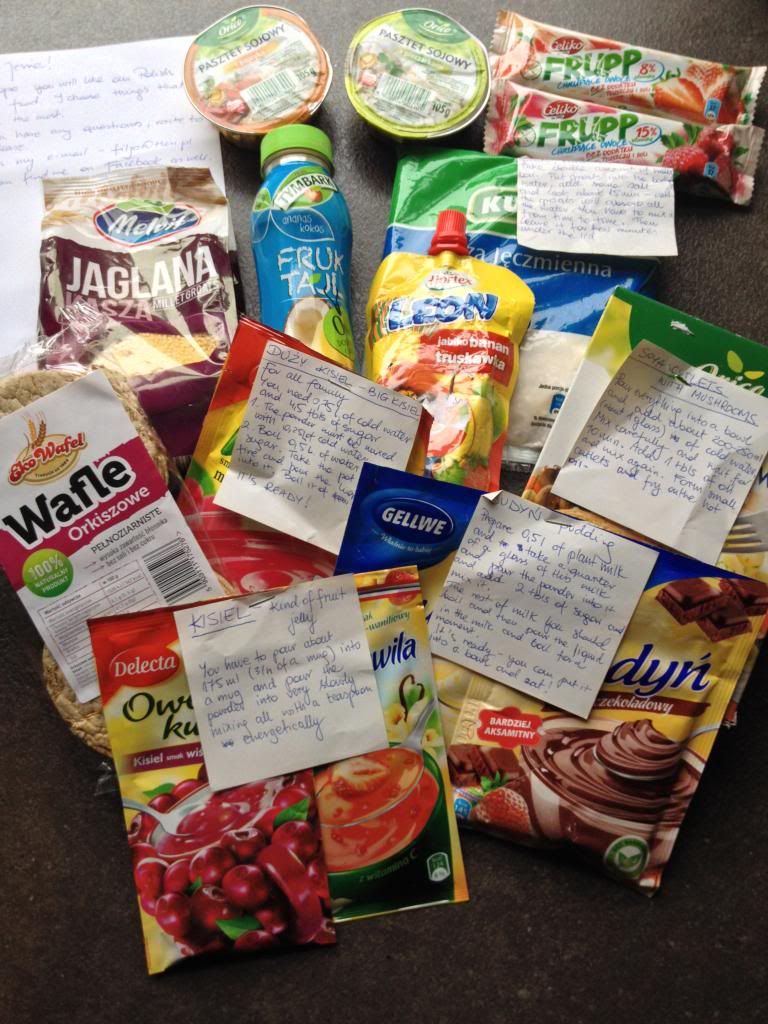 I seem to have used a lot of the products without taking photos for some reason, so you'll just have to put up with a description!
So starting at the top, there are two tubs of

pâté

both of which were very tasty. (I think Mr Hatter and I have discovered a love of

pâté

!)
The two fruity bars went quickly - they were made out of dehydrated fruit and were a lot tastier than I imagined they would be!
The drink in the yellow pouch was like a very thick fruit smoothie, which was strange coming from a plastic pouch... It tasted very healthy!
The rice cakes also tasted very healthy, as I think they were made from brown rice. I enjoyed them a lot more than the white rice cakes I've had before - although I do like white rice cakes too.
The only other thing I have tried so far is one of the pudding sachets. I tried part hot, and part once it had cooled down in the fridge and both were yummy. I think pudding/jelly sachets are the only common thing I've had from my various Polish swap boxes.
I can't wait to try the rest! Mr Hatter and I are going to have a healthy few weeks (in preparation for Mr Hatter's impending birthday), so I've planned in some meals using the millet and barley. Maybe some of those meals will make their way onto the blog...?
If you want to find out more about the Vegan Package Swap, or even take part yourself, take a look at the All About Vegan Food website here.