So after yesterday's ridiculously unhealthy dinner, I wanted something actually nutritious for my lunch today. Enter an old favourite, and regular lunchtime hit for me and Mr Hatter - "Ghetto Hummus".
I'm not sure who came up with the name but basically there was a day when I was going to make hummus for lunch but couldn't be bothered dirtying the food processor, so I just threw all the ingredients in a bowl and mixed them up. It's so quick to make, and it is open to pretty much any flavour combo you want to try!
We just had ours over a mixed salad, but you could have it with whatever you like - cous cous, baked potato, a spoon! (I did warn you about my relationship with chickpeas...)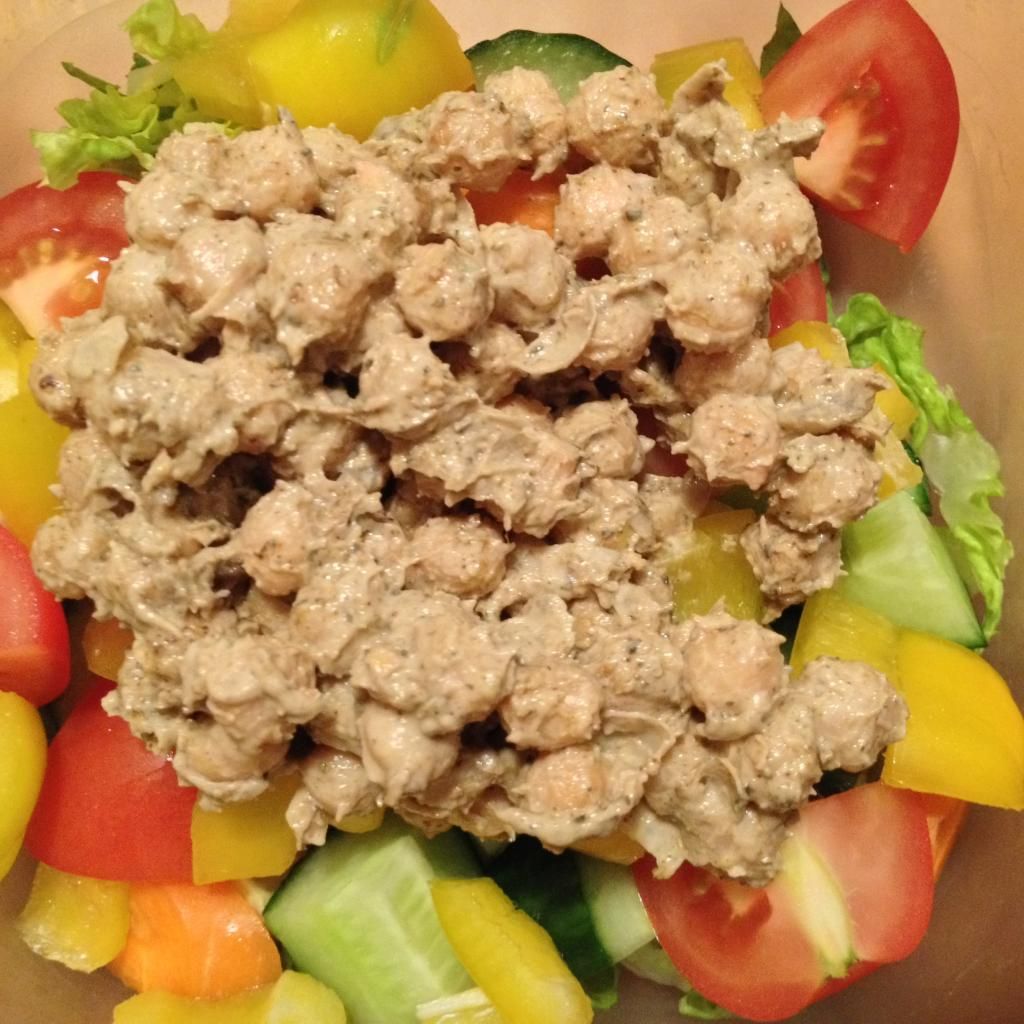 Ghetto Hummus
Serves 2
400g tin chickpeas
2 tbsp tahini
1 tbsp lemon juice
1 tbsp olive oil
spice mix to taste (see below)
salt (optional)
1. Drain and rinse the chickpeas, and put in a bowl.
2. Add the tahini, lemon juice and olive oil and mix until well combined - you don't want any tahini clumps. You may need to add more liquid to get it to mix properly, so add a little at a time and stir well between each addition. You can use lemon juice, oil, or even just a bit of water - depending on your preference.
3. Add the spice mix. I always do this once everything else is the consistency I want it to be, to make sure there are no clumps of spices hidden away. At the moment I am using a harissa spice mix from a previous The Vegan Kind box but you can use anything you fancy. A combination of cumin, coriander and paprika gives a nice hummusy taste. Or you could try a combination of herbs such as basil and oregano. Again, the amount you use is dependent on your tastes - I add a decent amount of the harissa spice because it's a blend we both really like (and we don't mind a bit of heat).
4. Once you have seasoned enough, taste to check whether you want to add any salt to bring out the flavours. It may not need salt so check before adding! If you want to, you could also add some minced garlic but I don't usually bother as it adds on prep time, and I like to make this because it's quick!