We didn't have time to go grocery shopping this weekend, so when looking at our lunchtime options last night there wasn't much to inspire us. Instead, we decided that we would buy our lunch today.
I usually stick to the same couple of places for lunch because they're easy and I know that they do nice lunchtime food. However, today there was somewhere new that I wanted to try...
I'm going to make a confession first.
I love hummus. Like, eat-it-from-the-pot-with-a-spoon kind of love. You might say I have a bit of a chickpea problem.
Anyway, a little while ago I saw someone mention a place called
Humpit
which had recently opened in
Leeds Corn Exchange
. Humpit is a contraction of "hummus & pita", so you can imagine my excitement...
I finally (a) - remembered and (b) - managed to get to Humpit for my lunch today.
Oh my.
Firstly - EVERYTHING is vegan. Yay!
Secondly - The portions are huge. Seriously. Huge.
Thirdly - CHICKPEAS!! Am I right??
Ahem.
As I wanted to try everything, I opted for "The Humpit Classic" with an added topping of "Falafel, Pine Nuts & Tahina". Basically, this was a big bowl of hummus topped with whole chickpeas, olive oil, parsley and paprika, plus my chosen toppings. Clocking in at a mighty £6 it cost more than I would usually spend on my lunch but it was well worth it. Just look at the size of this thing...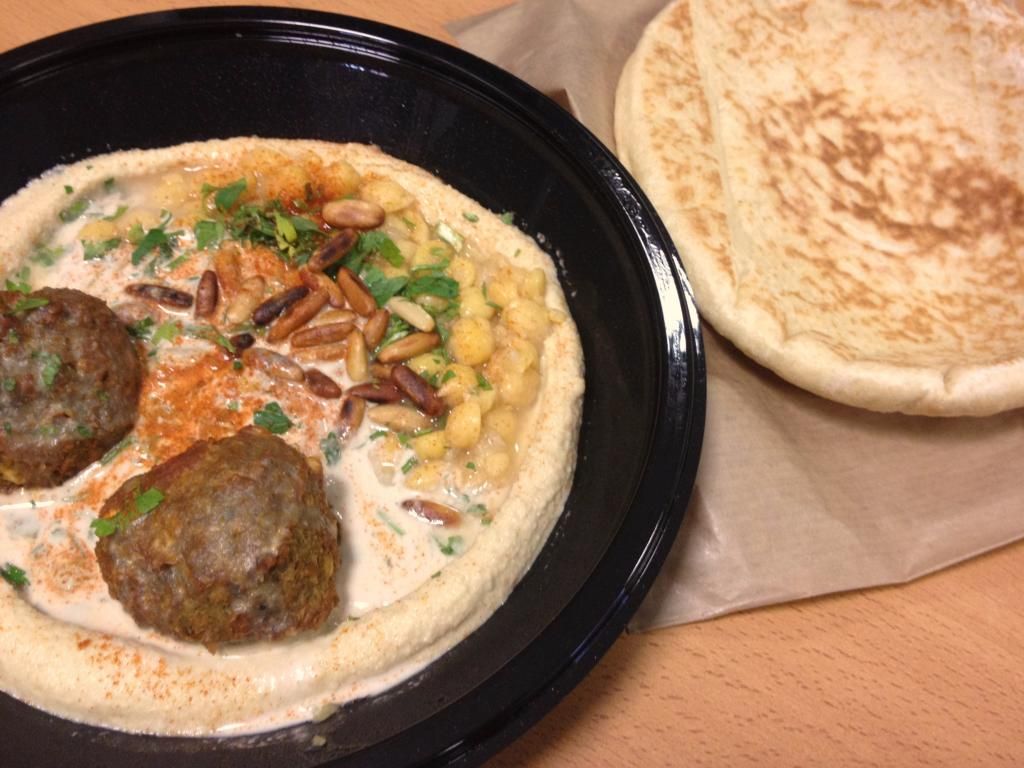 Okay, maybe there is nothing in that picture to judge the scale but it was a sort of dinner plate sized bowl. Trust me, it was big.
The hummus was beautifully creamy, the falafels were lovely and flavourful and the pita was a great texture. The tahini and pine nuts also really finished the dish off well. It was also ever so filling - all those lovely tasty chickpeas kept me full right through until tea time. My only complaint would be that it would have been nice to have a bit of salad to break it up - but that's my own fault for being greedy and choosing all the chickpea/carb based items!
I think next time, I would try either the hummus or falafel in pita, as that comes with salad and pickles - and is only £3.50. Or maybe if I asked nicely, they would do me a bowl like this but with salad instead of pita... oh the possibilities...
They also make their own lemonade, which I would like to try if eating in - or maybe just if getting a cheaper lunch. So hopefully I'll try that on my next trip too, as I love homemade lemonade.
I was hoping to ask the guys a few questions so I could put a bit more info about them in this post but just as I had finished placing my order some of their friends arrived and I didn't want to be rude. So maybe next time I will be able to give you some more background on this business!
Here is a (rather shiny) photo of their flyer so you can check out the full menu for yourselves. When you order, you have the option to eat in (although there were only a few tables) or take-away (which is what I did). There is no discount for take-away though, and it was a pleasant little shop so there would be nothing wrong with eating in - Leeds Corn Exchange is a beautiful building. I will definitely be going back - Mr Hatter saw the photo of my lunch and said he wanted to go!
That shiny bit says "...was only for spreading or snacking..."