I was recently contacted by a member of the
Oatly
team to see if I wanted to sample and review some of their products. Sampling food products you say? Of course it was a yes!
Oatly is an oat-based milk alternative, who have just launched some funky new-look packaging, and asked if I would like to try some samples of their revamped product. They also sent me a couple of recipes to test out for them, which they are kindly letting me replicate on the blog. Seeing as I now have an abundance of oat-based milk, I think "All Things Oat" will have to be the theme for this week's blogs! Look out for some recipes coming up this week - some of which I was sent by the lovely people at Oatly, some which I have created using Oatly's products.
The Swedish company has been working with oast since the early 1990s at a time when people thought the ambition to develop a drink from oats was crazy. The goal to create a nutritious alternative to milk without it having gone through the body of a cow was achieved in 1994 with Oatly's first incarnation - 'Mill Milk'. 20 years later there is a range of five Oatly products in the UK with hopes to increase this over the next year.*
Oatly is Sweden's number one milk substitute and is designed to be used anywhere you would usually use milk or cream. It is widely available in the UK - I found my milk from ASDA and the cream from Leeds health-food store, Out Of This World. They currently offer a range of five products for the UK market:
The Original Oatly Oat Drink Ambient
The Original Oatly Oat Drink Fresh
The Original Oatly Organic Oat Drink
The Original Oatly Oat Drink Chocolate
The Original Oatly Organic Creamy Oat
The company sent me enough vouchers to sample three of their products, so I bought one of each of their "ambient" flavours (i.e. found on the shop shelves rather than in the fridge) - Ambient, Organic, and Chocolate. I did stumble across a box of the Creamy Oat at a later date, so bought that as well to give it a whirl.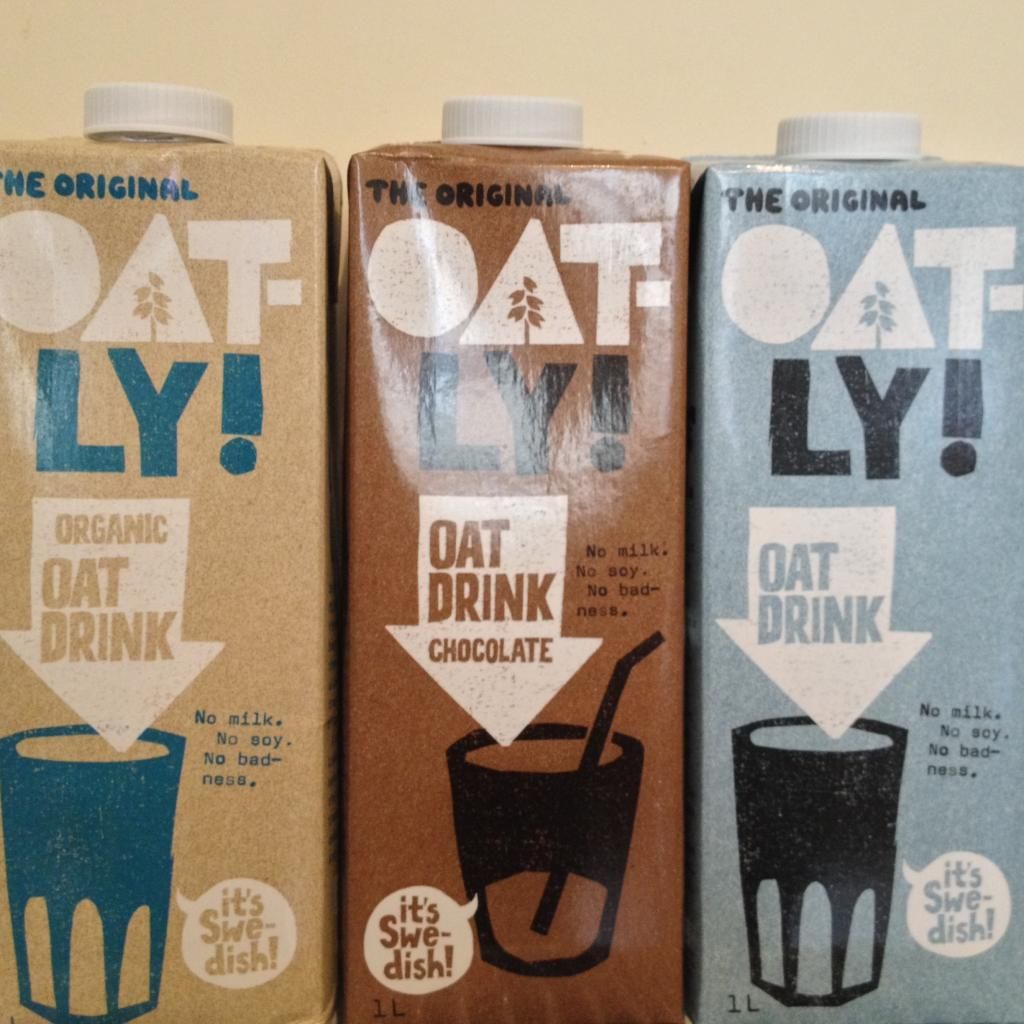 I have taste tested these milks for you - aren't I kind! I've also used them in a few recipes, so keep your eyes peeled this week for some lovely oaty goodness...
The Original Oatly Organic Creamy Oat
I only had a tiny taste test of this, as I needed to use the whole box for the recipe. However, it had a nice taste and a lovely creamy texture. It seems like it would be a good replacement for cream in recipes, and it tasted sweet enough to be used as a cream substitute poured over something like a nice hot apple pie... Mmmm... Pie...
The Original Oatly Oat Drink Ambient
This milk has a good colour and consistency - provided you shake the carton properly! Initially, I made the mistake of only giving it a gentle wiggle and poured out some yellowy water (due to natural separation in the box). However, I just poured this back in, gave it a good hard shake and tried again - it was fine the second time. The flavour was good (I chilled it first), however it still had that cerealy taste which I associate with oat milks - but that's probably due to the amount of muesli I've eaten in my time; I just associate oat flavoured milk with cereal! (It doesn't taste cerealy when used in something, just when tasted on its own.)
The Original Oatly Oat Drink Chocolate
This milk has a lovely chocolatey flavour, and doesn't taste cerealy. It is sweet enough to drink straight out of the fridge and has a nice light taste that's not sickly at all. I imagine this would make tasty hot chocolate but the weather has been too warm for me to want to try that yet.
The Original Oatly Organic Oat Drink
This one was pretty similar in colour and taste to the regular Ambient drink (and I had learned to shake it properly this time!), with the added benefit of being organic.
*Information taken from Oatly's info sheet.
Please note
The products in this blog has been provided by Oatly but all opinions stated are my own.