The first of the Oatly recipes which I am going to share with you is their "Oatly Creamy Pasta with Asparagus & Toasted Walnuts". As there are only two of us at home, I made half the amount on the recipe sent by Oatly.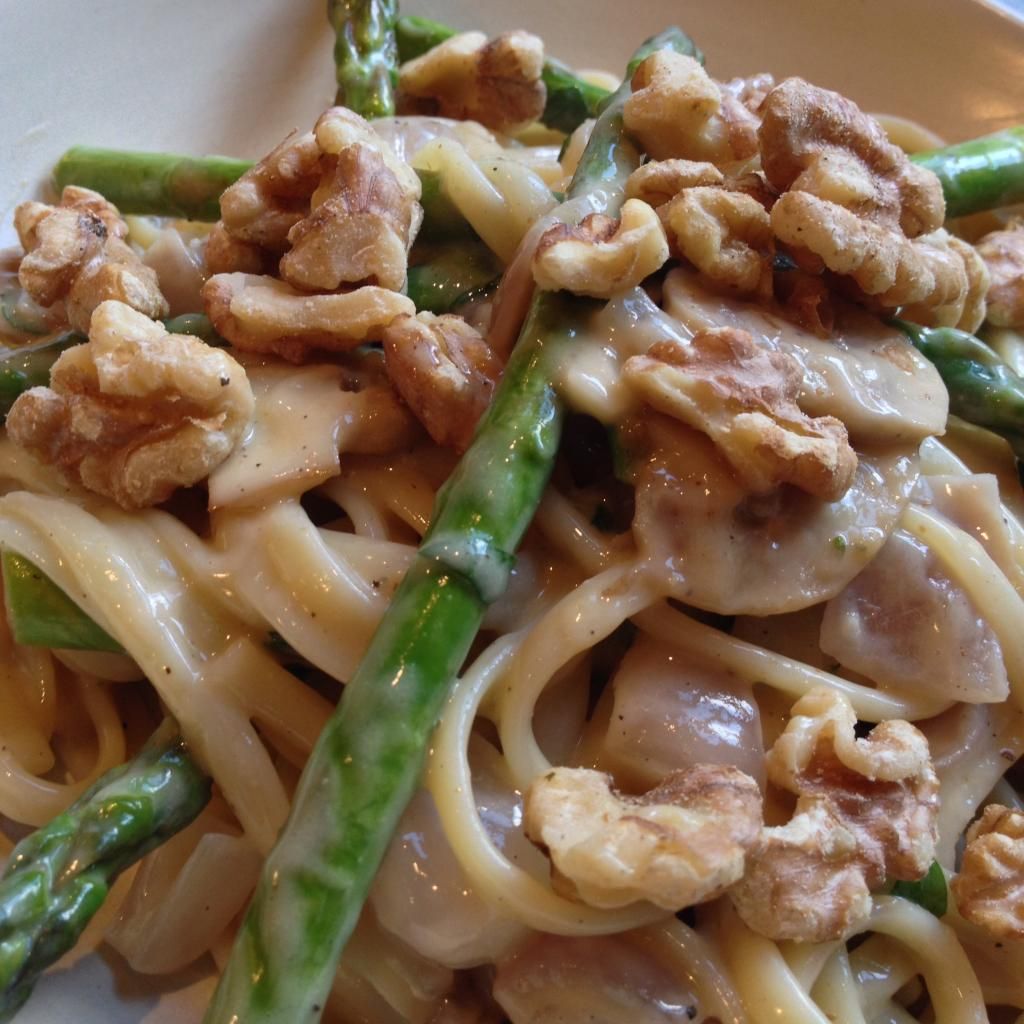 I had a little taste test of the Creamy Oat before adding it to the recipe, and I think it has a suitable taste to be used as a cream on a dessert - although I can't say for certain as I used the whole box in this recipe!
The sauce had a lovely flavour and was nice and creamy so it coated the pasta and asparagus well. The flavours all complemented each other and the toasted walnuts added a good crunchy boost of protein. If you like creamy pasta, give it a go yourself!
Please note that the text in brackets in the recipe below has been added by me.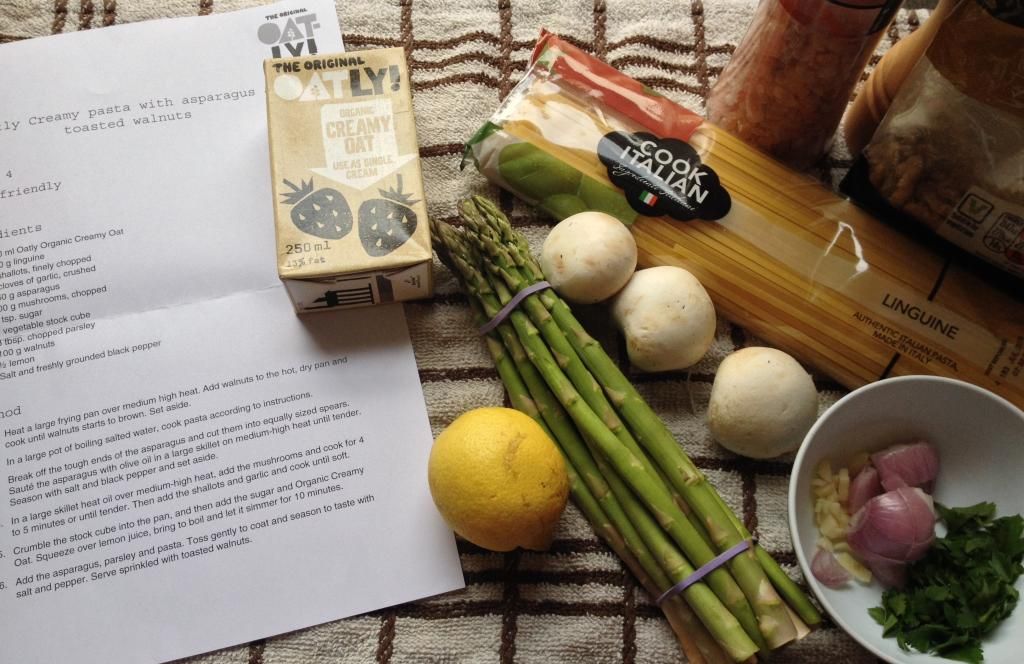 Oatly Creamy Pasta with Asparagus & Toasted Walnuts
Serves 4
500ml Oatly Organic Creamy Oat
300g linguine
2 shallots, finely chopped
2 cloves garlic, crushed
250g asparagus
100g mushrooms, chopped
2 tsp sugar
1 vegetable stock cube
3 tbsp chopped parsley
100g walnuts
1/2 lemon
Salt and freshly ground black pepper
1. Heat a large frying pan over medium high heat. Add walnuts to the hot, dry pan and cook until walnuts start to brown. Set aside.
2. In a large pot of boiling salted water, cook pasta according to instructions.
3. Break off the tough end of the asparagus and cut them into equally sized spears. Saute the asparagus with olive oil (about 1 tsp) in a large skillet on medium-high heat until tender (about 2-3 minutes). Season with salt and black pepper and set aside.
4. In a large skillet heat oil (about 1 tsp) over medium-high heat, add the mushrooms and cook for 4 to 5 minutes or until tender. Then add the shallots and garlic and cook until soft (about 2-3 minutes).
5. Crumble the stock cube into the pan, and then add the sugar and Organic Creamy Oat. Squeeze over lemon juice, bring to boil and let it simmer for 10 minutes.
6. Add the asparagus, parsley and pasta. Toss gently to coat and season to taste with salt and pepper. Serve sprinkled with toasted walnuts.
Recipe credit
This recipe was made using Oatly Organic Creamy Oat - a great dairy free, healthy alternative to single cream. For more delicious recipes and further information about the Oatly way of life, visit www.facebook.com/oatlyab
Please note
The recipe in this blog has been provided by Oatly but all opinions stated are my own.