Following on from my post the other day, it's finally time for me to show you what was in this month's box from
The Vegan Kind
!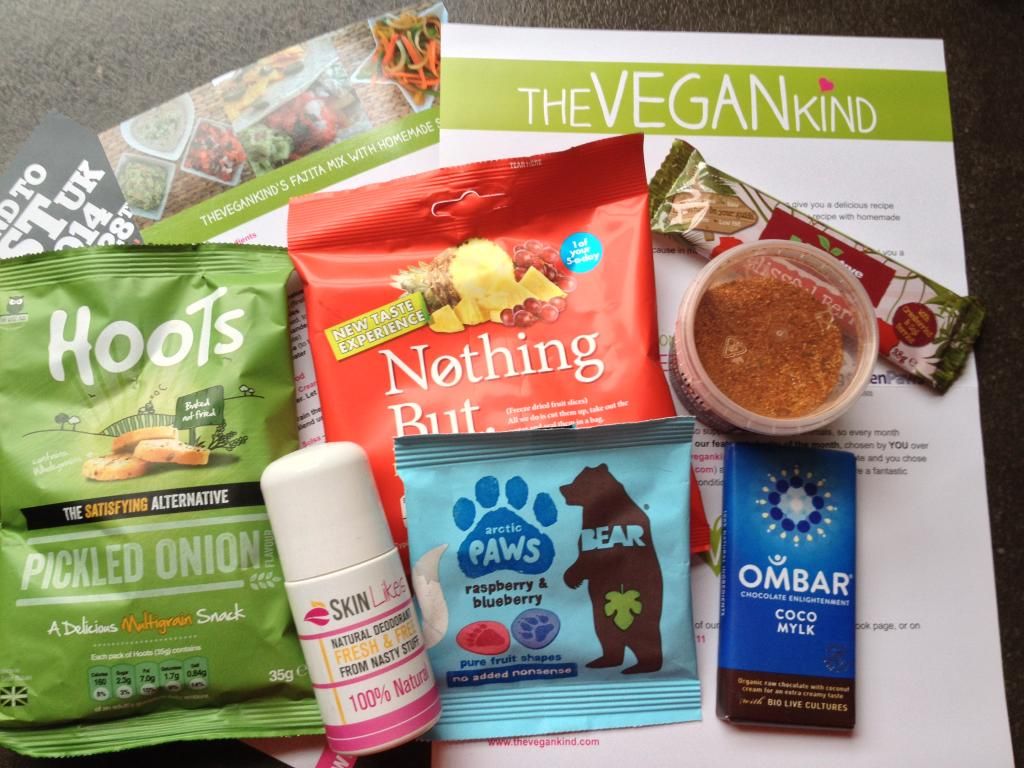 It was another cracking box, with a lot of things I haven't tried before:
Ombar
Organic Coco Mylk Bar
Hoots Snacks
Pickled Onion Flavour
Bear
Paws (Assorted Flavours)
Taste Spice
Magic BBQ Dust
Skin Likes
Natural Deodorant
Creative Nature
Blissful Berry Snack Bar
Nothing But
Fruit Strawberry and Banana
The only thing I had actually tried before was the Ombar, and that was just as a sample at last year's VegFest. I had also previously tried different flavours of the Creative Nature bars and the Nothing But snacks, but not these specific ones.
Ombar
Organic Coco Mylk Bar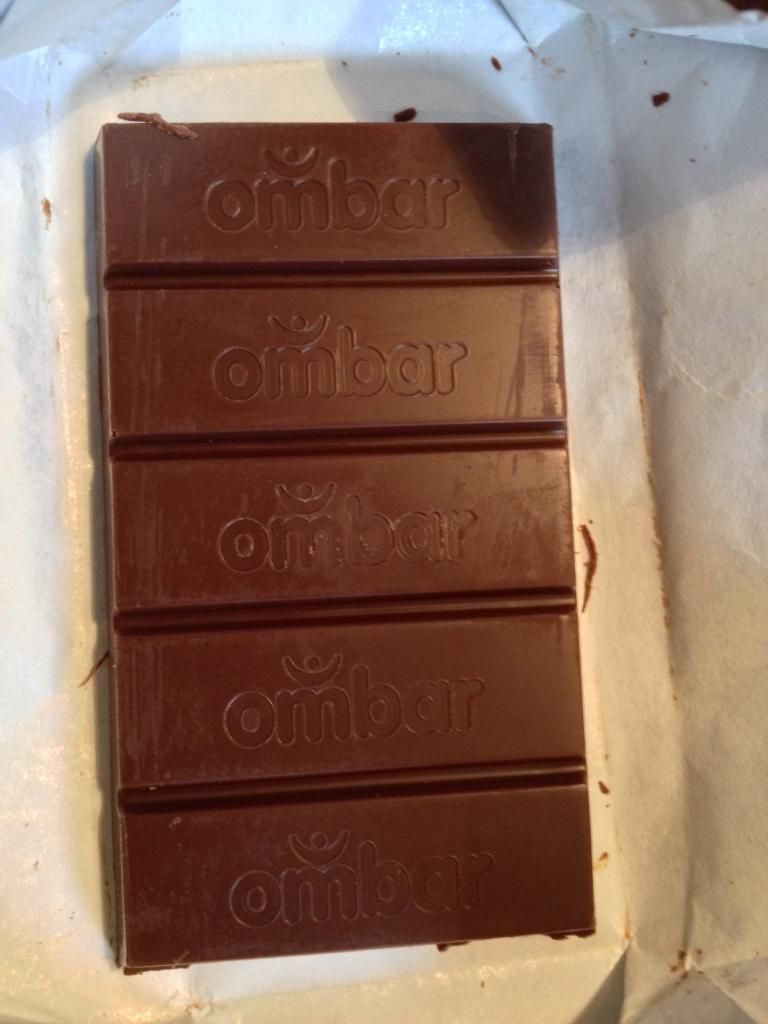 As I said, I had previously sampled Ombar but it was nearly a year ago now (gosh that has flown by!). Ombar use raw, organic cacao from Ecuador and sustainably sourced coconut palm sugar from Java. It is also made using coconut milk, which gives it a lovely smooth consistency very similar to milk chocolate made with dairy. I'm usually not a big fan of vegan "milk" chocolate, as I find it can taste quite artificial and not really like chocolate. However, this stuff is AMAZING! I must not have been paying attention when I tried it last year, as this has quickly catapulted up my list of good vegan chocolate. I will definitely be eating more of this. (And by the way, you get one more square than is shown in the photo... I was impatient.)
Hoots Snacks
Pickled Onion Flavour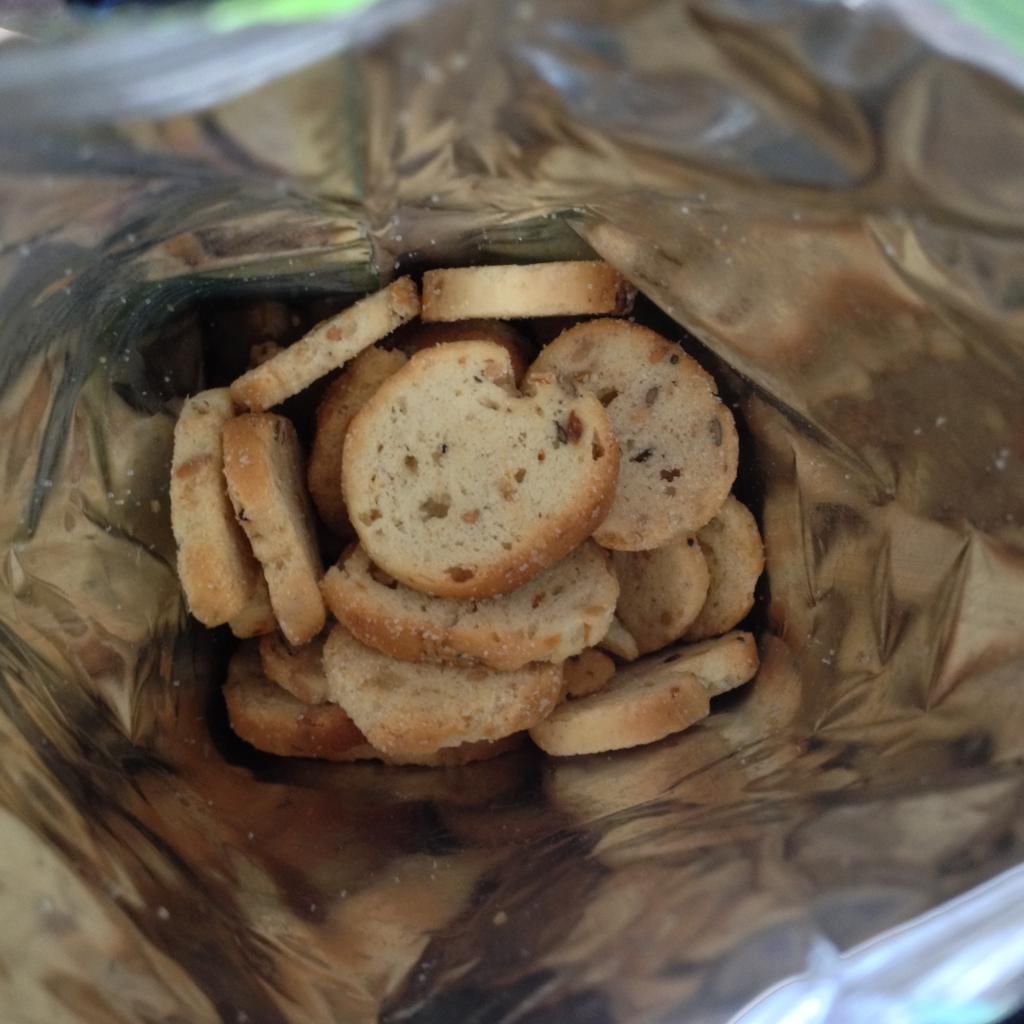 These multigrain snacks remind me of the boxes of "french toast" or "melba toast" that I used to get when I was younger but much, much tastier. They have that lovely crunchy toasty texture and the flavour is just how I remember Monster Munch to taste (although it's been a while since I had any Monster Munch so don't quote me on that...). I will be keeping my eye out for these, as they would be a fantastic healthier stand in when I have a craving for crisps.
Bear
Paws (Assorted Flavours)
As you can see, I got the raspberry and blueberry flavoured paws, and they were lovely. They are made from pure fruit and although I was a bit wary of what the texture would be like, they were actually very nice. Apparently you can find them in the baby and toddler aisle of the supermarket but you can definitely enjoy them as an adult as well!
Taste Spice
Magic BBQ Dust
This spice pot smells amazing and added some lovely flavour to my scrambled tofu this evening! I think it would be brilliant paired with a nice hearty piece of seitan to be thrown on the BBQ.
Skin Likes
Natural Deodorant
This deodorant uses a blend of plant-based oils, with no synthetic ingredients. It has a pleasant smell, was kind to my armpits, and kept odour at bay - so it seems to be a winner all around!
Creative Nature
Blissful Berry Snack Bar
I haven't eaten my snack bar yet as I forgot to take it to work today, but I imagine it will be tasty as Creative Nature generally is. This bar is naturally sweet, with no added sugars or preservatives. It is also wheat, GMO and dairy free.
Nothing But
Fruit Strawberry and Banana
Now... The info sheet states Strawberry and Banana but I actually received Pineapple and Grape - which is probably better as I'm not a fan of banana in dried form. It is all-natural, as it is literally just freeze-dried fruit! I'm not sure how I feel about freeze-dried fruit and veg, as it has a texture I don't really get on with. Rather than open the packet and decide I don't like it, I'm going to wait and put it in some granola or maybe see if I can bake it into something.
The charity of the month is
Serbia's Forgotten Paws
, who aim to improve the welfare of cats and dogs in Serbia. 10p from each box sold will be donated to the charity by The Vegan Kind.
This month's recipe card features "The Vegan Kind's Fajita Mix with Homemade Sides" and looks yummy. Mr Hatter usually handles the fajitas in our house, but I think next time I will be trying to make my own sour cream and guacamole (still trying to conquer my avocado aversion).
If you like what you've seen, you can subscribe to your own monthly box
here
for a cost of £10 per month plus shipping.