***EDIT - After reading various reports about the chai latte, I contacted Starbucks again. This time, they confirmed that the chai does contain honey so is not suitable for vegans... grumble, grumble. The good news is that Costa confirmed the me that their chai is vegan - yay!***
***EDIT #2 - I recently ordered a Strawberries & Cream Soya Frappucino only to be told that the Creme Frappucinos are not actually vegan. Apparently there is something in the cream flavouring that is not vegan, but the barista couldn't remember exactly what it was. They had checked all the ingredients for a customer the week before, so when he heard me order soya milk he asked if I was vegan. So it sound like even Customer Services can't give a clear answer about what is/isn't vegan, as they had previously told me that Frappucinos were fine so long as you had it with soya milk!***
Our
Starbucks
card was recently upgraded to Gold status, which basically means we've bought a lot of coffee and hot chocolate in the past year. Consequently, I thought now would be a good time to write this post.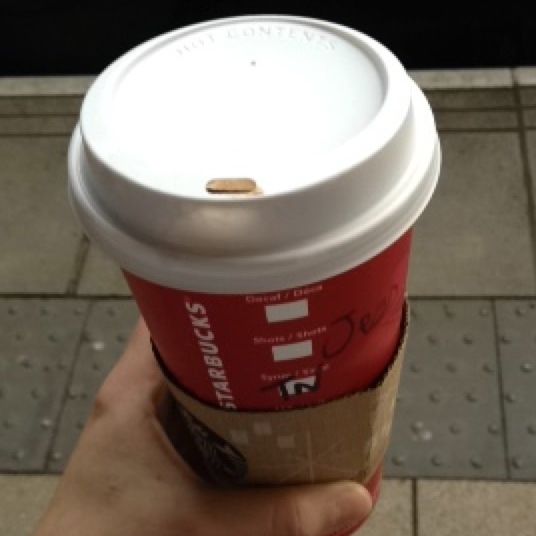 I'm sure that some of you will probably be disagreeing with my beverage choices, thinking instead that I should support the small, independent coffee shops rather than this global corporation. I agree with this in principle, but the beautiful thing about Starbucks is that I can be anywhere in the country and know that there is somewhere I can go to and get a vegan drink quickly and easily (usually).
I say usually because I had a little run in with one particular Starbucks barista before Christmas, who was trying to tell me that all the hot chocolate there contains milk - and I knew this to be false!
To put my own mind at rest, I emailed Starbucks customer service. After about 4-5 weeks and a number of emails chasing them, I was finally sent a list of all the vegan products available at Starbucks and wanted to share it with you. To be fair to the customer service representatives, they were very apologetic - even though they took a lot longer than "shortly" to reply to me.
"I am truly sorry that you had such a disappointing visit because of how you were treated. This is obviously not the experience we want you to have at our stores. I can confirm that the following beverages and food items are currently suitable for vegans."

Drinks:
Tazo Tea
Filter Coffee
Café Misto with Soy
Steamed Soy with or without syrups
Espresso
Espresso Macchiato with Soy
Café Americano black or with Soy
Soy Lattes with or without syrups
Soy Cappuccinos with or without syrups
Mocha with Soy
Classic Hot chocolate with Soy
Tea based Frappuccinos
Frappuccinos made with Soy milk without whipped cream (excluding our Mocha Cookie Crumble Frappuccino due to the Chocolate Chips in the beverage recipe as they contain dairy. Our Caramel Drizzle topping is also not suitable for vegans as it contains dairy.) ***EDIT - NOT VEGAN***

Food:
Perfect Porridge with Soy Milk and dried fruit
Very Berry Compote
Fresh Fruit Salad
Fruit Salad
Fairtrade Banana
Roasted Almonds
Nut Mix
Fairtrade Chocolate bar – dark
Sea Salt Potato Chips
Sea Salt and Cider Vinegar Potato Chips
Lollipops
After Coffee Mints

I can confirm that all of the other syrups are vegan, it is only pumpkin spice and the honey and almond drizzle that is not suitable.
Historically, the only hot drink I have enjoyed has been hot chocolate. I never got into drinking tea and coffee, apart from the very occasional herbal tea if I want a hot drink without all the sugar and calories of a hot chocolate. Hot chocolate is still definitely my favourite hot drink but I have recently branched out to try the chai soy latte from Starbucks, and was surprised by how much I enjoyed it... Am I finally "growing up"??
Nah...
Since this email, I have discovered that there is a food item missing from this list! Perhaps they only changed it after this had all been sorted out, as I know the dressing used to have honey in. However, the Moreish Meze salad box now has a label stating that it is suitable for vegans! Yay! It's quite tasty too, I had one for lunch the other day. The falafels are yummy and the chimichurri sauce is a nice touch.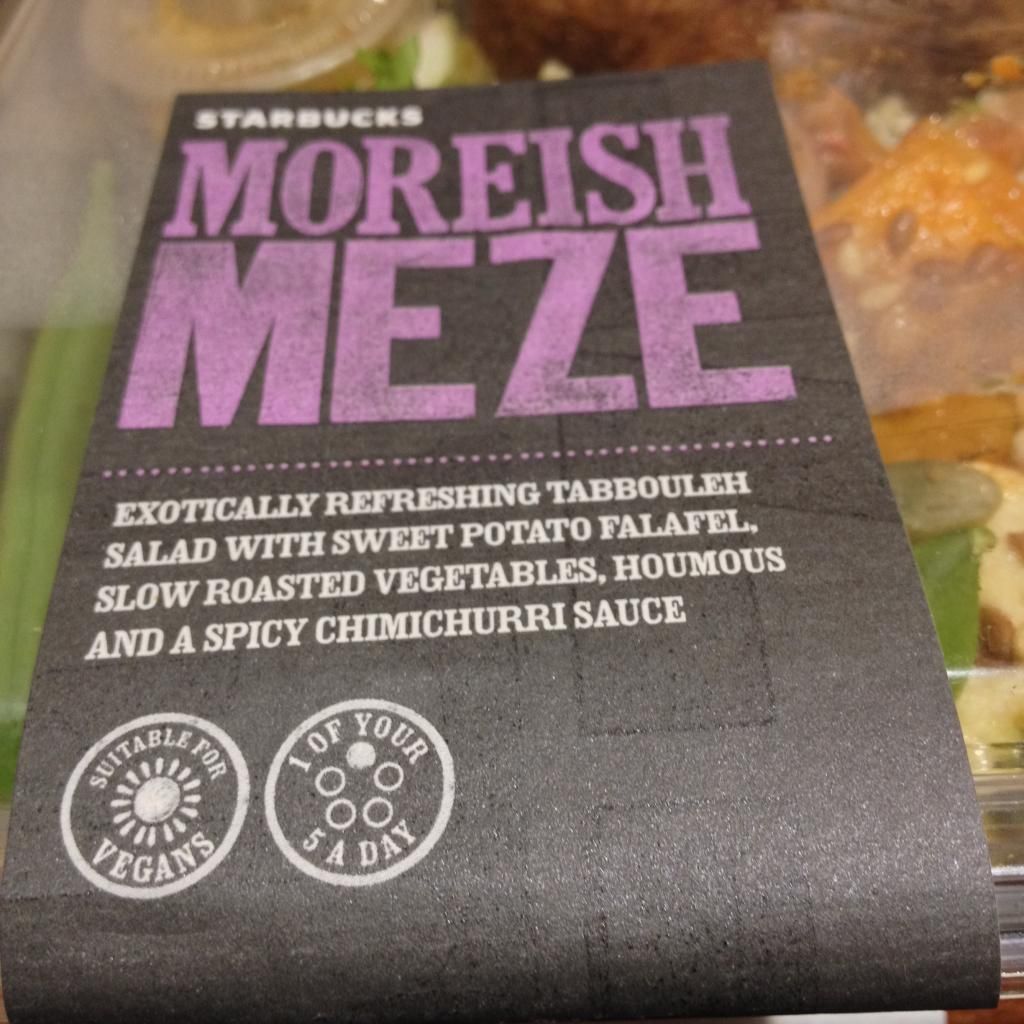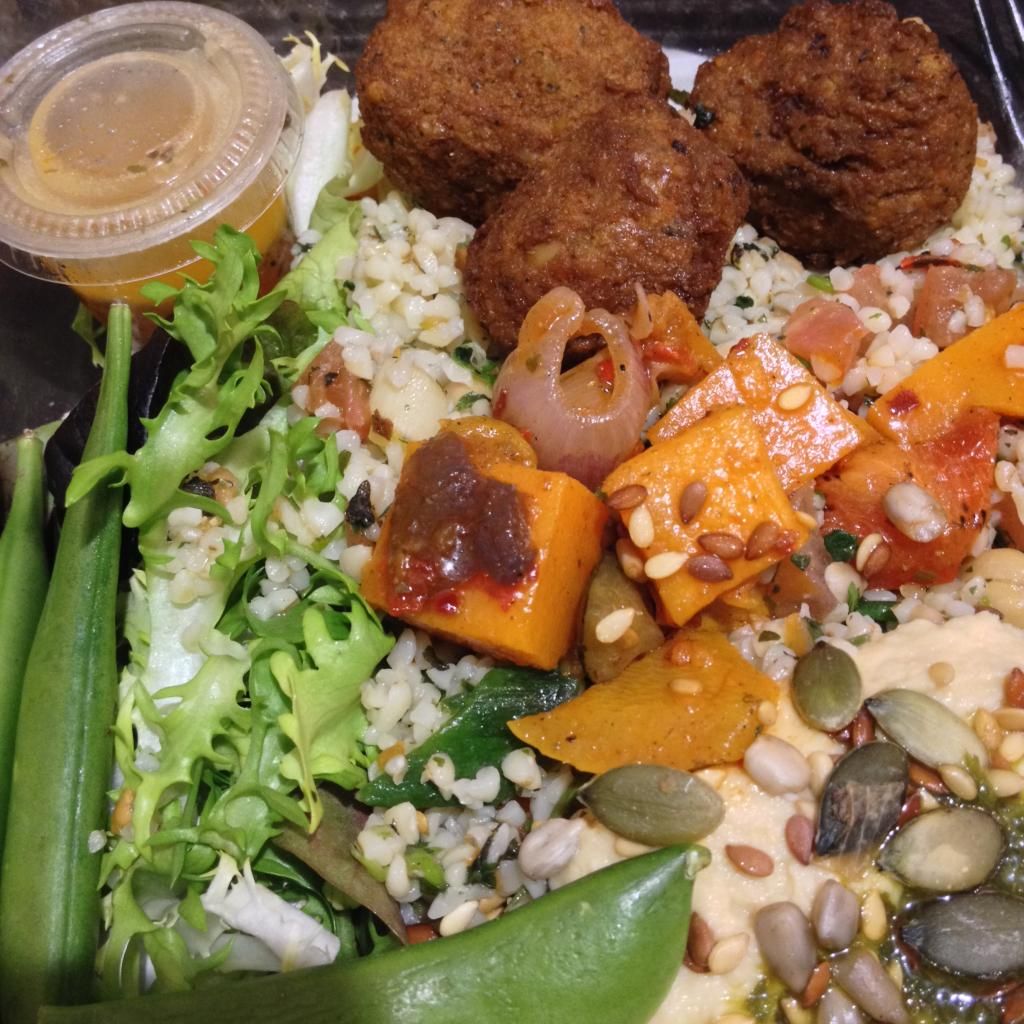 Starbucks in America are rolling out coconut milk as an option, and I believe almond milk has also been trialled in some stores. I cannot wait for that to happen over here! I love both coconut and almond milk, and it would be great to have a little more choice!