Bundobust
is a craft beer bar and Indian street food kitchen, which opened in Leeds about a year ago. I spent such a long time thinking "I really should go and check it out", but it was only recently that I finally got around to it. All I can say is... why did I wait so long?!
They describe themselves not as a restaurant, but as "
a bar that sells Indian street food with an extensive selection of the world's best craft beer".
Now, I don't know much about beer but Mr Hatter was mighty pleased with their selection. The beer menu is superbly labelled, with a note to say that everything was vegan unless otherwise stated. Mr Hatter chose the Coriander Pilsner, which I believe was on tap that day. He was very impressed. I opted for a cocktail instead, once I was finally able to make a decision!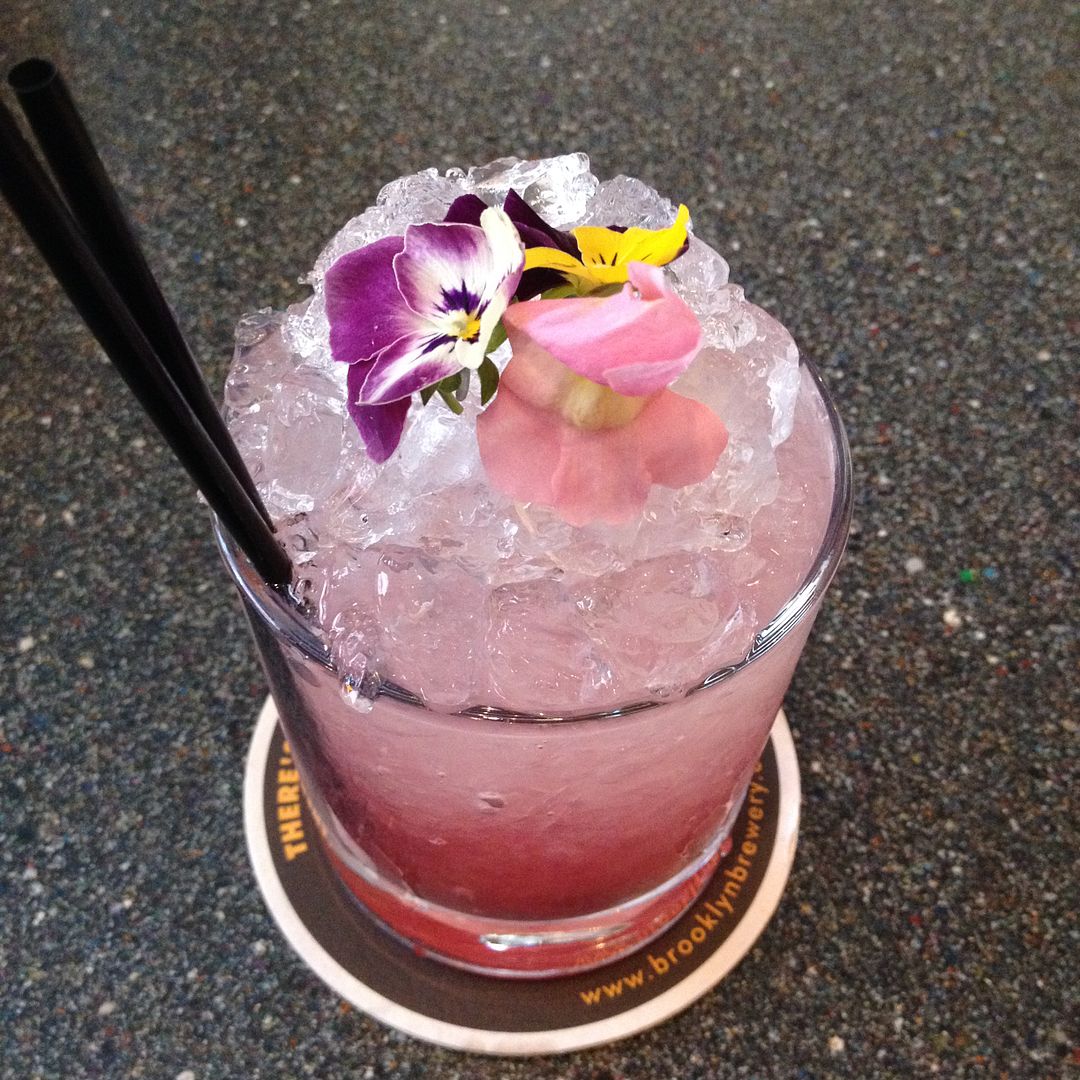 BRAMBLE
Classic British cocktail. Portobello Gin, Creme De Cassis & lemon juice.
So pretty! The guys at the bar did forget to bring me my cocktail until Mr Hatter went to remind them, but they were very apologetic and I can confirm that it was worth the wait!
Food-wise, we decided to share a variety of dishes so that we could try lots of different things. Again, the menu is brilliantly labelled, clearly stating which dishes are vegan and/or gluten free.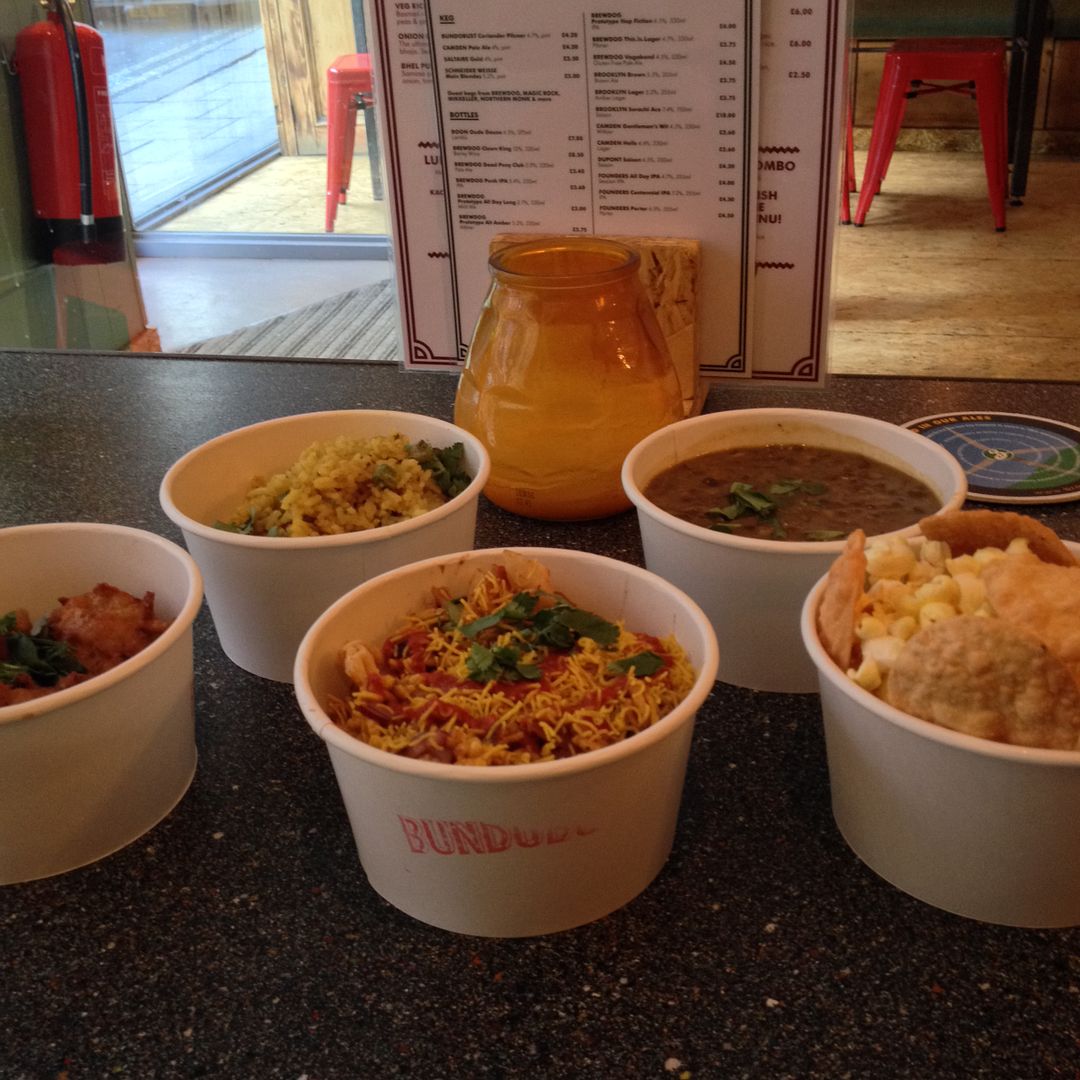 ONION GOBI BHAJI BHAJI (v, gf)
The ultimate bhaji. Onion, cauliflower & spinach. Served with a tamarind & red pepper chutney.
VEG RICE DRY FRY (v, gf) NEW
Basmati rice stir fried with green chilli, mushrooms, peas & peppers.
BHEL PURI (v)
Samosa pastry, puffed rice, turmeric noodles, red onion, tomato & tamarind chutney. Served cold.
DHAL & RICE (v,gf) NEW
Black lentil curry cooked low and slow with ginger, garam massala & chillies. Served with basmati rice.
POPCORN & POPS (v, gf)
Popcorn & mini popadoms tossed in green chilli & garlic oil.
We picked two each (mine were the Dhal & Rice and Popcorn & Pops), and shared the Bhel Puri - although we did both have a taste of everything.
The Veg Rice and Dhal & Rice were both full of flavour and would be great as a quick lunch - you probably wouldn't even need anything else with it. The Popcorn & Pops tasted brilliant but unfortunately I found them a little on the greasy side. The bhaji was wonderful, and the tamarind & red pepper chutney sublime. Mr Hatter doesn't like chutney but he raved about this one!
And finally, my favourite - the Bhel Puri. I really wasn't sure what to expect with this dish. A cold dish made of pastry, puffed rice and noodles? I had to try it... Oh my. The textures came together beautifully and the tomato & tamarind chutney topped it off perfectly. I need to eat more of this wondrous dish.
The atmosphere in Bundobust was lovely and chilled. It felt like a very laid back place to go and grab a nice drink and a bite to eat. We did go quite early though (maybe 5pm?) as we were on the way to the cinema. I can see it getting pretty busy later on in the evening.
I'll definitely be going back and would recommend it to anyone looking for good vegan food in Leeds, or even just a place to get a nice relaxed drink.