Wow, what a day. I missed out on last year's
International Vegan Junk Food Day
(IVJFD), as I didn't know about it! However, this year I was prepared and I was going to make the most of it. And make the most of it, I did!
We headed over to Manchester to explore the wonderous vegan options in the city, where we started the day with a visit to Costa. In hindsight, starting a day of junk food with a filling soya chai latte (which for some reason they thought I wanted cream on?!) probably wasn't the best idea. But it was tasty so who cares!
Our plan was to head over to
Teatime Collective
for breakfast, but due to getting the train after the one we had planned on, we were there just after 12 and breakfast was no longer being served. Not to worry though, there was plenty of other food available! Earlier in the year, I had encountered Teatime Collective at
The Great Yorkshire Vegan Festival
, where they provided me with an amazing lunchtime burger - so I knew we had to visit them today.
The cafe is so cute! It's located a little outside of Manchester, in a lovely park in an area called Hulme. It's only about a half hour walk from Manchester Victoria train station though, and the weather was lovely so we didn't mind the pilgrimage. I'm sure you can get there on public transport if you don't fancy the walk, but however you want to arrive, I wholeheartedly suggest that you make the effort. We found it was a great place to sit and chill in the sunshine.
After perusing the menu, I went for a sandwich and Mr Hatter chose a burger:
'Meatball' and 'Cheese' Baguette with Homemade Tomato Sauce. Served with Salad and Fries £6.50
Smoked Tofu and 'Chorizo' Burger £7.00
Smoked Tofu and Homemade 'Chorizo' Seitan Burger. Topped with Tomato and Basil 'Cheese', Salad and Salsa. Served with Salad, Seasoned Fries and Mayo.
The meatball sub was so amazing that I'm almost glad we missed breakfast! (Although I did had to feed some of my bread to Mr Hatter as I just couldn't finish it!) Mr Hatter's burger was also brilliant and we've both decided we will be back there at some point. The staff are lovely too, which always helps - we had a nice chat with them before we left. With it being a "cafe and ice cream parlour", we couldn't leave without sampling the ice cream... I got oreo ice cream in a chocolate dipped waffle cone (!!!!!) and Mr Hatter had the same cone but with mint choc chip and coffee ice creams! Oh my goodness, it was heavenly!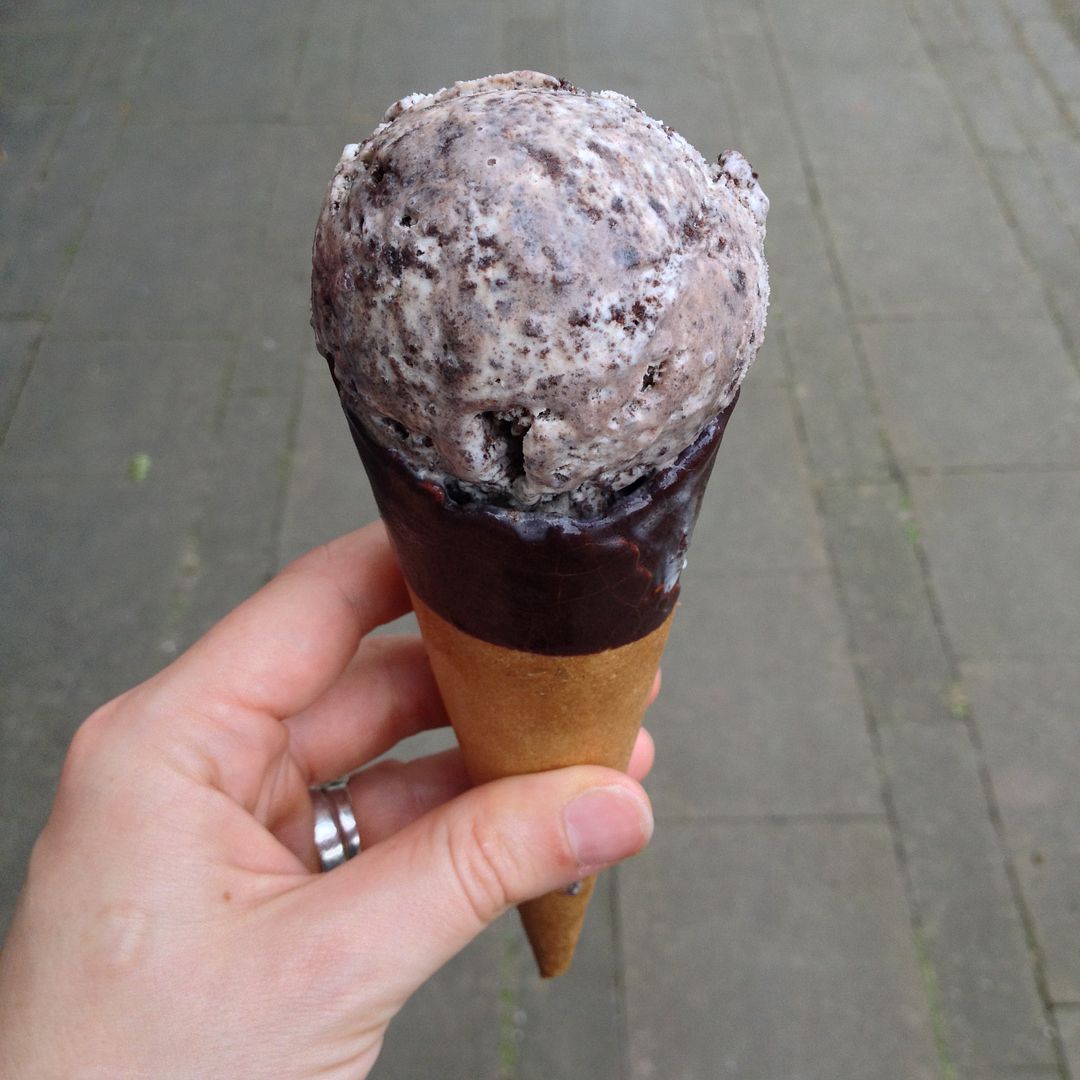 We headed back into Manchester happily munching our ice creams and stumbled across the gay pride parade, where we got to see the wonderful Sir Ian McKellen! He seemed genuinely lovely and he spent a lot of time meeting the crowd. Unfortunately I was behind too many tall people to get any photos of the pretty colours or the fabulous Sir Ian, but I did manage to snap a photo of the adorable bundles of joy that were next to us in the crowd: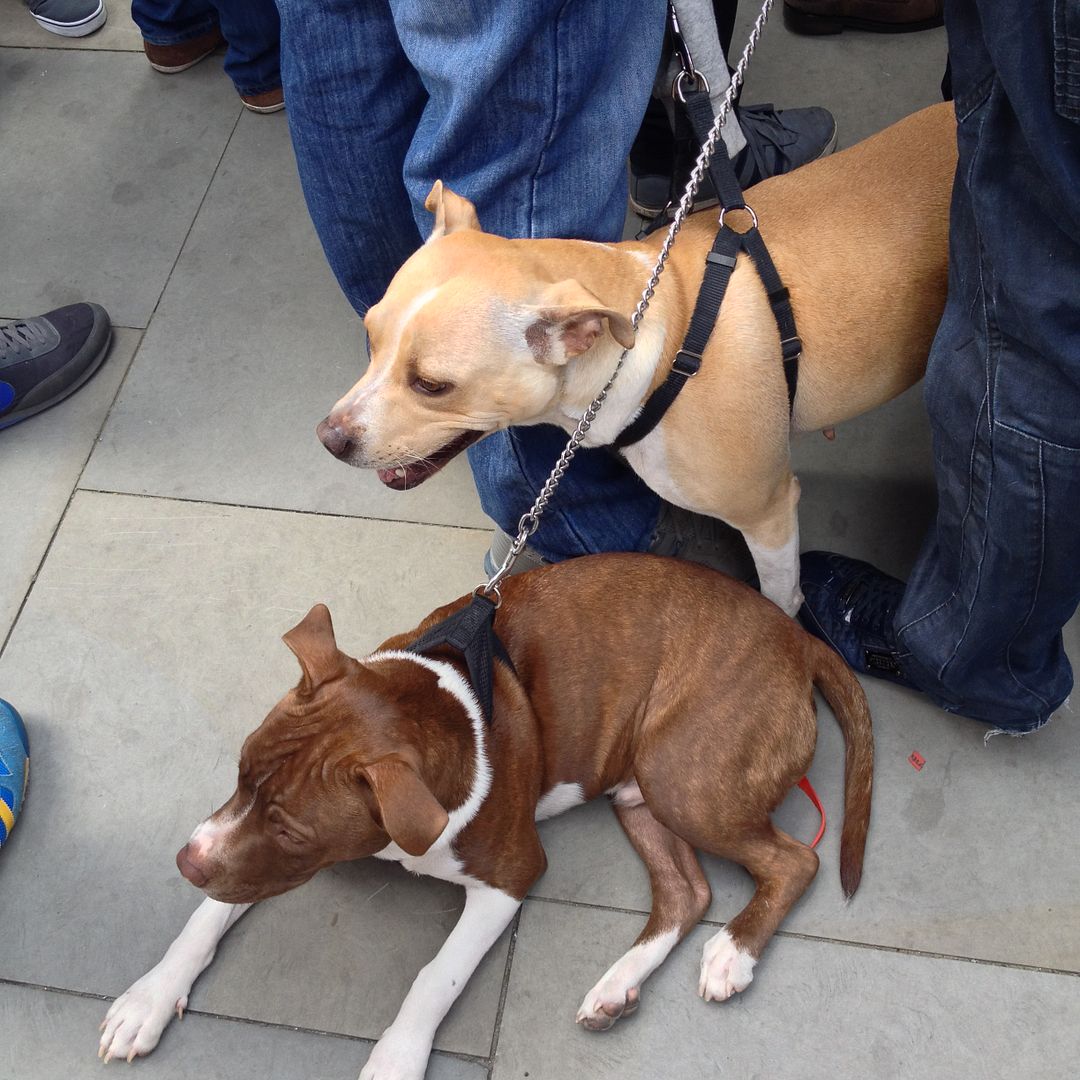 After a wander around the comic shops, it was time to rest our legs and get a drink at
Fig + Sparrow
.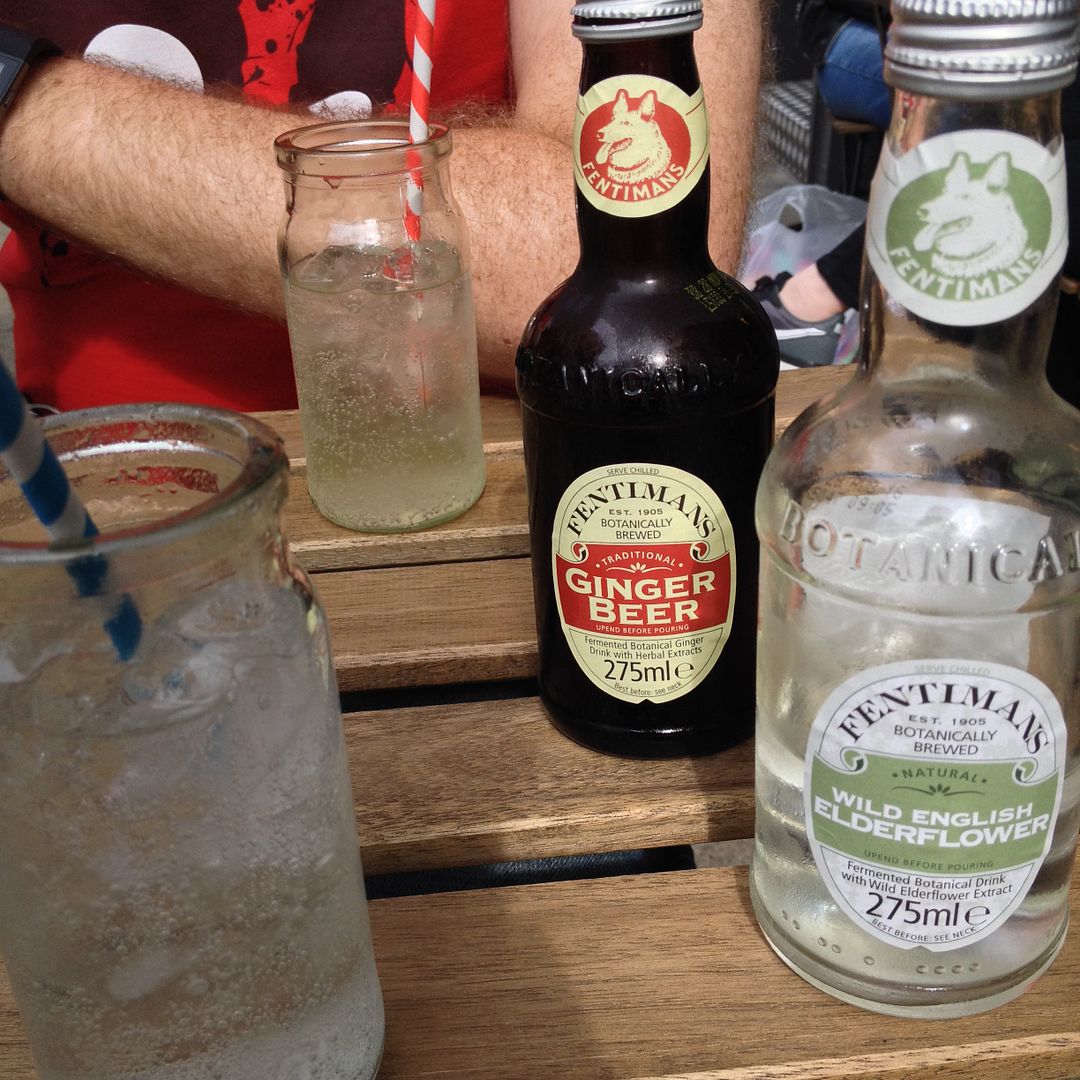 Our time in Manchester was brought to a close at the vegan junk food mecca that is
V Revolution
. I've mentioned this place before but have only previously given you one photo. Fear not, the time for photos is now!
We had some indulgent drinks:
And some fantastic food... We both wanted the special but there was only one left, so I picked something off the standard menu. At the top we have Mr Hatter's special, with my menu item in the foreground:
Chilli No Meats (special)
'Chicken' burger, 'beef' chilli, guacamole, sour cream, 'cheese'
£6
Knights In Satay's Service
'Chicken' burger with peanut butter, sriracha mayo, chillies & rocket
£4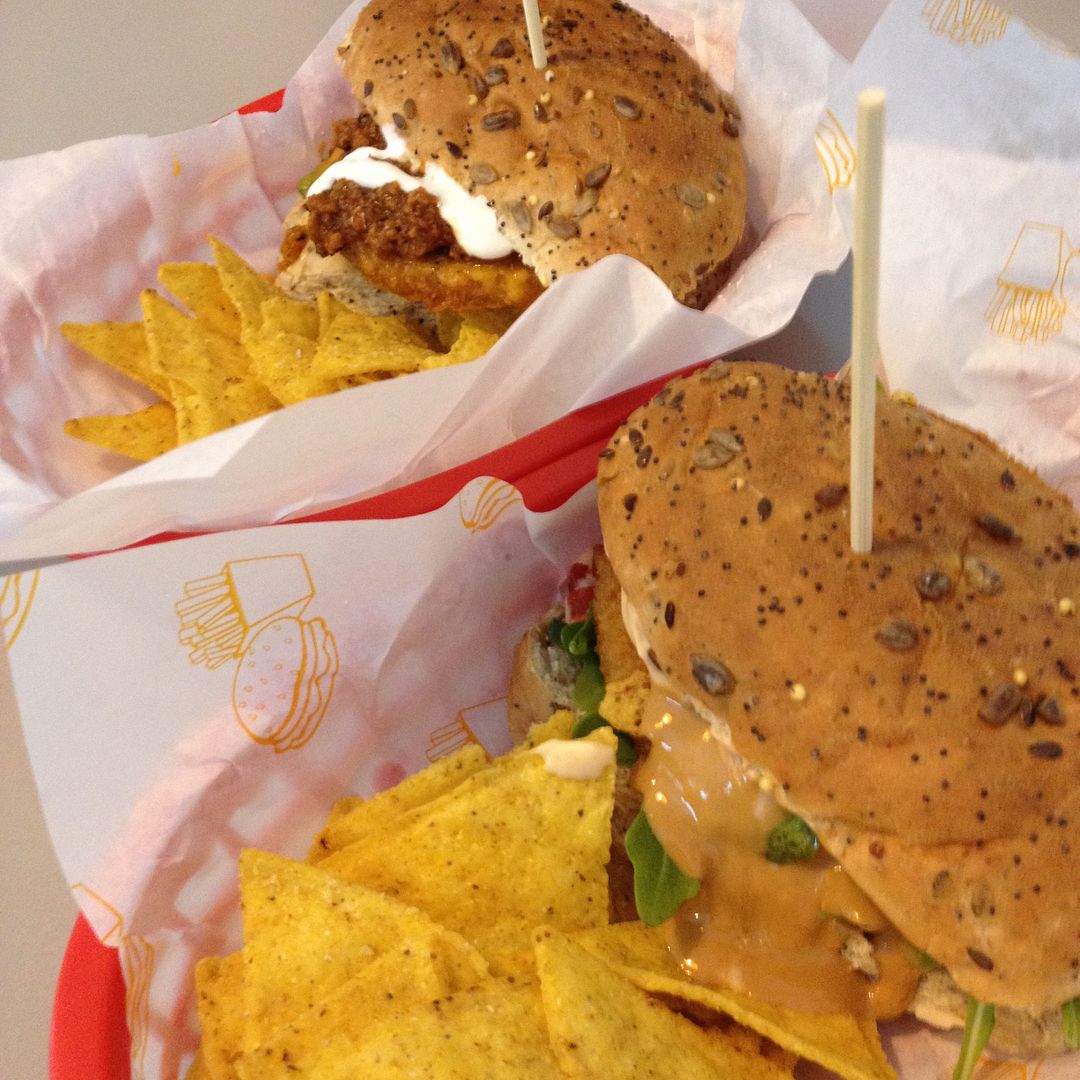 We both really enjoyed our burgers. I tried a bit of Mr Hatter's chilli and it was lovely, and my peanut butter sauce - oh my! Who would have thought peanut butter on a burger would work?! I don't think I'm brave enough to try 'The Hell-vis Presley" yet though - peanut butter and banana on a burger!
As well as serving outstanding burgers and hot dogs, V Revolution also carries a stock of vegan fridge/freezer/pantry items. We came away with a small swag bag - we probably would have bought more but their card machine was unfortunately out of service.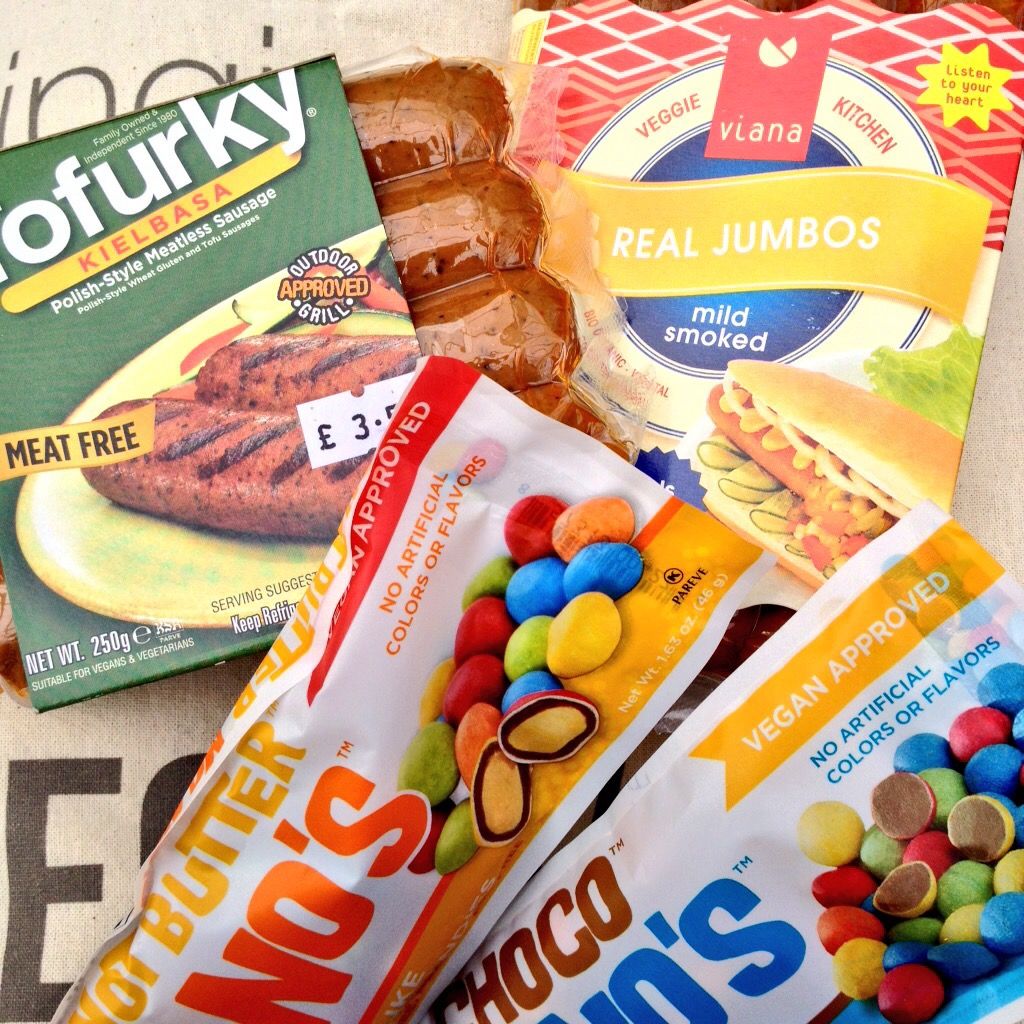 You can't visit V Revolution without being tempted by one (or more) of
Lily & Dilly
's cakes. Today there were some wonderfully colourful cakes in honour of the pride celebrations but only two were available by the time we got there - so we got one of each to bring home - cherry chocolate (although to be honest, I didn't taste much cherry), and vanilla rainbow. Both were delicious and they always have such a great texture.
What a brilliant day! I love having a reason to try new food and pretty much everything I've had today has been new! Now if you'll excuse me, I need to go fall into a food coma and hibernate until the next IVJFD...