Today's
Vegan MoFo
prompt is "Autumn Equinox Eats". Today marks the start of Autumn, where day and night are the same length. I mean today, not the whole season...

As such, I wanted to create a special post. I did some research about traditional autumnal recipes and discovered Chinese Moon Cake, which is served during an Autumn festival. It sounds lovely - a sweet seed or bean paste encased in pastry.
I scoured everywhere I could think of to find some lotus seed paste or red bean paste but could I find them anywhere?! So unfortunately there will be no moon cakes in the Mad Hatter household. Sad face.
I did manage to grab some noodles and seitan on my travels though, so I decided to throw together a meal using some of these instead...
We picked the Green Tea Noodles and the Peking Vegetarian Roast Duck, along with some other ingredients (I didn't use the curry sauce in the end):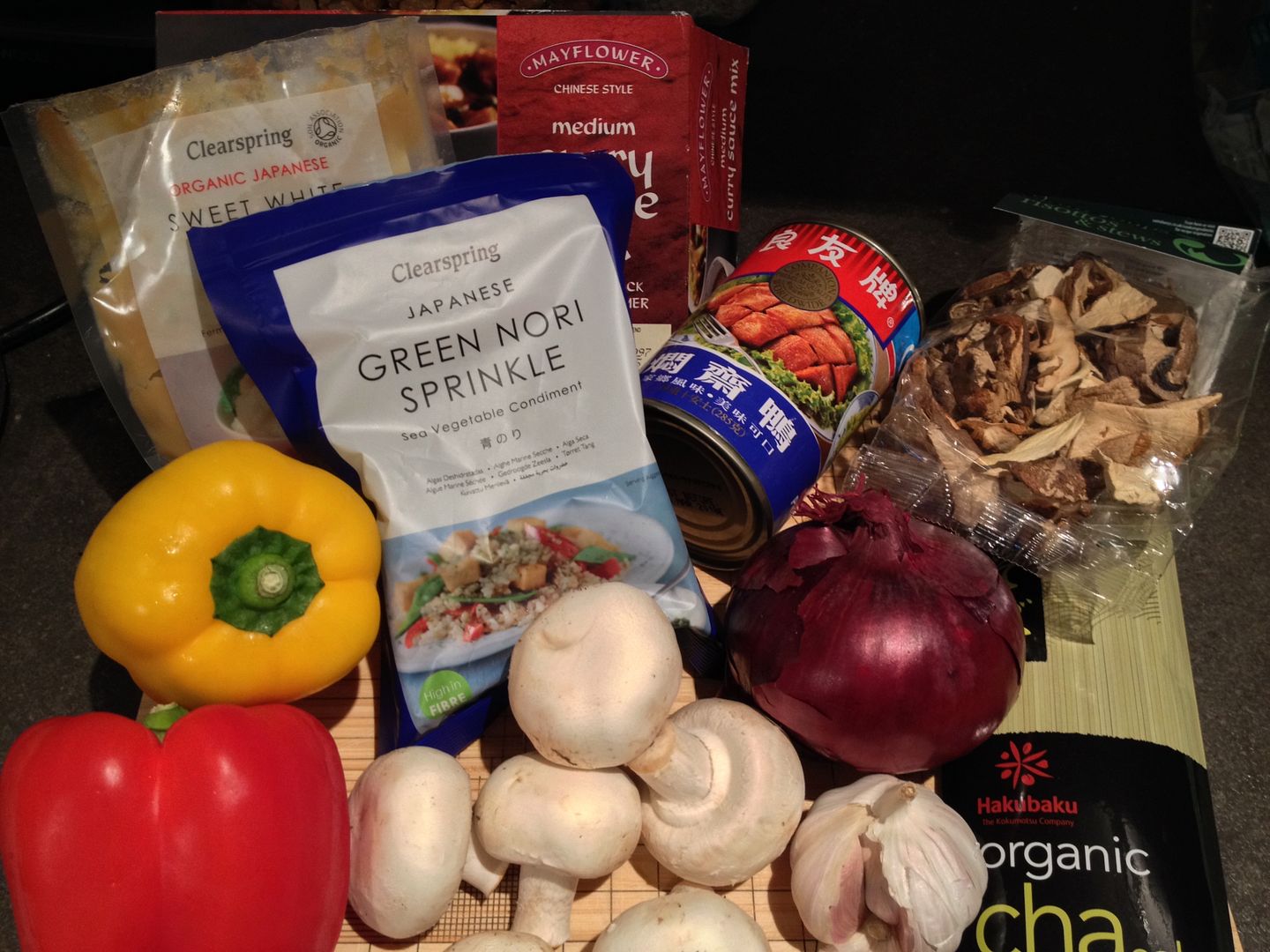 Thrown-Together Equinox Noodles
Serves 2
1 pack dried mushrooms
100g noodles
1 tsp toasted sesame oil
1 red onion
2 peppers (different colours)
6 mushrooms
1 clove garlic
1 tsp white miso
2 tbsp soya sauce
1 can vegetarian duck
2 tsp nori sprinkle
1. Cook the dried mushrooms in a small pan of boiling water while you prep the veg - about 5-10 minutes.
2. Slice the veg into similarly sized pieces. Slice the garlic thinly.
3. Heat a wok and add the toasted sesame oil.
4. Add the noodles to the boiling mushrooms, along with some extra hot water if needed. Cook for around 5 minutes.
5. Meanwhile, add vegetables (including garlic) to the hot wok and cook for around 5 minutes, stirring often so that they do not stick.
6. When the noodles and dried mushrooms are cooked, drain and rinse under cold water. Set aside.
7. Add the miso and soya sauce to the wok, and stir to coat the vegetables. Add the mock duck and heat through.
8. Once everything in the wok in piping hot, dish it up onto two plates and sprinkle with the nori.
9. Add the drained noodles and mushrooms to the wok and stir for a couple of minutes until heated through. Pile these onto the plates next to the veg/mock duck mix.
9. Eat!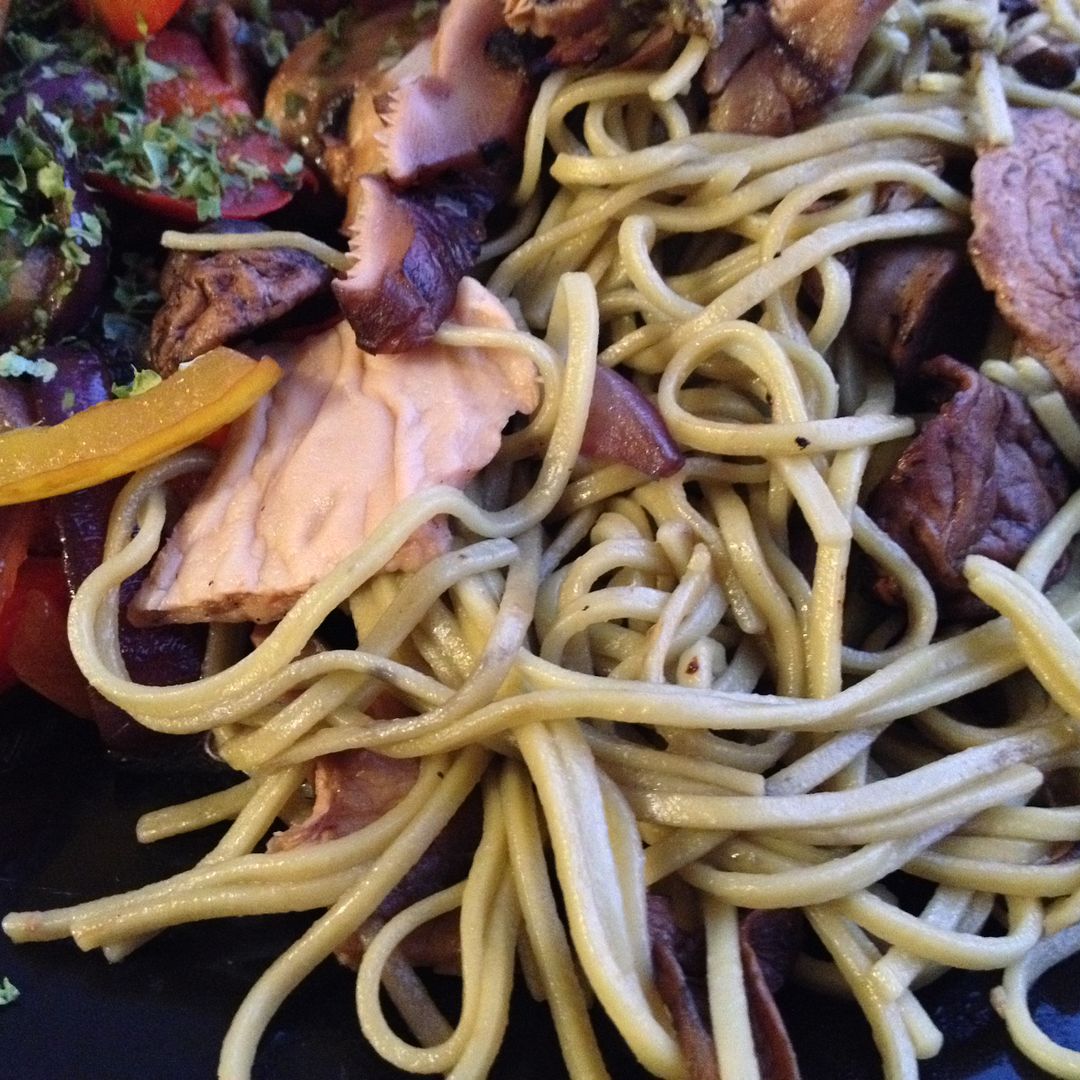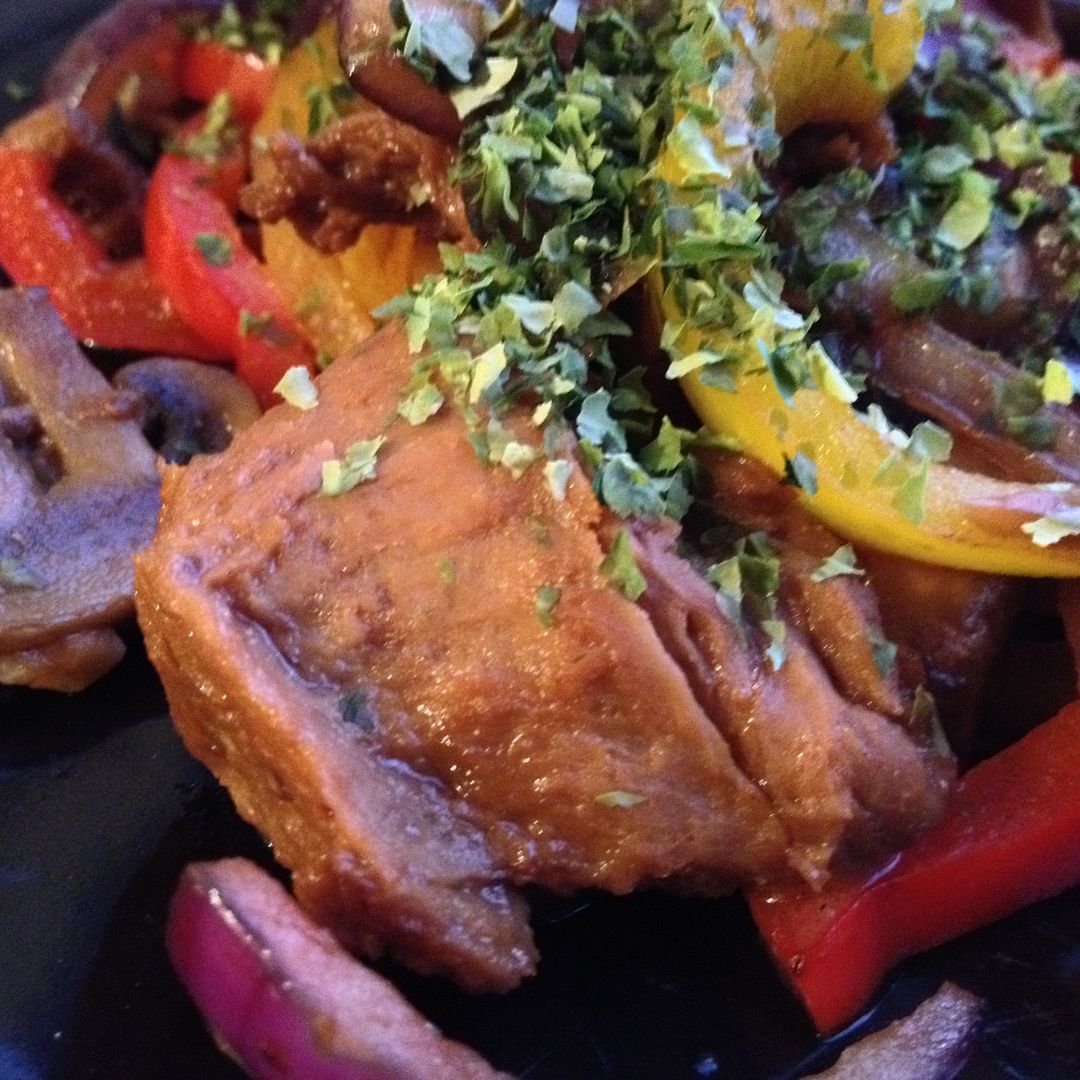 We hadn't tried this type of noodle or this brand of mock duck before and we very much enjoyed them! The mock duck had a good texture - some of the brands we've tried before have been a little rubbery. So despite being disappointed that we couldn't have moon cakes, I think we did okay!
Today's favourite randommofo is OH MY GOD I NEED THIS NOW
Cinnamon Roll Waffles
by Hasta La Vegan. These sound so effing good! I made cinnamon buns at the weekend and may or may not be slightly obsessed now. Weirdly, this is one of the blogs that I follow anyway but I haven't got around to checking my emails yet so I'm super happy this popped up on my random search!