For the second day in a row, I am not following the prompts...

Today's
Vegan MoFo
prompt is "Make / eat something inspired by a book or film". Now this is a theme that I could really get behind. I love books and films, but with my zero preparation this year, I haven't had time to throw something together that fits the theme. Instead I had a super quick and easy dinner, which anyone could throw together in around 20 minutes!
Miso Noodle Soup with Tofu
Serves 2
1 tsp toasted sesame oil
200g Tofu of choice - I used
Clearspot Sea Cakes
80g Noodles of choice - I used
King Soba Pumpkin, Ginger and Rice Noodles
150g frozen peas
2 tsp Miso of choice - I used
Clearspring White Miso
1 tbsp soya sauce
1. Preheat the oil in a medium pan over a low heat. Cut the tofu into cubes and add to the oil, stirring occasionally until browned.
2. Meanwhile, cook your noodles in a small saucepan. Add the frozen peas for the last 2 minutes of cooking. Once cooked, reserve 3-4 ladles of cooking water, then drain and rinse in cold water. Set aside.
3. Add the miso, soya sauce, and reserved cooking water to the small saucepan and bring to a boil. Reduce to a simmer and cook for a couple of minutes, until heated through.
4. Divide your noodles and peas between two deep serving bowls. Pour the miso broth over the noodles and top with the tofu. Serve!
I am soooo sorry about the quality of this picture... My phone died so I used Mr Hatter's phone but I'm not at all used to the camera and it came out really blurry! But you get the idea :)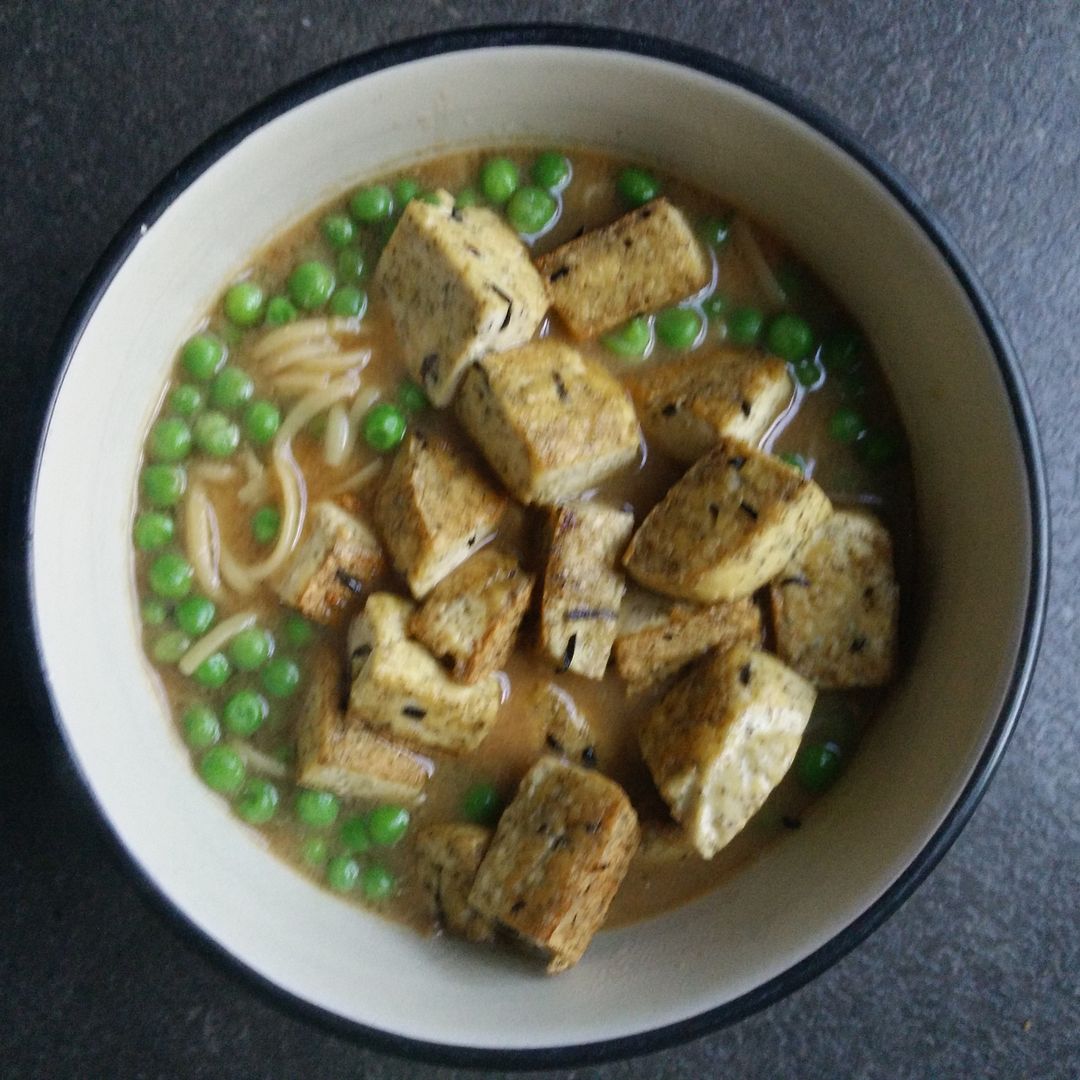 Randommofo.com has done me proud today! Not one but two amazing recipes!
First up we have one that follows the prompt -
Fried Green Tomatoes by justbloggs vegan
. How tasty do they sound?! I even recognise the reference - although it's been a long time since I watched Fried Green Tomatoes and I can't really remember what happens...
The second post I really liked was these amazing
Monster Googly Eyes by Fork & Beans
. Fork & Beans always has really interesting, fun recipes and these are no exceptions. I also love that their Vegna MoFo theme is always Halloween treats!