I love the idea of this theme. I searched the internet low and high for retro recipes in all shapes and sizes. Should I make something iconic from a bygone era? What about updating a vegan classic? (This was a top runner for a long time.) What even constitutes "retro"???
So many questions. So many recipes. Only one winner...
VEGAN KNICKERBOCKER GLORY!
Yep, it took me by surprise too.
It's possibly not the first thing that comes to mind when you think of retro recipes, but apparently it dates back to the 1920s so by my reckoning, that's pretty damn retro! This is my vegan version with homemade ice-cream, although you can of course make it easier and use your favourite store-bought stuff. (Now Booja Booja is calling my name...)
I stumbled upon a recipe by probably the most well-known baker in England at the moment - the wonderful Mary Berry. A retro, veganised, Mary-Berry-inspired knickerbocker glory recipe session after a long day at work? Sure, why the hell not!?
I'm going to apologise again for the awful lighting in these photos. It's started getting dark early and there is nowhere good in my kitchen to take photos when there is no natural light...
You will need...
For the ice cream:
250ml
aquafaba
, chilled
100g caster sugar
1 can's worth of coconut cream (Put a can of coconut milk in the fridge for a few hours and the cream will separate. Use the lovely thick cream and save the water from the bottom for something else.)
1 tsp vanilla extract/vanilla bean
For the glory:
At least two types of fruit, chopped (I used strawberries and pineapple)
Chocolate drizzle (I used choc-shot)
1. Using a hand mixer, whip the aquafaba until stiff peaks form. You should be able to turn the bowl upside down and the mixture should stay where it is. This process will probably take around ten minutes.
2. Add the sugar in tablespoons, beating until fully mixed after each addition.
3. In a separate bowl, whip the coconut cream with the vanilla until light and fluffy.
4. Gently fold the coconut cream into the aquafaba. It will deflate a little but should still be bubbly.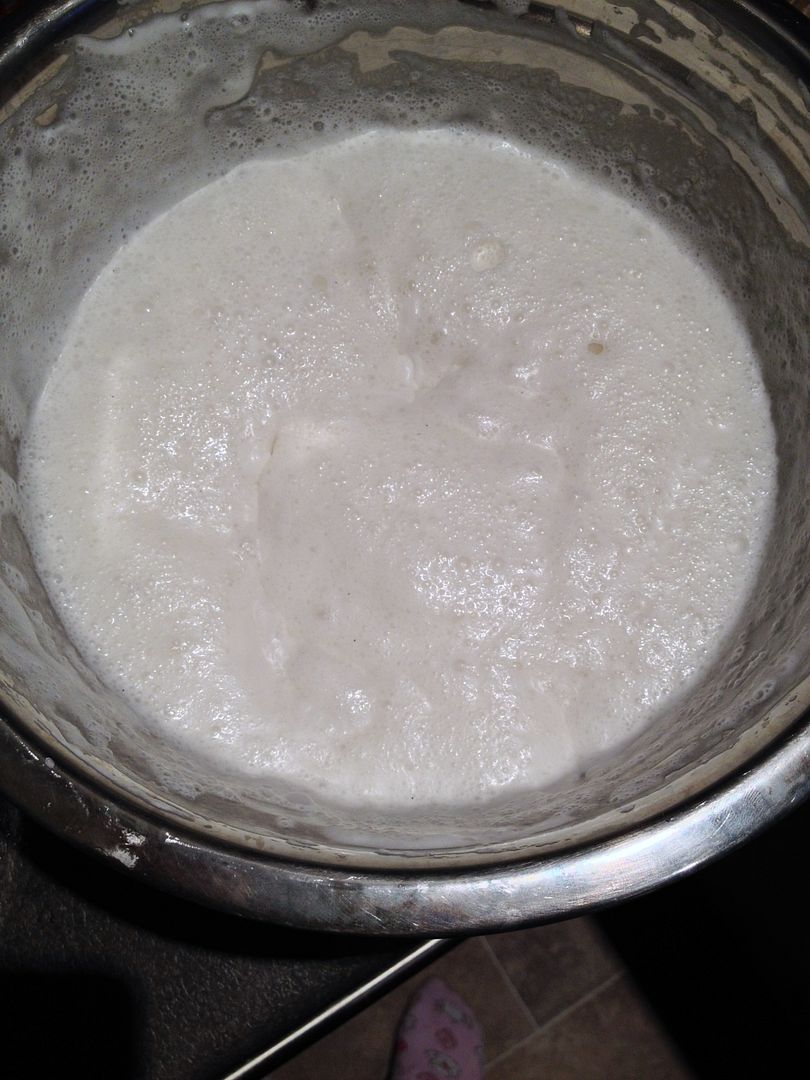 My foot really wanted to be int this photo...
5. Use an ice cream maker (or you can try the traditional freezer method) to turn this into ice cream.
6. Fill a fancy glass with layers of chopped fruit and ice cream, then top with chocolate drizzle. Enjoy!
This ice cream is so soft and creamy, it's amazing! It does taste rather strongly of coconut, so if you wanted to mask the taste you could try adding something strong like ginger. I must admit, I was a bit impatient and took the ice cream out before I should have done so it was rather on the soft and melty side but that wasn't an issue for me! When it's 8pm already and I'm waiting for my ice cream, I am impatient!
I headed to twitter for my daily dose of inspiration today and found this - I don't know what it is but IT LOOKS AMAZING!