I love food. It's no secret. So of course, my birthday celebrations revolved around food!
The food fun started on the Thursday before my birthday (my birthday being on the Sunday), with a visit to
Gimbals
restaurant just down the road in Sowerby Bridge. We've been a few times before and the food has been amazing each time. They have a regularly changing seasonal menu, so it's always good to call ahead and let them know you will be going so that they can prepare you your very own vegan menu to choose from. (Yes, it's as good as it sounds!) The manager always comes over to talk to us and make sure everything she's put together is alright. It really is worth a visit if you're in the area.
This time, we decided to try something completely different - the taster menu. I've always been intrigued by the idea of a tasting menu but have never had the opportunity before. We were very impressed! Unfortunately I couldn't get any good shots of the food due to the mood lighting, but you can see the menu below. We got to try everything on here!
NOTE: The second option should read "infused tofu cheese"
Let's start at the top...
Cocktail
- I picked the Slow Gin Toddy and boy did I make the right choice. I love sloe gin, and it was lovely heated through with winter spices. Mr Hatter went for the Marmalade Moonshine, which was also nice - if you like orange juice.
(We also got free bread and olive oil/balsamic vinegar before our first course - yum!)
Hot Tossed Salad
- This was great. Mr Hatter and I seem to have developed a love of artichokes recently, and the other flavours combined really well to showcase them. It was a lovely light dish to start the menu off.
Tofu Cheese, Hummus, and Pickled Cauliflower
- I'll admit, I was a little skeptical when the manager came over to tell us about the mistake on the menu (listing "tofu" instead of "tofu cheese"), but I was pleasantly surprised by this. The butternut and butterbean hummus made up the base, with was then topped with the pickled cauliflower and tofu cheese. The cheese was gooey and melty and delicious! It seemed to have been charred on top too, which gave it a fantastic depth of flavour.
Filled Portobello Mushroom
- I love portobello mushrooms. I really enjoying the melted white onion filling but I wasn't too sure about the figs. I'm not a fig lover and could happily have eaten this dish without them. I gave them a chance and ate them all but I wouldn't choose to eat figs again.
Harissa Marinated Veg Souvlaki
- I wasn't really sure what to expect with this, as I wasn't familiar with souvlaki. (Having looked it up, it's a Greek dish consisting of small chunks of meat and sometimes veg on a skewer.) We were presented with a couple of sizzling vegetable skewers marinated in a rather spicy but very tasty harissa paste.
Pudding
- This was another dish that I was a little skeptical about as I don't usually like rhubarb. However, the manager told us it was made with forced rhubarb which is apparently a lot sweeter than regular rhubarb. I went into it with an open mind and loved it! It was nothing like the rhubarb I remember trying before and I would definitely eat it again. I'm almost positive the coconut yogurt was Coyo (yum!), and the thyme crumble was amazing. I really enjoy the use of fresh herbs in puddings - thyme crumble is definitely something I'll be trying at home!
YUM!
The next food stop was on the Saturday. We headed off to the cinema bright and early on Saturday morning for the first showing of The Hateful Eight (a very appropriate first activity of the day!), then we headed over to Hyde Park, Leeds to search out some more vegan food. I'd seen a lot of good things online about
Oranaise Cafe
's vegan menu, so we decided to try it out. Oranaise is a Moroccan/Mediterranean Cafe/Take Away in the Hyde Park area of Leeds. The menu is not purely vegan but they have a section of the menu where you can easily find all the vegan main dishes. The cafe itself was very pretty, with lots of traditional Moroccan items decorating the interior.
Mr Hatter and I both opted for the same main course - the "Soya Lover" pizza, which is topped with s
auté mushroom, pepper, vegan cheese and roast tofu.
I know, I know, we went to a Moroccan cafe and picked something distinctly un-Moroccan. But we share a love of pizza and do tend to snap it up when we see it! We both really enjoyed the pizza and would definitely go back for more. I loved that the tomato sauce had hints of mint and spices - it made me feel a bit less guilty for my non-Moroccan choice!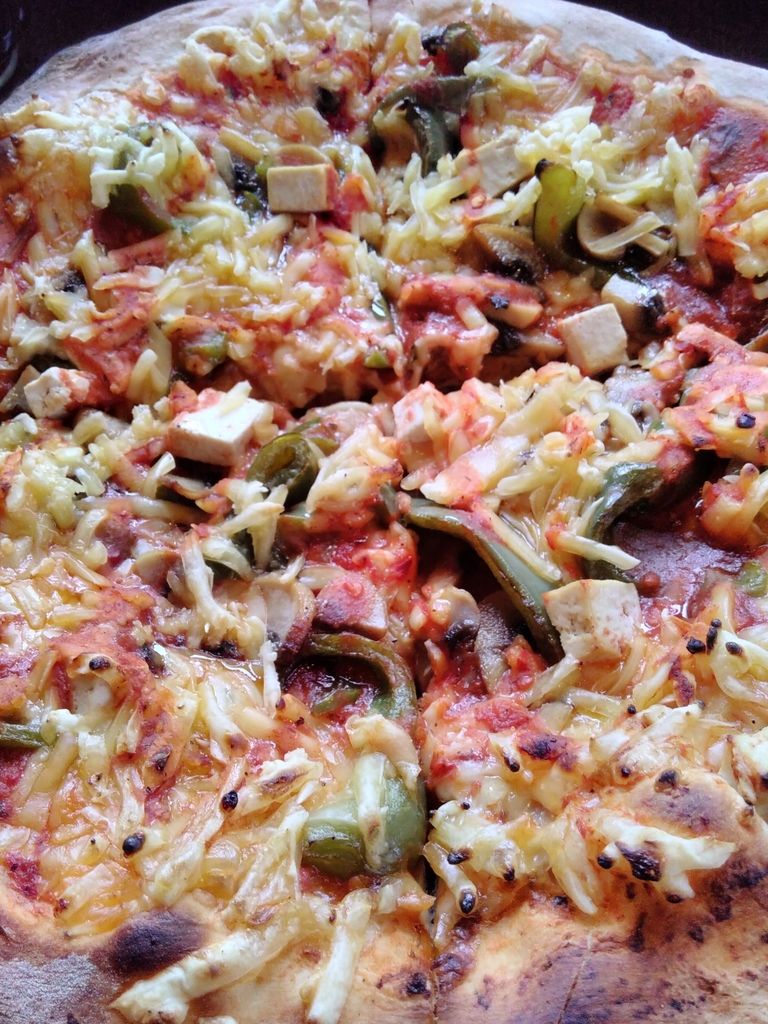 Despite being stuffed after the main course, we found out that the offered vegan dessert so we just had to try some...
Mr Hatter went for the Vegan Apple Pie, which came drizzled with golden syrup. He enjoyed it very much and look how pretty it was:
I opted for the vegan baklava, which I was so excited about as baklava usually contains honey or butter or both. I was assured that it was just a sugar syrup though. and that it was all vegan so I snapped it up! I must admit, I was shocked when I was presented with four huge pieces of baklava just for me - an no one else at the table would help me eat them as they all had their own huge desserts! I probably should have brought some home instead of stuffing myself silly but hey ho! Apparently my phone didn't want to save the photo I took of the baklava (it's new and I'm still getting used to the camera app), so you'll just have to nip over to Leeds and see for yourself!
SO MUCH FOOD!
And if that wasn't enough foodie goodness for you, on the Sunday, Mr Hatter decided to try his hand at vegan baking and made his very first vegan cake! It was a huge hit: