The Leeds Indie Food festival is currently running, and while I wish I had been able to plan a little more in advance (I've missed a couple of things I wanted to go to), we have at least managed to participate.
Last night we went to the Veg Is Sweet event, hosted by That Old Chestnut at Cafe 164. The description on the LIF website was as below, so we weren't really sure what to expect but thought it would be interesting:
"Vegan baking heroe Elly of That Old Chestnut will be taking over the Cafe 164 kitchen for a feast of dairy-free tea and cake, a doubly delightful twist with courses exploring the different savoury expressions of dessert. Cafe 164 will be pairing each course with a suitably quirky tea-based cocktail to keep you in fine spirits."
Reading the description, we were expecting an evening of savoury food in dessert form (savoury cheesecakes etc) but when we arrived the menu described the evening as:
"A sweet supper celebrating the vegetable and each dessert paired with a tea based cocktail."
This description definitely sounded more sweet than savoury, and made us sort of regret our choice to grab a piece of cake while waiting for the event to start! (We left work at 5, hungry, and the event didn't start until 7. As we thought it was going to be a savoury evening, we decided it wouldn't hurt to snack on some cake beforehand!)
I'm not sure you can ever really regret eating cake though... We had stopped in at Outlaws Yacht Club on the way to:
b) Eat cake (also by That Old Chestnut).
c) Read / Chill out after work.
These objectives were accomplished successfully!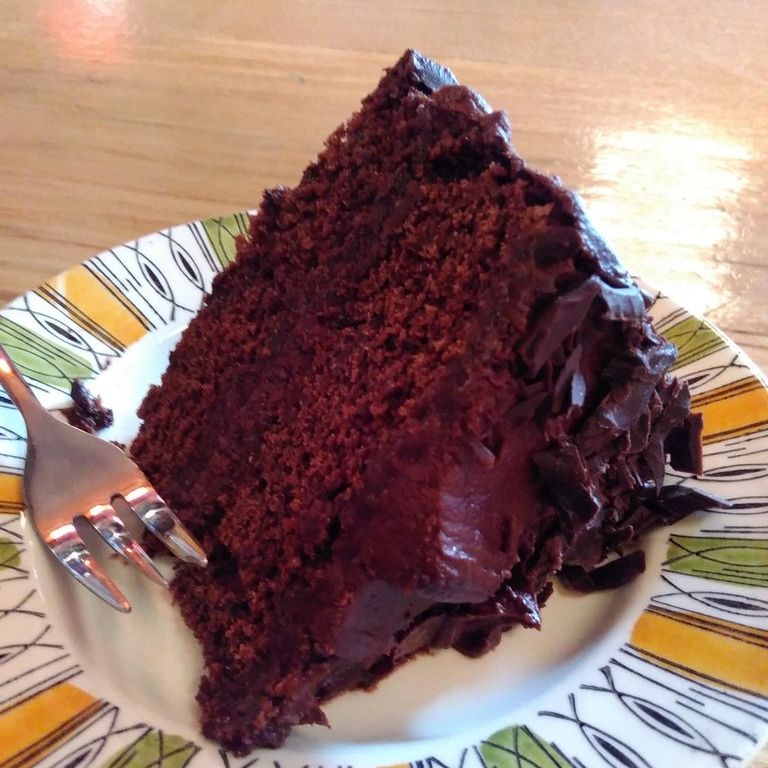 The event was held in the Munro Gallery part of Cafe 164, which meant we also got to look at the artwork that was on display as part of the festival. We had tried to go earlier in the evening, when we finished work, but they were already setting up for the event.
The table was very pretty - it was dotted with plants and small flowers, and was lovely and welcoming. There were maybe 13 chairs laid out, which made for a nice small group of people. We chatted a little to the people sitting next to us but it didn't feel like we were forced to make conversation the whole evening, and we didn't feel rude talking amongst ourselves. The atmosphere was very laid back, which is what we like!
There were also some menus laid out on the table so that we could see what was in store for us:
Cucumber, Basil and Lime Casheese Cake
This was so pretty! It was plated up in a very appealing way, and sounded really intriguing! The cucumber flavour in the cheesecake was odd at first, as it's completely different to anything I've tried before - but I actually really liked it. The cheesecake was smooth and creamy, and while the flavour could maybe have been a little lighter, it was still very pleasant. The small dots around the edge of the plate were gorgeous - I'm not sure what they were though! And the scoop of sorbet was lush! Very refreshing!
Whisky, Green Tea, Mint
This cocktail was very pretty and I tried my hardest to like it but I just don't like green tea! I made a good attempt though and kept going back to it before I finally gave up. I love the combination of cucumber and mint in pimms, so if the mixer had been different I'm sure I would have liked it. Apple juice would have been nice but that would have taken away the "tea" element!
The next course was "BEETS". (Spoiler - this was my favourite course!)
Beetroot and Apple Almond Tart with Oat Cream and Granola
This dessert was so pretty! The apple and beetroot rose baked into the tart made it look so appealing, as did the scattering of pink granola over the oat cream. The almond sponge was gorgeous, and the fruit/veg slices in the middle were tender and tasty. I liked the use of the oat cream - it was very thick, which you don't tend to find often in vegan creams. I would eat this again!
Vodka, Masala Chai, Summer Berries
Now, I don't normally drink vodka as it doesn't agree with me but this was so pretty I couldn't resist trying it. It was as tasty as it was pretty, so I ended up drinking it all - and it was well worth the headache! The chai spices and the fruit really complemented each other in this drink, and it was rounded off with a nice dose of alcohol!
Steamed Sticky Date and Fennel Sponge Pudding with Cauliflower Custard
This was another pretty pudding, with a lovely green sprig to give it a pop of colour. I must admit, this was the menu item that I was most skeptical about. I'm not a fan of fennel at all - I've tried using fennel seeds in various dishes but I can never get past that very distinctive taste. This pudding came with an actual piece of fennel in it! (My mum would have loved it...) I did try some of the fennel but resorted to removing it and trying the sponge. I really enjoyed the parts of the sponge that were more date than fennel, and had this been a "steamed sticky date pudding" with another vegetable I probably would have loved it. Unfortunately, I just couldn't get past the fennel taste. I made an effort and ate half before I gave up though! (I was stuffed by this point anyway...) As for the cauliflower custard, this was odd but I liked it. It definitely still tasted like cauliflower but it also had a vanilla flavour to it. It was a strange pairing as, again, it's like nothing I've tried before - but I did enjoy it.
Rum, Ginger, Citrus Hot Toddy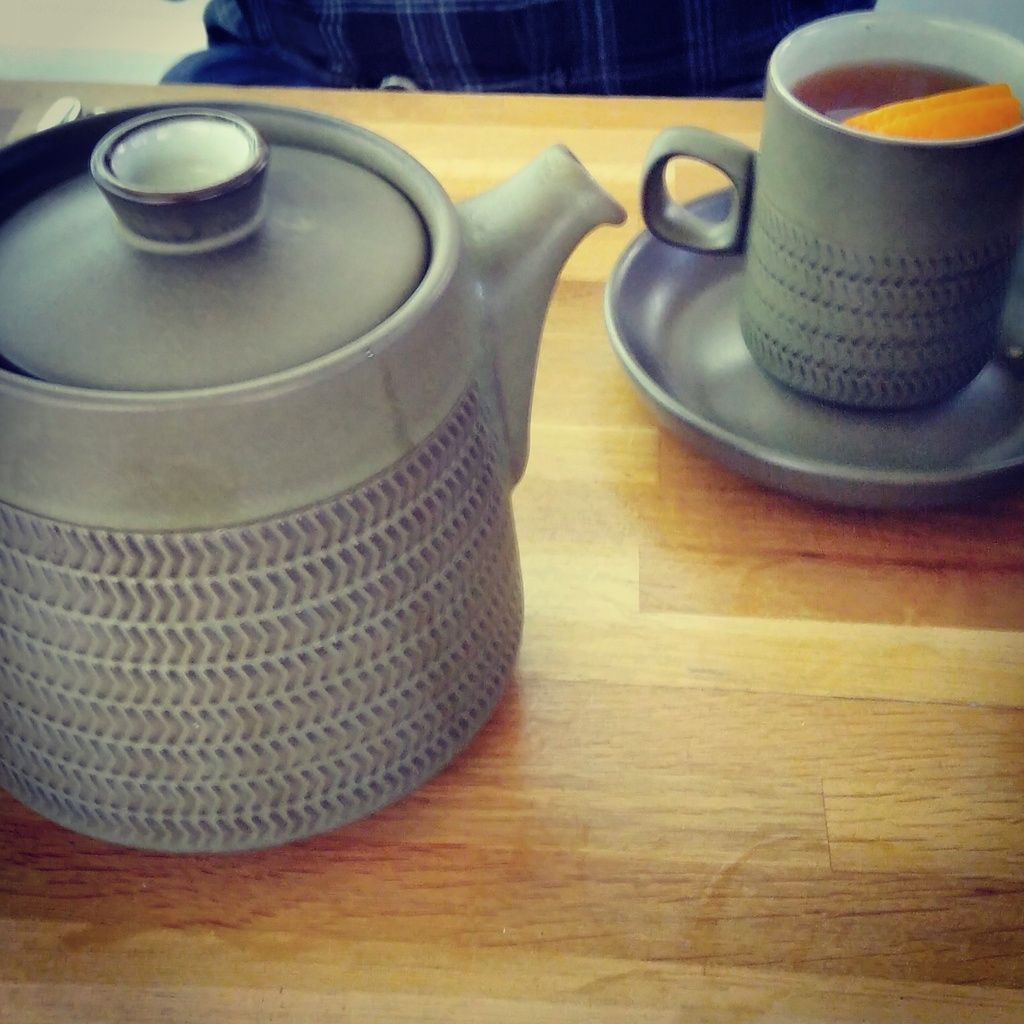 For the last cocktail, we got a huge teapot to share between the two of us! I really liked this one - citrus and ginger is a good combo, and the fact that it was warm plus the shot of rum really rounded it out. It was a great way to end the meal.
We certainly went home with full bellies!
To be honest, if we'd seen the menu before booking tickets we probably wouldn't have gone. There were ingredients that we didn't like, and I think it would have sounded too offbeat for Mr Hatter to choose to try. I am glad we went though as it was a completely new experience! I think if we had realised it would all be sweet, we could have planned our post-work snack better and got more out of it but hey-ho, we got an extra piece of cake so who cares!?
There have been a few vegan / vegan-friendly events at LIF this year, which is fantastic. Next year, I am going to be better prepared and get to more of them!