You may have noticed that the blog has been pretty quiet so far this year. Unfortunately, I've been lacking the energy and inclination to post often! I keep trying to get back into the habit of posting regularly but then life (and my day job) tired me out and I just want to veg out and watch films or play games. I have been a lot more active on my
Instagram account
though (come find me!), as it's a super quick and effective way to share food porn photos. I'm a little bit in love with Instagram at the moment.
So here goes another attempt to get back into regular posting... Fingers crossed!
We'll start with a nice easy one - a round up of the vegan offerings at
Trinity Kitchen
in Leeds over the past couple of months.
Trinity Kitchen is a food court that has some permanent outlets and some that change every six weeks or so. Rola Wala and Pho are two of the permanent ones that definitely have vegan options, although there might be others that I've not investigated yet. (Note - Pho is not listed below as I've not been for ages and have no photos!)
First up we have some amazing churros from
Los Churros Amigos
. I tried these churros way back in March and meant to write a post about them but never got around to it (tut tut). I only tried them a couple of days before their stint in Trinity Kitchen ended but that was probably good for my waistline!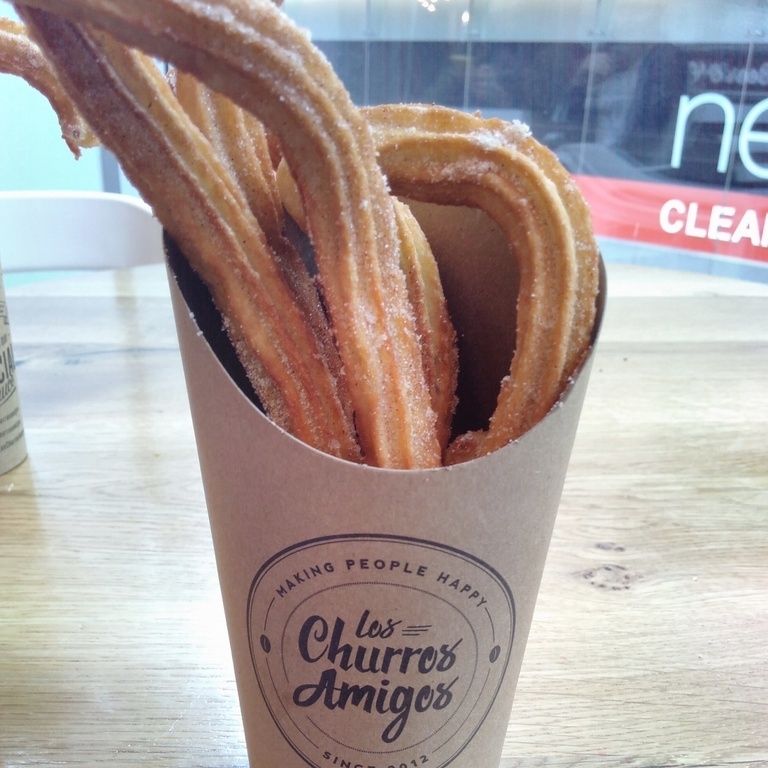 Huge churros!!
I had never tried churros before, and always thought they were just a long donut. However, talking to the guy on the stall he explained that they are actually not really like a donut at all - it's not a yeasted dough for a start!
Unfortunately the chocolate dipping sauce wasn't vegan - but that didn't detract from how wonderful the churros themselves were. Apparently they have a lemon dipping sauce which is vegan, but it wasn't available when I was there. The churros were soft and crunchy and seasoned with cinnamon sugar and just... yum. They were so good that I managed to win a free portion and went back THE NEXT DAY to claim them!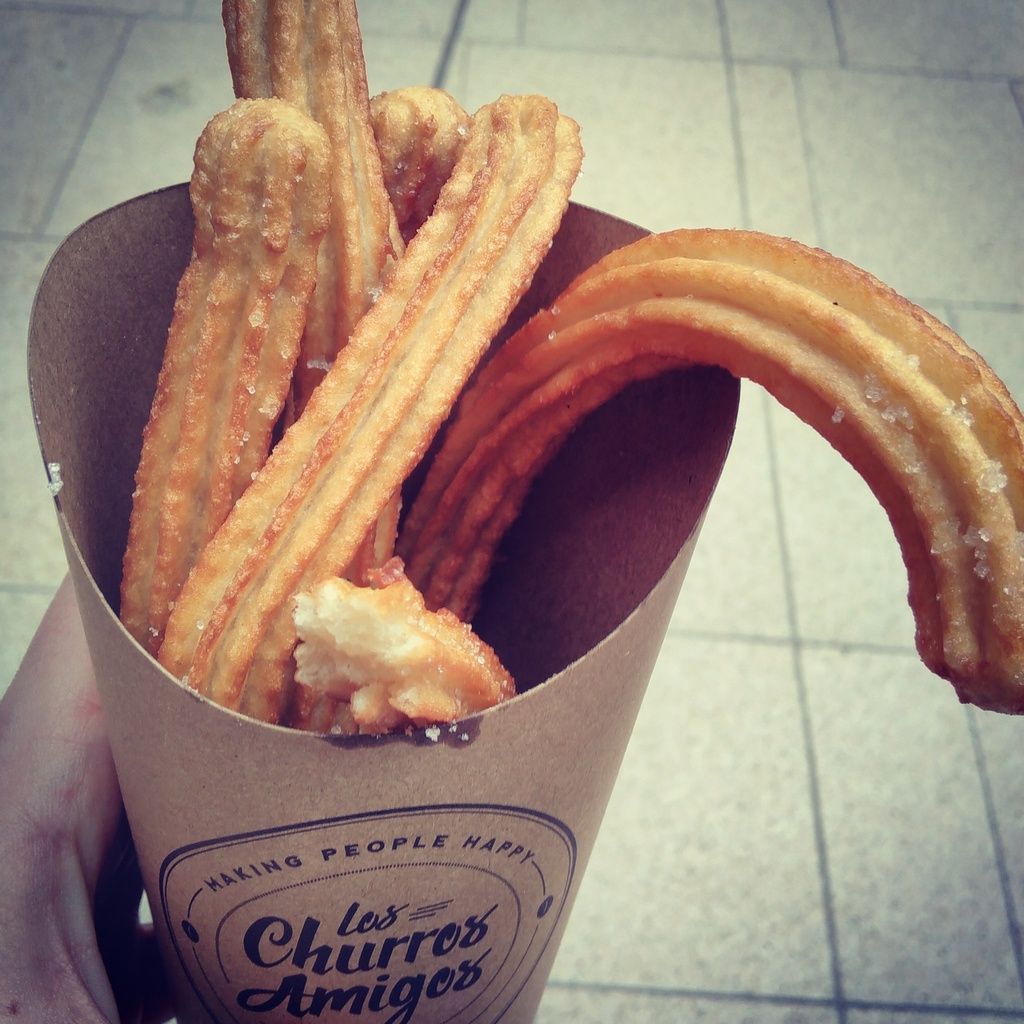 FREE CHURROS
This was a medium but it was still huge. Also I couldn't restrain myself and ate half of one before taking a photo.
Now let's have a savoury interlude for
Rola Wala
. Rola Wala make "twisted Indian street food", with the vegan options clearly labelled. You can choose a vegan naan wrap, a rice bowl or a cauliflower rice bowl and then fill/top with something tasty. The vegan options are Beetroot Channa Dal (now marketed as Paneer Beetroot Dal but it looks like you can still get it without the paneer) and Sweet Potato Lentil Gobi. Both were very tasty, but the dal was more like a sauce whereas the Gobi had some substance to it. There's also a choice of salad, toppings and sauces - just ask them which ones don't have yogurt in.
We've been to Rola Wala a few times now and are slowly filling up our loyalty card. It's very tasty food!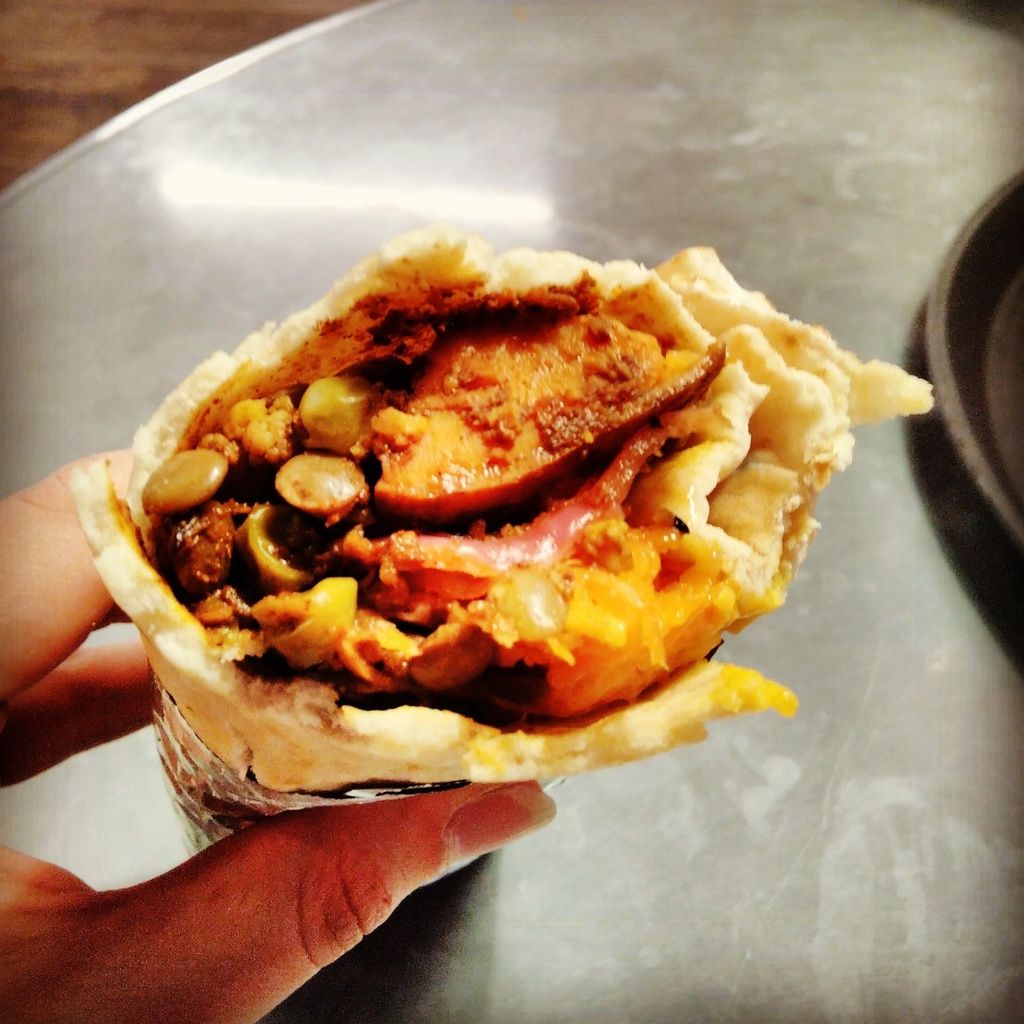 Sweet Potato Lentil Gobi Roll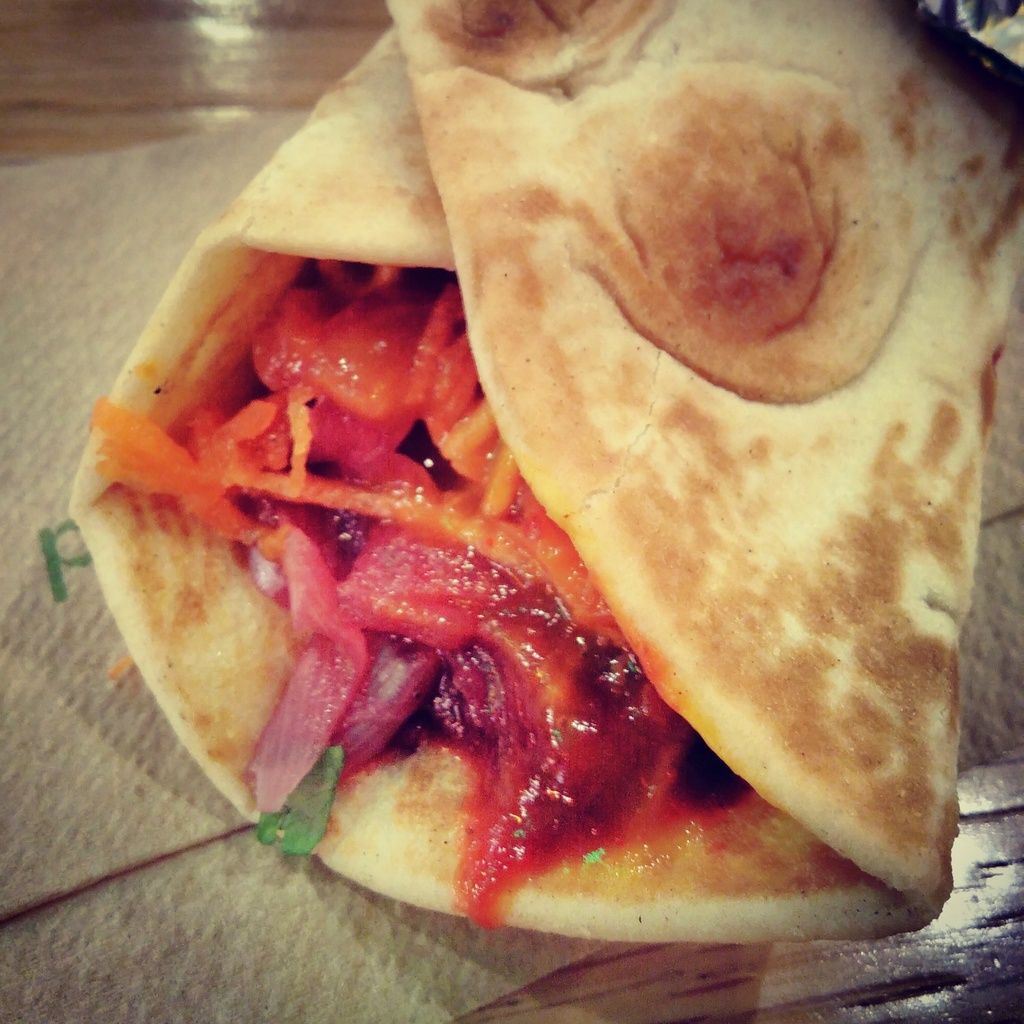 Beetroot Channa Dal Roll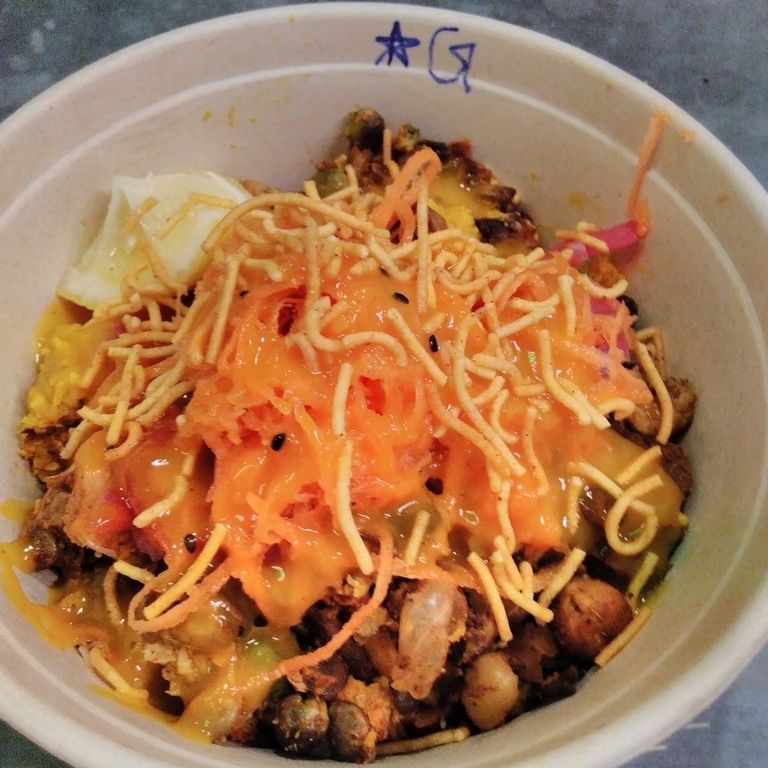 Sweet Potato Lentil Gobi Cauliflower Rice Bowl
Lastly, we have the amazing
Cake Doctor
who has his last day in Trinity Kitchen today (sad face). He makes some fantastic raw vegan cheesecakes and brownies, and although Mr Hatter and I managed to fill and entire loyalty card in the time he's been here, I still didn't get to try all the flavours! I was chatting to him yesterday and he was telling me about the festivals he's got lined up but I can't remember any of the names! So keep an eye out for him over the summer and go buy some cheesecake! Honestly, it's SO GOOD. I even got to be a taste tester for his wonderful unicorn rainbow cheesecake! Yummy!
Raw Chocolate Brownie
Vanilla Caramel Cheesecake
Blueberry Lime Cheesecake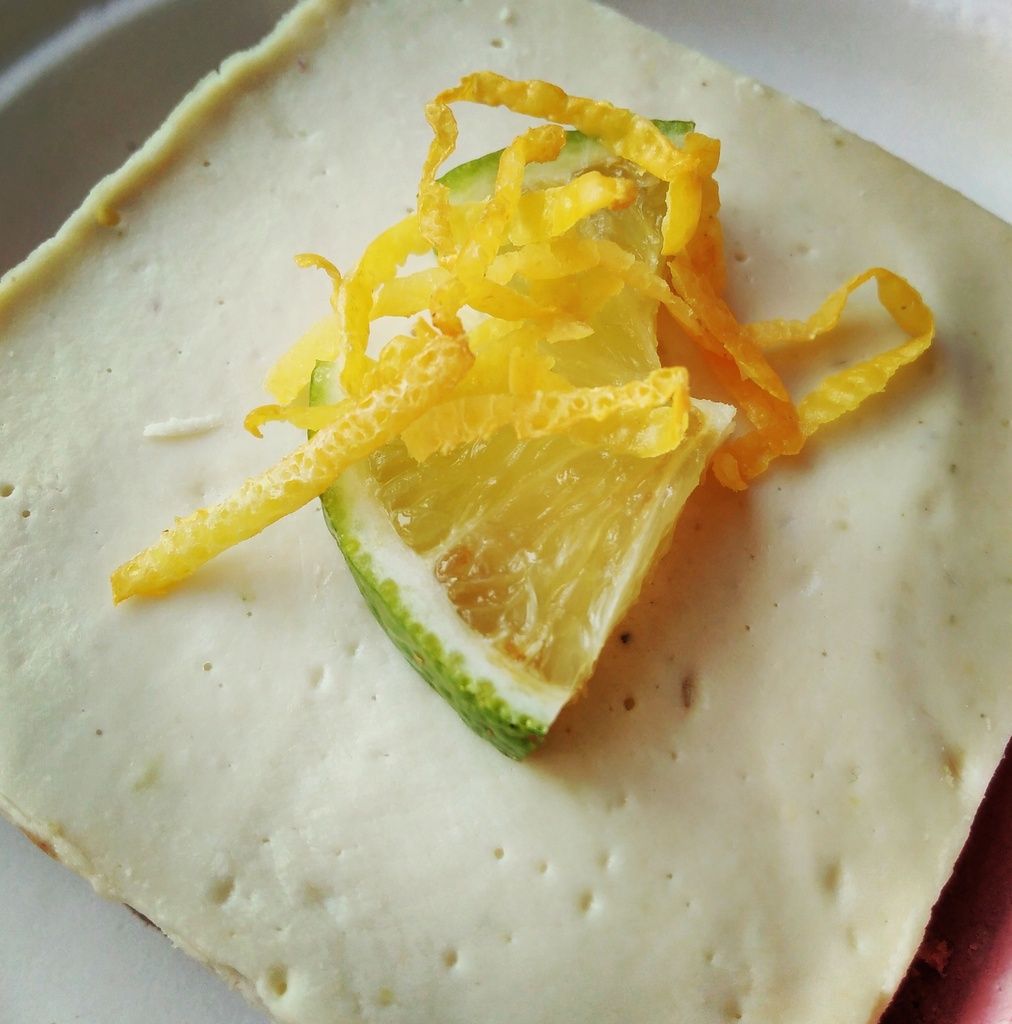 Lemon and Lime Cheesecake
Magical Rainbow Unicorn Cheesecake - Tester Slice!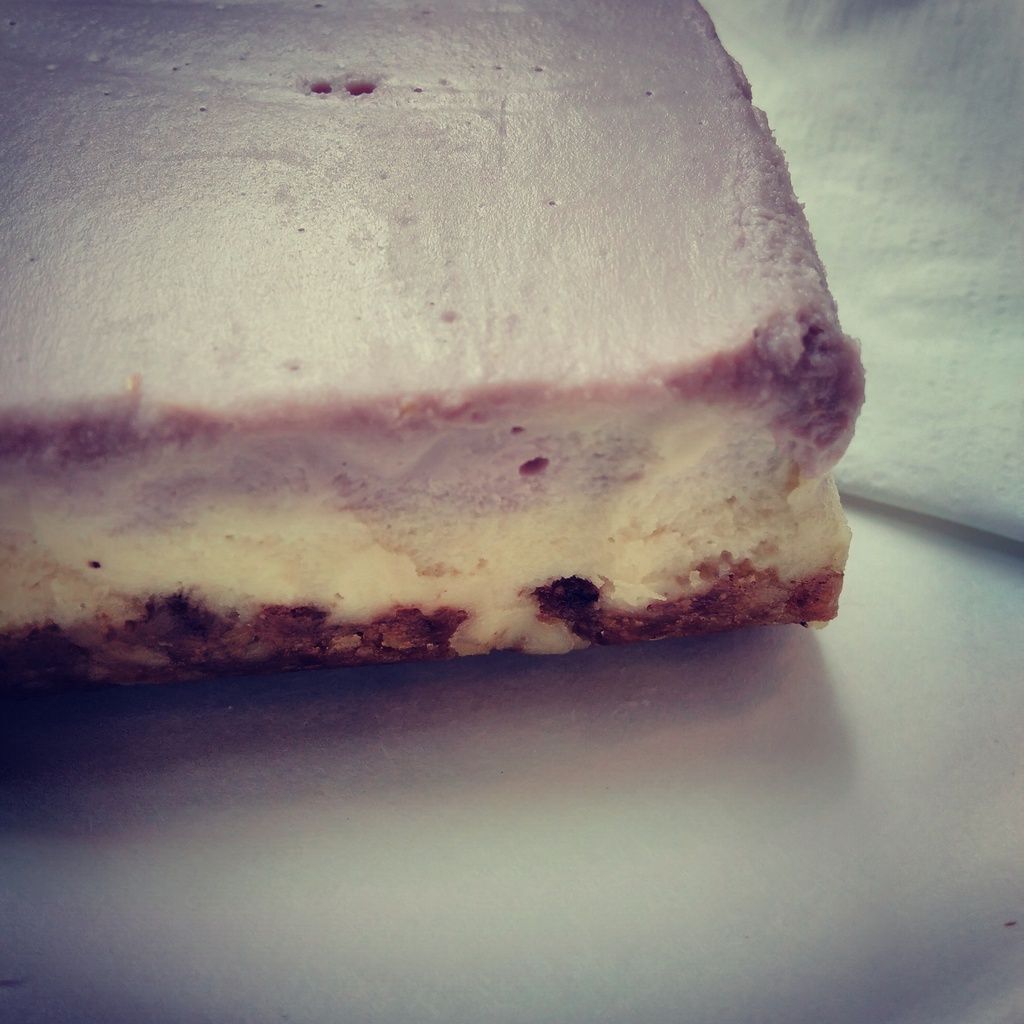 PB&J Cheesecake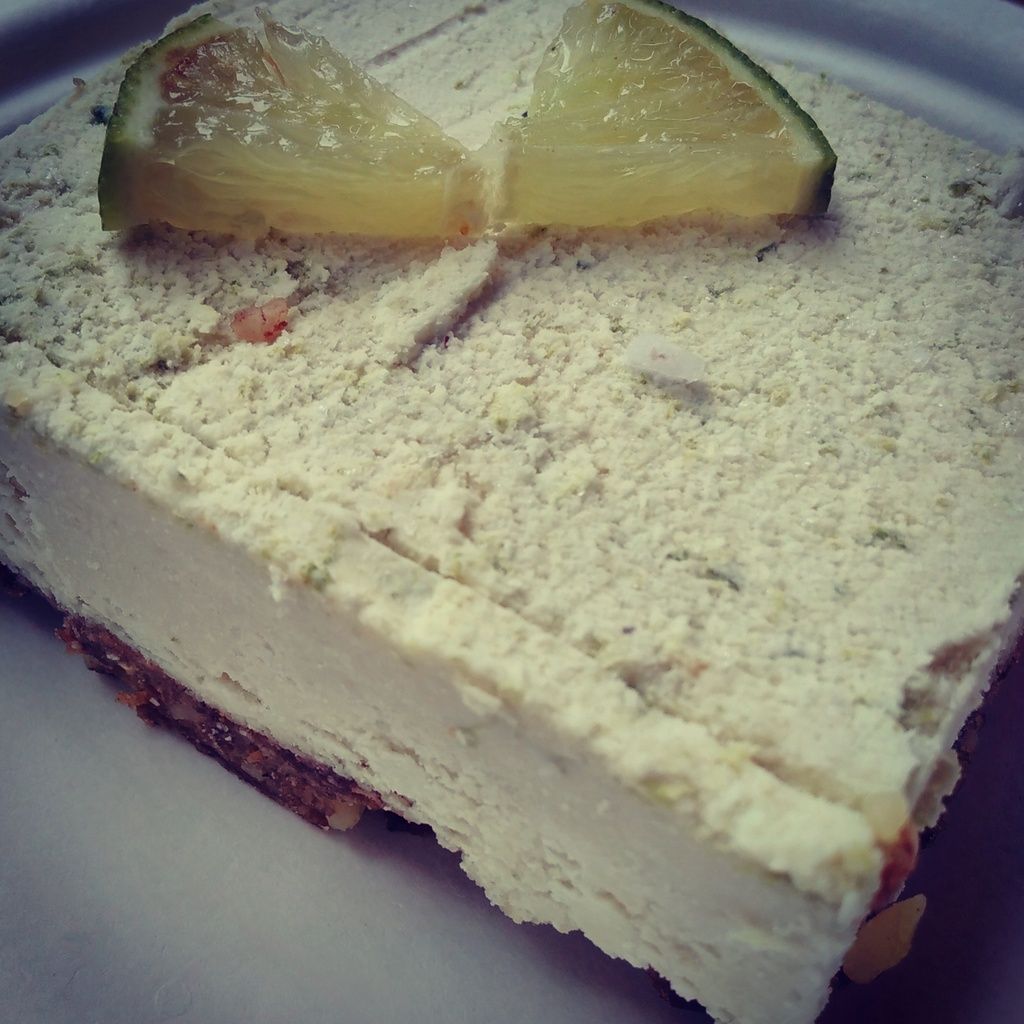 Coconut and Lime Cheesecake