Our most recent big holiday was to America. We ate so much great food that I've been meaning to post about since we got back - eleven months ago!! (I know, I know, I'm awful!)
Anyway, we're heading over there again in a few weeks, so I thought I'd better get cracking on these posts from last year before we go. I will get them up quicker this time around!
(For those of you who don't know, Blizzard is a gaming company who created the likes of World Of Warcraft, Diablo, Starcraft, etc.)
We had an awesome trip and an insane amount of epic vegan food.
Blizzcon spans two days, so in an effort to get all these posts published before we go back, I'm going to combine both days into one post.
We worked up quite an appetite wandering around the huge convention centre and looking at all the stunning cosplays. Here is just a small selection of the beautiful costumes people created: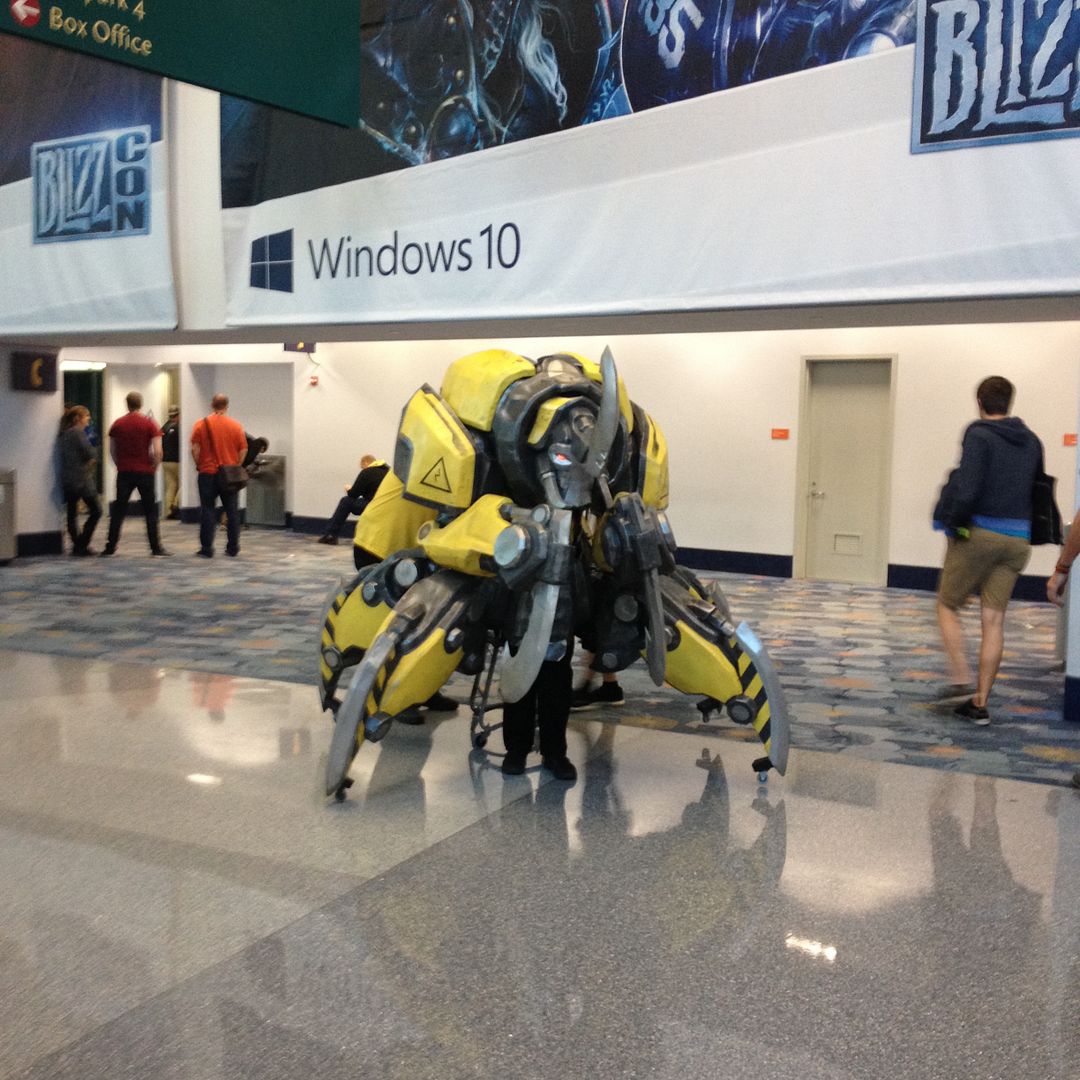 Yes, there really is someone inside there!
We mostly lived off snacks during the actual convention, as it was easier to just munch on the go rather than trying to find time to sit down for a proper meal. However, we did make time to visit the food trucks outside once each day - and ended up going back to the same truck both times!
On the first day, I went for the Banh Mi Falafel Pitta while Mr Hatter opted for the Ultimate Hummus Bowl. We shared a portion of Spicy Garlic Fries. All of it was fantastic!
Being a creature of habit, Mr Hatter also chose the Ultimate Hummus Bowl and Spicy Garlic Fries on the second day! I, however, like to try as much as possible - so I opted for Plato's Salad Bowl and Brussels Sprouts. We feasted very well! I think the salad bowl was my favourite dish from Falasophy as there was so much variation in one bowl.
These huge portions of falafel kept us going throughout the two busy days of shopping, panels, live esports, shopping, testing new games, wandering around in amazement, shopping...
There were a number of statues that Blizzard had dotted throughout the convention centre, all of iconic characters from their games. Here are the best shots I managed to get of a few of them:
Also, check out the beautiful view from upstairs inside the convention centre:
We were initially hoping to get some food delivered to our hotel, but they weren't doing deliveries at the time so we made the trek out to find them. It was a bit out of the way but close enough that we didn't mind going. And oh my, it was worth it!
We ordered a huge "Meat Lovers Pizza"...
A portion of Chilli Cheese Fries...
And a Vegan Corn Dog!
We also couldn't pass up the opportunity for cake, so we ordered some to go as we were already stuffed to bursting! Both the cheesecake and the coconut cake were divine. I've spotted on Instagram that they now serve donuts - I am SO EXCITED!
That covers most of the food we ate over the two-day Blizzcon period but there is much more to come! I'm going to stick to these condensed posts because I really do want to finish them before we go back, otherwise I never will!