There are a few places that we visited that didn't really fit into the other posts I've written about America, but I didn't want to miss them out. Here's a run down...
Cheesecake Factory
We hit up the Cheesecake Factory after being in the Blizzcon merch queue for what felt like days. We all needed a good meal and this definitely hit the spot. There was so much food!
As seen in the
Burgers
post, Mr Hatter chose the Veggie Burger:
Veggie Burger
A Delicious "Burger" Made with Brown Rice, Farro, Mushrooms, Black Beans and Onion. Served on a Toasted Wheat Brioche Bun with Melted Fontina Cheese, Lettuce, Tomato, Pickles and Mayo. (Mr Hatter had this with no cheese, no mayo but didn't realise at the time that the bun was brioche - I'm pretty sure it didn't state on the menu when we were there.)
I went for the Vegan Cobb Salad. I couldn't pass up the chance to try something labelled as vegan at a place like Cheesecake Factory.
Vegan Cobb Salad
Crisp Lettuce Topped with Grilled Asparagus, Green Beans, Roasted Beets, Avocado, Cucumber, Tomato, Garbanzo Beans, Quinoa, Almonds and Sunflower Seeds with House Vinaigrette.
Oh my goodness, I was blown away by how good this salad was! It was a massive portion and it was all really tasty. I wasn't expecting the portion to be so big (or, let's face it, the salad to be so amazing!), so I also ordered a size of sweet potato fries. Another ginormous portion that the whole table helped eat!
Healthy Junk
Again, I touched on this in the
Burgers
post but we bought more than just burgers so I feel it warrants its own entry on here too!
We took a trip up to the Anaheim Packing District, as it sounded like a nice place to look around. It was a good way to spend a Sunday afternoon, although there wasn't a huge amount to do when we arrived. Who cares though when there is vegan food!
We both had the Guac Burger from the daily specials board as our main. This burger was awesome.
Guac Burger
This was a daily special - the description was "Chick Patty - Guac - Tomato & Onion". We added extra bacon.
We also sampled the Curly Yam Fries and the Chili Chez Fries, both of which were very tasty. I picked the yam fries as I've never had yam and wanted to see what it was like! The verdict: strange but nice!
Curly Yam Fries
Mountain of crispy yam fries and side of ranch and BBQ sauce.
Chili Chez Fries
With our homemade chili and chez sauce.
There is so much tasty looking stuff on their menu, I would love to go back there. BUT it is pretty out of the way and there are more new places we want to try!
Gypsy Den
After our huge lunch from Healthy Junk, we wanted to walk some of it off before consuming anything else. We went from a wander around the area, and then popped into Gypsy Den for some hot drinks and vegan cake. We are almost definite that this was the same Coconut Cake we bought from Vegan Pizza on the way back from Blizzcon. It was just as tasty when eaten in a civilised cafe with a nice drink as it was in our hotel room, straight out of the plastic take away container!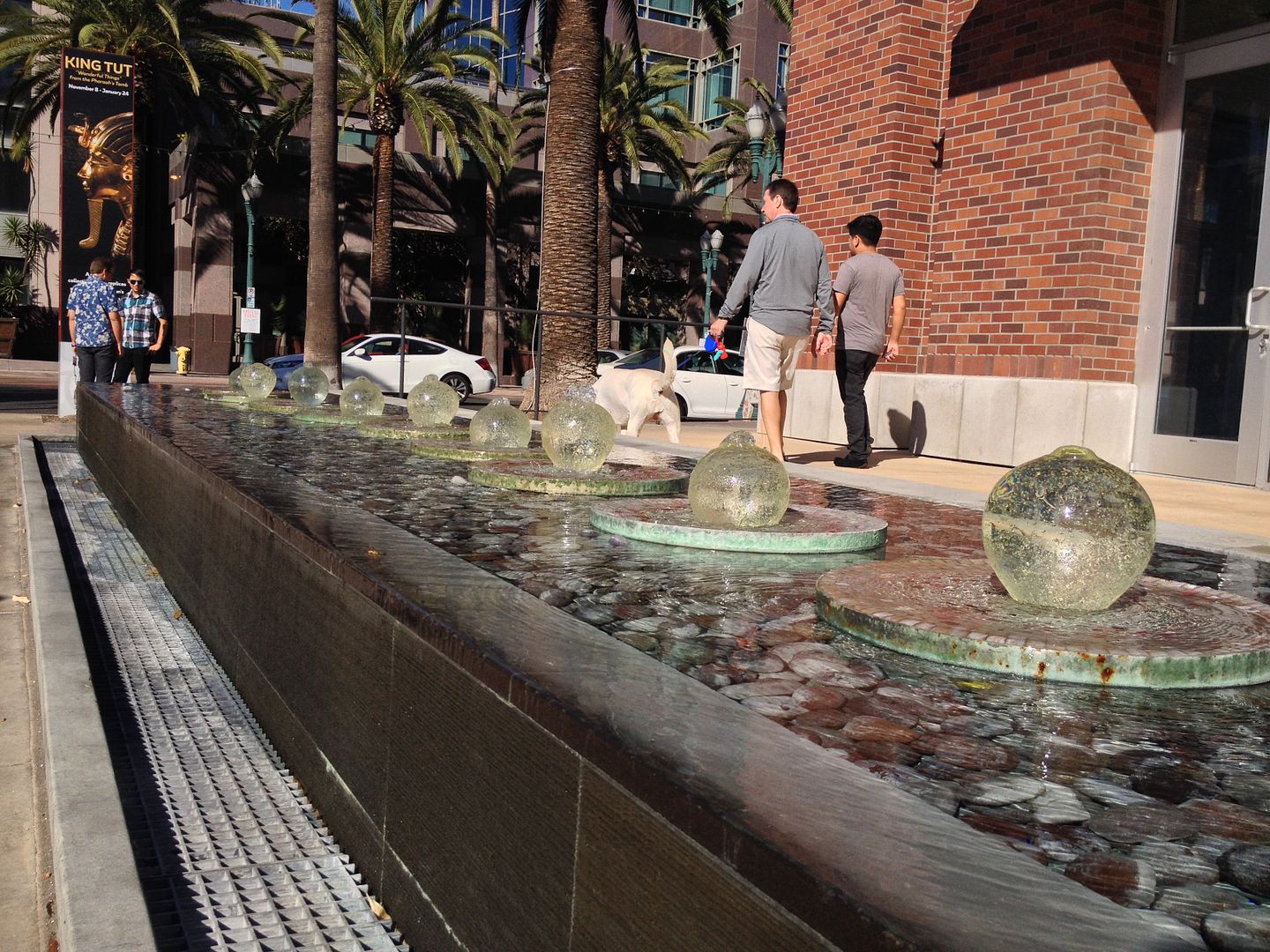 Funky water feature in Anaheim Packing District