I started off the month with such big plans about all the blogs I was going to post during
Veganuary
, and yet here were are on the penultimate day with my fourth blog post...
I have no real reason for the lack of posts other than the fact that I've been busy and life got in the way - as ever! Anyway, I couldn't let Veganuary pass without a shoutout to the awesome
V Rev
.
V Rev is a fantastic place and we always try to visit when we're in Manchester. All their food and drinks are vegan, and it is an absolute junk-food-filled scrumptious slice of heaven. They have recently moved to bigger, better premises and upgraded their menu so we thought we'd use my birthday as an excuse to try it out.
We met two of our non-vegan friends there, who love it as much as we do. Okay, maybe not
quite
as much, but all the plates were very empty at the end of the meal!
In the old shop, all the staff had to cook on was a hot plate - so they used pre-made burgers, chicken burgers, etc. Now they have a proper kitchen, they have developed their own in-house "beefy patties" and "chikn burgers", along with "toona" and "lobstah" for sammiched and salads.
It was so hard to settle on just one thing to try! I ended up choosing "Macaroni & Michele's High School Reunion" -
Beefy patty, mac n cheez, chipotle cola bbq sauce, pickles.
The burgers all come with fries, the addition of the pretzel buns is genius, and there is an entire menu section devoted to loaded fries. The week after we had been, they added the option to upgrade the fries that come with the burger to be loaded - YES!
Other picks around the table were:
"Fillet Seymour Hoffman" -
Fried chkn, lettuce, Mayo
"Jerry Zinger" -
Fried chkn, cheez, hash brown, hot sauce, salsa, lettuce, mayo
"Go Ahead, Mac My Day" -
Hotdog, mac & cheez, baecon, chives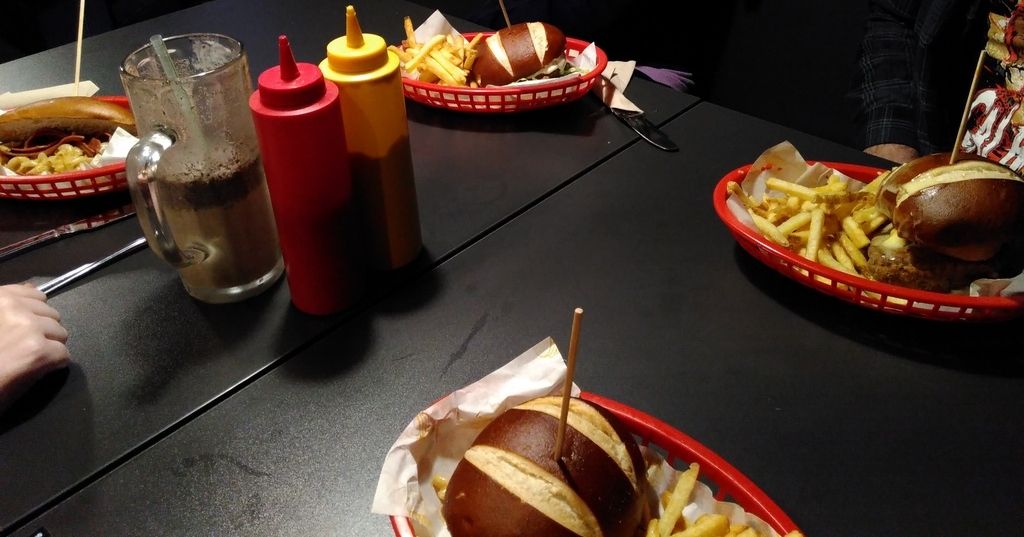 Everyone's food looked phenomenal, and all the feedback was great! The flavour and texture of the beefy patty on my burger was really tasty, and Mr Hatter has been raving about his chikn burger.
Oh and the milkshakes...
I had a Vanilla milkshake, which was super creamy and came with a doughnut hole stuck on the straw! One of our friends ordered the Cookies 'n' Cream, which had a gorgeous amount of Oreo crumbs in it.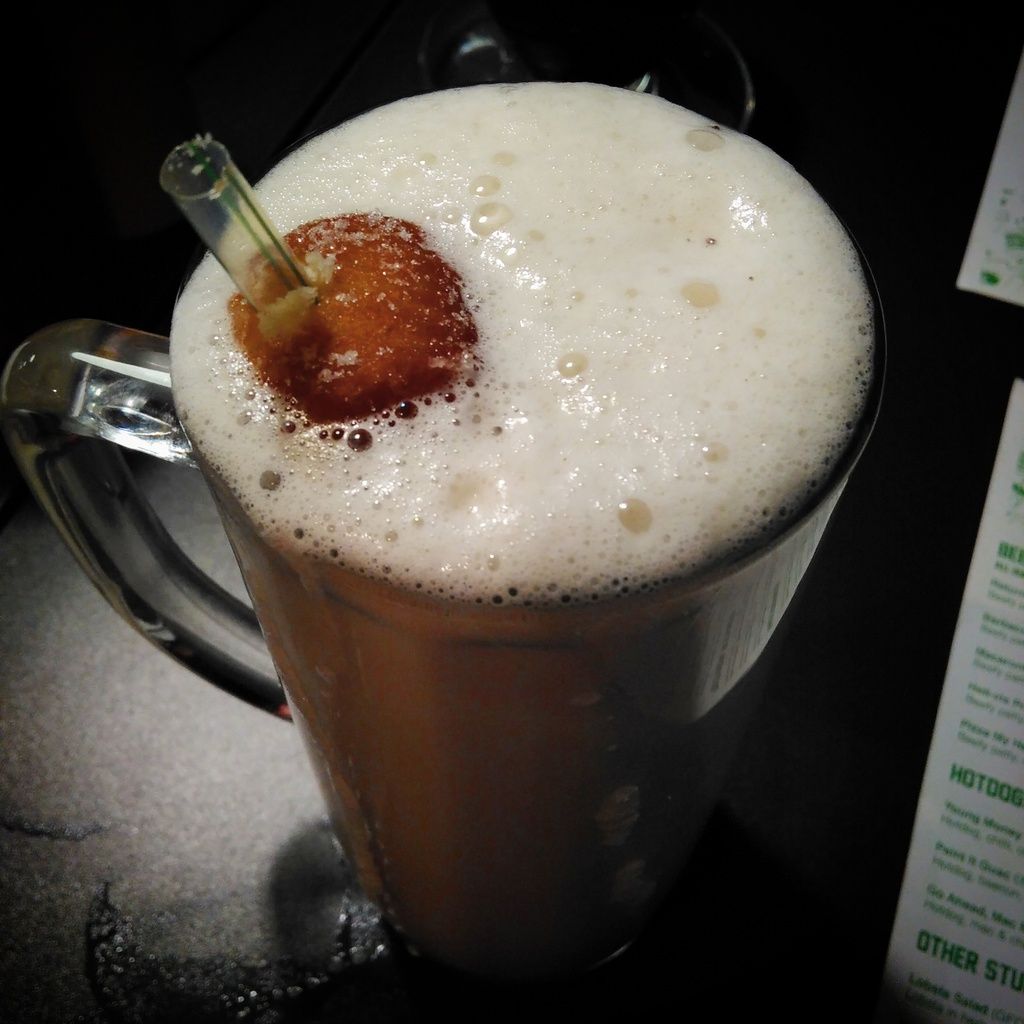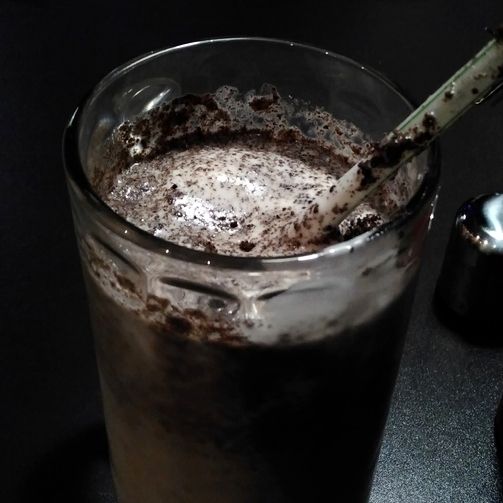 And of course, we couldn't leave without having some cake! At the old place, I believe all the cakes were supplied by
Lily & Dilly
. We always made sure we bought cake - and usually extra to take away! V Rev now have their own in-house bakery -
Tender Vegan Bakery
. I have been drooling over the photos of their cake that have been popping up all over Instagram! Between us, we ordered a piece of Black Forest cake, a honeycomb-caramel brownie, and a couple of chocolate-cake topped doughnuts.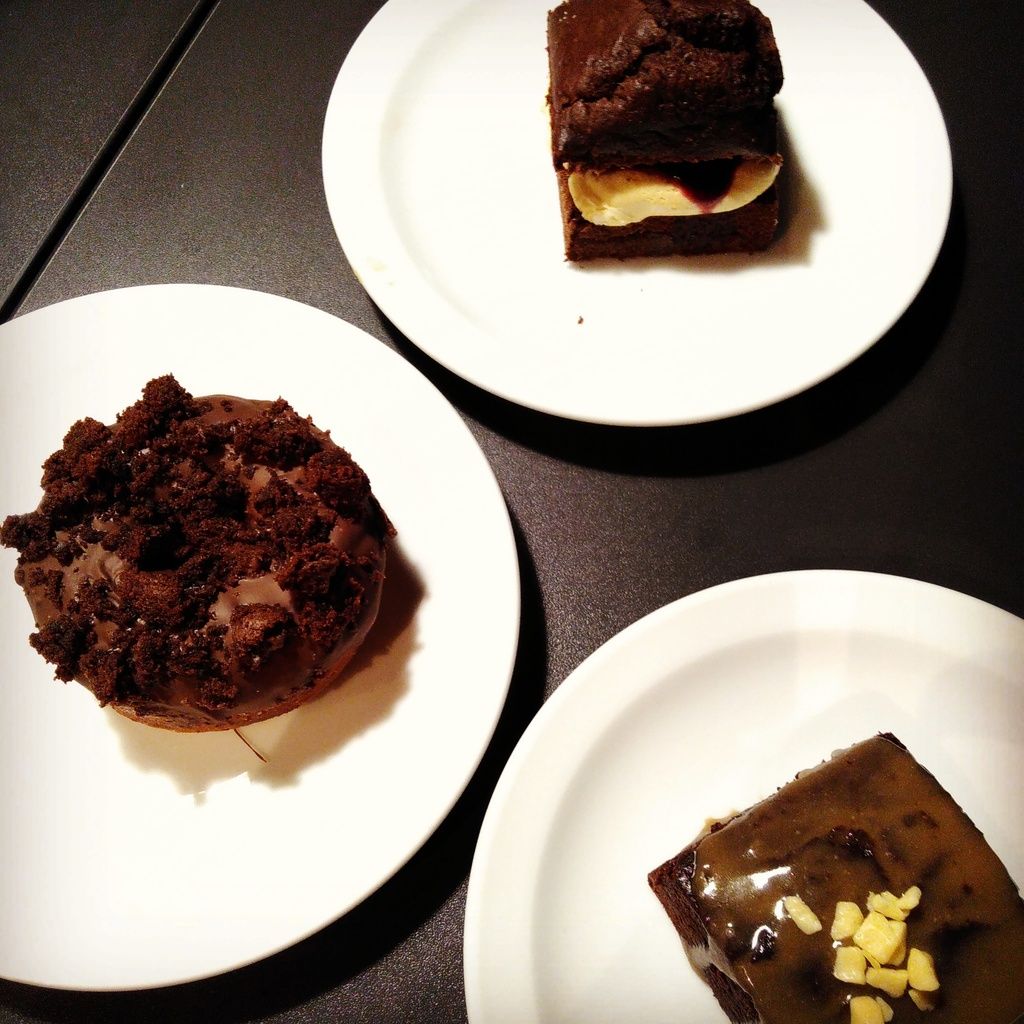 I hate to say it but I was a little bit underwhelmed with the cakes. Don't get me wrong, they were tasty, they just didn't seem as fancy as the photos I'd been drooling over - and it felt like there weren't many to choose from. I'm guessing it's just because we went on a Sunday, when maybe they were using up what they had baked for the weekend. Next time, we are going to visit on a Saturday and hopefully get to sample one of the fancier looking ones! (Although I must admit, those cake-topped doughnuts do look pretty fancy...)
All in all, I cannot recommend this place highly enough. I would be so fat if I lived in Manchester, as I would be here ALL THE TIME! I'm already trying to decide what I want to try next when we get chance to go over that way...